The second annual Nearly Naked Mile, a charity run hosted by the Appalachian Student Ambassadors and Student Government Association, was held on Oct. 17 at 4:30 p.m.
Chris Maples, a senior psychology major and publicity chair for the Ambassadors, said the goal behind the Nearly Naked Mile is for each runner to donate at least one article of winter clothing in order to participate. Maples said the donated clothing would benefit people at the Hospitality House of Boone, an organization that serves the homeless in Boone.
The participants then run a mile "nearly naked," in whatever a bathing suit would cover, to advocate what it would be like to not have clothing in cold weather.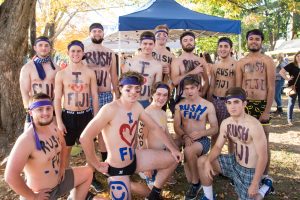 "Now, granted, today's really nice outside, which I'm not complaining about, but that's the idea behind the run," Maples said.
Maples said that the Nearly Naked Mile will be an ongoing event, and this year was the first time it has been held during homecoming kickoff. He said that last year, the event was unofficially put together by a couple of Ambassadors.
"What we're hoping is that this will eventually be an official part of homecoming, where groups can participate to win points for their organization," Maples said.
Many of the runners wore bathing suits and painted their bodies with the names of their organizations or with sayings like "If you can read this you're losing."
The race started at Sanford Mall; runners then looped around Durham Park, went down U.S. Route 321 to Hardin Street, then up Howard Street, past the library and back around to Sanford Mall to finish. Although there were no prizes for winners, runners got free pizza and drinks after the race, and a DJ and games provided entertainment on Sanford Mall.
Maples said the biggest challenge they faced in organizing the event was raising awareness and getting the word out. He visited several Greek chapters and other organizations to encourage participation in the race.
Runners had to donate one coat or two other winter clothing items, including hats, gloves and scarves, to participate. Last year, Maples said, over 100 people ran and the event yielded over 400 donated clothing items.
"The Hospitality House has told us this is one of the largest clothing drives they have before winter really hits," Maples said.
Todd Carter, director of Hospitality House, spoke to the runners before the race to stress the importance of the cause they were helping. He said that 31.2 percent of Watauga County lives in poverty and that 77 percent of children in the county don't get three meals a day.
"You are standing in the number one county for poverty levels in North Carolina," Carter said. "Besides having fun, you're helping us with our mission of fighting poverty."
J.J. Brown, Dean of Students, said the Nearly Naked Mile was a great way to kick off homecoming week. The definition and traditions of homecoming and welcoming people into a community is who we are at Appalachian, he said.
"It's a good opportunity to help the local community," said senior political science major Devon Tucker, who ran in the race. "Watauga County gets really cold in the winter, so this is a great way to help out the families in need."