As spring approaches, a new class of Appalachian Student Ambassadors is learning how to serve the university on a variety of platforms.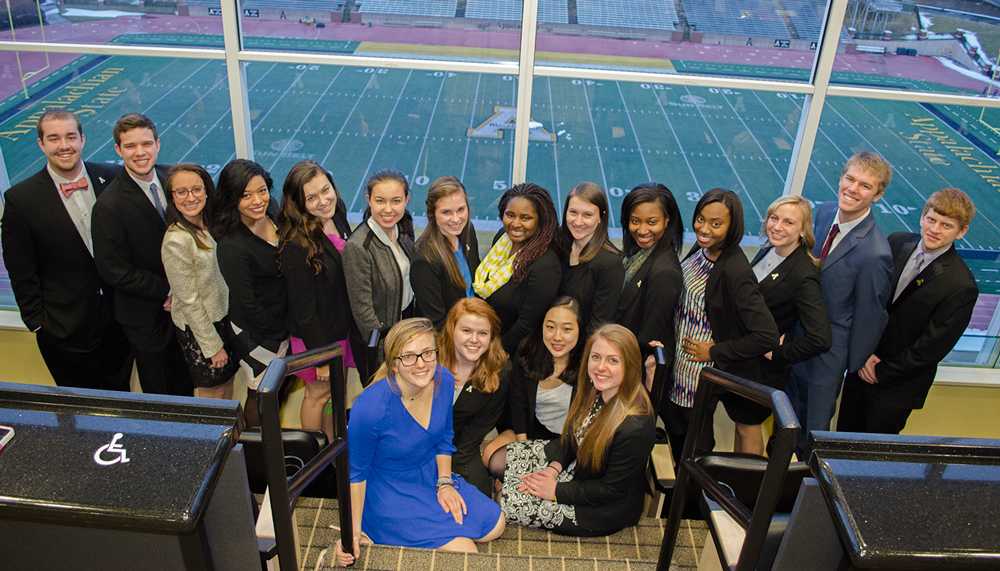 The Ambassadors are a group of 45 undergraduate students who serve Appalachian State University as student representatives for the Office of Admissions, the Alumni Association and the Office of the Chancellor.
Senior business management and marketing major Brianna Ricciarelli is the Ambassador in charge of educating the organization's 19 new members, who are known as "newbies."
Ricciarelli said she plans the entire nine-week program, including a membership drive, the interview process, newbie socials, retreats, weekly educational meetings and quizzes.
The newbies are responsible for learning a 150-page manual that details the Ambassadors program. Ricciarelli said newbies are given weekly tests on 30-page segments of the manual.
"Giving tours is a big part of being an Ambassador," Ricciarelli said, "we have a separate manual called the Tour Manual where newbies learn all the facts and figures of the university."
Freshman psychology major and new Ambassador Abby Nichols said many aspects of professionalism are discussed.
"We talked about things such as etiquette, how to be professional in a dining setting," Nichols said. "We also practiced delivering firm handshakes."
The role of Ambassador is highly sought by many students. Ricciarelli said there were 91 applicants for one of 19 spots as a newbie Ambassador, giving the organization an acceptance rate of only 21 percent.
Nichols said Ambassadors' first main event is Scholars Day, where they attempt to make students feel more welcome and help them decide to choose Appalachian. Nichols said she enjoys the idea of being a leader.
"I decided I wanted to become an ambassador because they are in an influential leadership position on this campus and I wanted to be a part of that," Nichols said.
Freshman global studies major Emma Labovitz said she had her first experience with the organization last year at Scholars Day, where she met some  Ambassadors and was inspired to join.
"I feel like the school has given me amazing friendships, great academic opportunities, and a lovely environment as a whole, and I want to give back to it through Ambassadors," she said.
With several weeks left in the newbie education process, Ricciarelli is optimistic about the direction of the Ambassadors program.
"The future is looking really great," Ricciarelli said. "We have a big senior class leaving this year, but the newbies understand that they have really big shoes to fill coming in."
Story: Luke Weir, Intern News Reporter