The High Country chapter of the Military Officers Association of America (HCCMOAA), which includes Avery, Mitchell and Watauga counties, helped create the "Time and Honor" veterans memorial that was unveiled on King Street on Independence Day.
"The objective was to honor all veterans with a tangible and memorable sculpture," Fred Schmitt, retired Captain U.S. Coast Guard and president of HCCMOAA, wrote in an email. "I was honored to be part of the project and, along with the others in HCCMOAA, was humbled by the outstanding community support."
The HCCMOAA is a non-profit organization for more than 390,000 former and retired military officers, who are dedicated to the defense and preservation of the earned benefits, as well as the recognition of service members and their families, according to a press release from the Military Officers Association of America.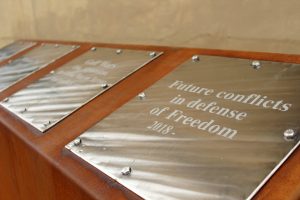 Schmitt said that the creation of the memorial was possible through a great partnership with the County Commissioners and the Town of Boone.
"The Town set aside land in Boone for the memorial and the County made a significant financial contribution," Schmitt wrote in an email. "Various committees comprised of MOAA members, Turchin Center volunteers, town staff and corporate volunteers were formed to first solicit proposals from artists, then evaluate the proposals received, raise approximately $165,000 and execute various contracts and oversee the fabrication and installation of the memorial."
Of the 19 artist proposals submitted, Suzie Hallier's, a Banner Elk native, ellipse design was chosen. "Duty. Honor. Country." is engraved next to five pillars for the five different military branches: Army, Marine Corps, Navy, Air Force and Coast Guard, according to the HCCMOAA website.
"We hope the memorial will visually communicate to current, past and future members of the Armed Forces the high level of respect in which they are held by the community. ASU has done a great job reaching out to veterans and supporting them while enrolled at the university," Schmitt said.
Many veterans involved in the App State community have praised the creation of this memorial since its unveiling.
"Just like us, it is not super flashy, but there is something different," Jimmy Arnett, former Marine Corps and a volunteer for Student Veteran Services, said.
The "Time and Honor" sculpture encompasses the veteran community, according to Arnett.
Story by: Rachel Greenland
Photos by: Mickey Hutchings 
Featured photo caption: The new Watauga County Veterans Memorial. The memorial was erected this summer to commemorate those native to Watauga County who have laid down their lives in the name of "duty," "honor" and "country," as the memorial reads.