New year for DeJon Milbourne as SGA president
When DeJon Milbourne, senior, takes a seat at the first Senate meeting for the Student Government Association on Sept. 11, it will be a weird feeling for him. After working hard as a senator for two years, Milbourne will have to sit to the side and watch Senate meetings.
"I was talking to Lee Franklin, one of our cabinet members, and I was like 'man have you thought about the fact that we're going to sit on the side of the room and watch them do what we love?'" Milbourne said. "It's going to be a little weird cause I'm so used to being on the frontlines."
The Student Government Association will have their first Senate meeting on Sept. 11 at 6:30 p.m. in Linville Falls in the Plemmons Student Union.
Milbourne is still on the frontlines, just in a different way since he is the SGA president this year.
While the Sept. 11 meeting may be the first Senate meeting of the year, the work has already started for Milbourne and his cabinet.
"My days are crazy," Milbourne said. "We've had tons of meetings but I guess that's the first big open forum."
Connor Hughes, junior political science major and director of legislative operations, said that Milbourne was one of the busiest people he has seen.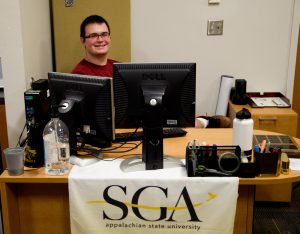 Along with being the SGA President, Milbourne is also majoring in finance and banking, risk management and insurance, accounting, and economics. He is taking 18 credit hours this semester.
Milbourne's office had stacks of boxes that he has been meaning to move into his dorm but because he has been so busy he hasn't had the time.
One of the reasons DeJon has been so busy is because of the initiatives he wants to take on this year, including mental health.
"I've struggled with mental health before so I can kind of identify," Milbourne said. "My sister actually, she has too, so it's kind of like those are things that I value because I see my journey and I see where I'm able to be now as opposed to where I was."
Ideas Milbourne has for promoting mental health are to remove the stigma, advertising the resources that App State has by working with the wellness centers and education surrounding mental health.
Some of the other major goals that Milbourne would like to achieve this year are getting more students involved in elections, engaging student-athletes more, getting minority students in better positions to become future student leaders and creating a pop-up shop that offers free professional business attire to students.
Keeping the Senate engaged is also really important to Milbourne.
"You don't have to be president to make a huge impact on campus and to be known for it if that's what you like to do," Milbourne said. "So empowering our Senate and making sure that they feel that they are apart of something special."
The Senate is really where the student voice is empowered, which is something that Milbourne is a big believer in and wants to empower that student voice.
"At the end of the day, the student voice, if you think about it from a numerical standpoint, more people voted to create that Senate than the president and vice president just from a representational standpoint," Hughes said.
Milbourne thinks that Senate is going to be really strong this year and is looking forward to giving them his support.
"I know that they're going to kill it," Milbourne said. "I have no doubts in my mind that we'll probably have one of the best Senates ever and I'm going to make sure that we do everything that we can to support them."
Some of those ways of supporting the Senate are making sure they have name tags, making sure they feel they are valued and letting them know that Milbourne and his staff appreciate them.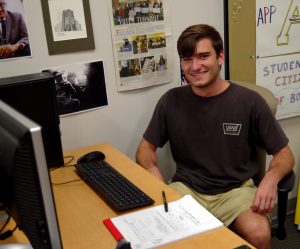 Lee Franklin, junior political science major and director of external affairs, thinks that the Senate is going to be a very effective one this year.
"I think what we're going to have is a Senate that is extremely independent and willing to step up to the plate when it comes to leadership and being involved on our campus, more than past Senates have been," Franklin said.
When it comes to what Milbourne wants people to know about SGA, he feels it is important for them to know the office is always open.
"We are an open door," Milbourne said. "You can always come by and always get involved and even if you don't want to necessarily be involved in SGA, come by here anyway and we can point you to the right people if you tell us what you want."
The SGA office is located in room 213 of the student union.
Story by Moss Brennan
Photos by Moss Brennan
Featured photo caption: DeJon Milbourne, senior and SGA president, is taking 18 credit hours as part of his four majors. He has a number of goals he wants to achieve with SGA this year.