Ever since 1999, the NouN Improvisational Comedy Troupe has been providing Appalachian State's campus with laughter. More than 15 years later the improv group is still performing on campus and provides students within the group with a creative outlet.
Jimmy Briggs, a senior creative writing major, said he first got interested in improv his freshman year at Appalachian State.
"I saw NouN perform my freshman year, and they blew my mind so I tried out, didn't make it, then tried out the next year and got in," Briggs said.
This year, NouN has four freshmen, one sophomore, three juniors and one senior that make up the troupe with majors including education, insurance and risk management, broadcasting, business, computer science and sustainable development. Even if comedy isn't in their future, the members of NouN have been inspired to keep audiences laughing after graduation.
"I think it would be fun to have a future in comedy; however, that is not my end goal," Mandi Burnison, a freshman secondary English education major, said. "I love doing improv and anything related to theater. As a secondary education major, I hope that I can work with the theater department at whatever high school I end up at, teaching and directing students who also have a love and passion for theater and improv."
On Nov. 15, the comedy troupe performed for the third time this school year. Due to the improvised nature of the shows, the members of NouN always come away from a performance with a favorite joke.
"There are so many, because I'm so funny," junior broadcasting major Murilo Artese said. "I remember during my first big show I created a character named Sunshine and she was really sweet and nice, but always screamed something terrible at the end of her sentences."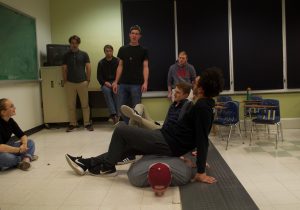 Tyler Willeford, a junior business management major, said his favorite joke was when the group was performing for a group of middle schoolers.
"We were playing a rap rhyming game and my line had to rhyme with the name Reed," Willeford said. "So I said, 'He was really nervous, in his pants he peed!' The middle schoolers loved it."
During performances, the troupe members will ask the audience for suggestions while playing games like JTS Brown, Scenes from a Hat, We Need Gas and 185.
"When you play 'We Need Gas,' you have two groups of four," Burnison said. "Each group is associated with a pair of random letters. One group starts off pretending to drive somewhere, but they have to get out at some point to let the other group in the imaginary car. As they are getting out they yell something that goes with the pair of letters to assign how the next group is going to act. If the next group has the letters A and W, the group getting out of the car would yell something like, 'Hey look! It's a bunch of angry watermelons!'"
"Last year during one of our Legends shows this one lady in the audience was really eager to suggest something," Willeford said. "So we asked for a suggestion of something you use in the garden, and just as we finished asking she shouted 'HAM!'"
For the members of NouN, being a part of the comedy group is a rewarding experience not only performing on stage, but becoming a part of a family.
"NouN is more than just an improv comedy group," Artese said. "NouN is a group of people that try to find humor and laugh with each other during good or bad times. Every show is special, but my first Legends show was really special because that was the first time I felt like I belonged here at App State. And for an international student who was a lost first year at the time, that meant a lot."
Story By: Anna Muckenfuss, Intern News Reporter
Photos By: Ella Shepherd, Intern Photographer