The Nth Degree Gallery and Studios on King Street is hosting its 18th annual "HalloweeNth" costume party and open art hanging, beginning the night of Oct. 31 and continuing on Nov. 4 during the First Friday Art Crawl.
Nth's Halloween show is an annual community show where anyone is invited to submit one to three pieces of art to hang in the gallery. No submissions are turned away and all artists are represented.
"The open hanging gives all artists in our community the opportunity to exhibit their work without restriction," James Geary, a member of Nth Degree, said. "Artwork has been sold by artists as young as seven years old."

The amount of submissions for the Halloween show varies from year to year, said Brian Lee, an Nth founding member, but they always get enough. Geary said that they generally receive between 75 and 100 pieces for the open hanging.
This year's "HalloweeNth" exhibition is called "Strange Nth Things" after the popular TV show "Stranger Things," in keeping with Nth's tradition of playing with the names of horror movies or shows. The art does not have to follow a Halloween theme, however.
"It's always one of the best shows of the year for us because it's such an eclectic mix of art," Jamie Goodman, a former member of Nth, said. "It always comes together so beautifully and ends up being a really beautiful representation of the artists in the community."
The exhibition first opens Oct. 31 at 7 p.m. with a costume party. The art is shown again the following Nov. 4, during downtown Boone's First Friday Art Crawl.
"People put us on their Halloween circuit that night," Goodman said. "People come through with amazing, creative costumes, and it's a really awesome atmosphere."
The Nth Degree, a non-profit, underground gallery and studio, was started nearly 20 years ago by a group of artists in Boone who wanted a studio space. They found the location for Nth on King Street, above Art Mart and across from the Post Office, and worked on it for about a year before it was ready, Lee said.
Nth is run by a small group of members who keep up the gallery and studio space, plan exhibitions and help local artists display their work, often for the first time. The gallery, according to its website, is an outlet for "unknown, unshown, up-and-coming, contemporary and even controversial" art in the High Country region.
The overall focus of Nth Degree, Lee said, is showing artists who may not have an opportunity to show anywhere else.
Except for the Halloween party, Nth Degree's gallery is only open during the First Friday Art Crawls, and displays work from one or more local or regional artists. Nth also hosts a fundraising show for the gallery once a year, in which members' work is displayed.
Those who want to be members of Nth, or who want to display their work there, can come to the open meetings that the gallery holds each Monday at 8 p.m.
"If you keep coming again and again, and we believe that you're serious and a good fit, we will vote on whether or not you get in," Lee said. "You gotta bug us, same thing with having a show here. You really have to convince us that you're serious, because the Nth members do a lot of hard work for free."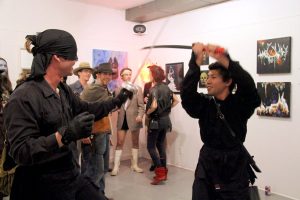 The Halloween party and open hanging usually brings a lot of people in, Goodman said, and Nth has gotten several artists and members as a result of the Halloween shows.
Displaying artwork in a gallery setting can be very beneficial for developing artists, Geary said, because it gives them the opportunity to talk with other artists about technique and allows them to compare their pieces to others.
"It can also give you the unique opportunity to be a fly on the wall," Geary said. "You can hang around and listen to what other people are saying about your art without them knowing you're the artist."
In a way, Goodman said, the Nth gallery has been a "stable force in a changing world." Lee said that Nth has shown quite a few artists, and has likely changed quite a few lives.
"It has ebbed and flowed with the different artists and members that have come through, the different trends of art that have come and gone," Goodman said. "The Nth was never about growing as in making money; it is about growing friendships and connecting with artists."
Story by: Adrienne Fouts, Senior A&E Reporter