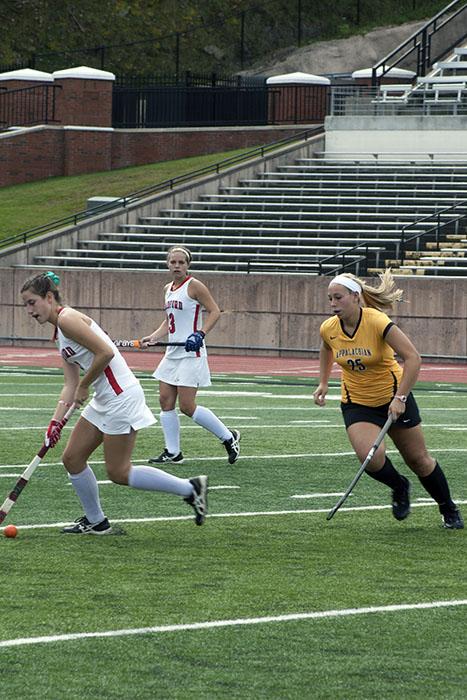 Freshman Caroline Phillips has wasted no time in starting her first field hockey season at Appalachian State University on a high note, scoring three goals and earning NorPac Player of the Week honors.
"One of my friends texted me actually, I didn't even know," Phillips said. "It's kind of expected because if you're playing at the Division I level, you should be playing to that potential every game."
After coming to Appalachian, it was clear to Phillips that she really liked the school and wanted to attend and play field hockey.
Phillips said her biggest supporter is her mom, who often travels long hours just to watch her play.
"When she comes, it's just like I know I have to perform well because she's traveled eight hours to come see me," Phillips said. "She is my inspiration and has done everything for me, whenever I needed something she's been the first one to do anything for me."
Although she's a freshman, Phillips has received a lot of playing time.
"If you work hard in practice it'll be returned in play time," Phillips said. "I just try and do what the coaches ask during practice because I like playing in the games."
Phillips' attitude and love of the game is obvious to her teammates, and they love the personality she brings to the team.
"Caroline is very loud, in a good way, energetic and friendly," forward/midfielder Lane Flynn said. "It's great having her as a friend and teammate."
Over the summer each incoming freshman was given a "big sister" to help her adjust to life and field hockey as a Mountaineer.
"With Caroline we kind of both figured out that we both had the same sense of humor," senior "big sister" Sarah Anderson said. "It really helped us coming in and we knew each other off the bat."
Story: KAITLYN THRUSTON, Senior Sports Reporter
Photo: COURTNEY ROSKOS, Staff Photographer