Old gym, new team
Entering his third year as head coach of the Appalachian State men's basketball team, Jim Fox has finally been able to make his mark on the Mountaineers with a new foundation, culture and a full roster of players that were recruited and sought out by Fox and his staff.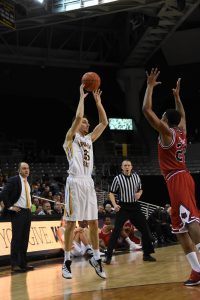 Replacing Jason Capel on April 8, 2014 as the new Mountaineers' head coach, Fox was taking over a team that had been looking for an identity. Being an assistant coach and associate head coach at Davidson College for 13 years, Fox was bringing something that the men's basketball team hadn't experienced in a while: the culture of winning.
Both having a history of being Southern Conference rivalries, Davidson and App State transitioned to the Atlantic Ten and Sun Belt conference in 2014, respectively. This was the same year Fox arrived in Boone, and the transition took the two teams' annual matchups with them.
Three years later, Fox and the Mountaineers will face off against the Davidson Wildcats for the first time since their SoCon rivalry and Fox will coach against the mentor who helped him work through the coaching ranks, Davidson head coach Bob McKillop.
"This has been a game that a lot of fans were asking for and I am anxious to get out there and be tested against them [Davidson]," Fox said. "I want our program to be able to resemble the success that Davidson has had and being able to be tested against them is awesome."
Both growing up in New York, being 25 years apart in age, McKillop and Fox both attended Chaminade High School in Mineola. Fox's father coached a local youth basketball team that McKillop also coached earlier in his career.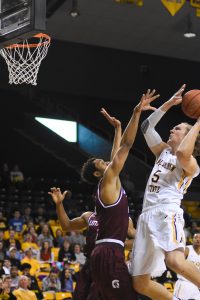 Fox began to coach the youth basketball team while he was only in high school and knowing Fox's father, McKillop had the chance to see Fox coach. In addition to coaching McKillop's son Matt McKillop, it was only the start of a bond between Fox and McKillop.
"There was a kinship in a part of a neighborhood network that really develops in a place like New York where there is such proximity between so many schools and so much is intermingled and connected through the generational passing of the torch," McKillop said. "I knew his father fairly well and I had a chance to watch him coach in youth and AAU basketball and I was very impressed."
In 2001, Fox joined McKillop's staff as an unpaid volunteer coach, but just three weeks later, one of McKillop's assistant coaches left, leading to Fox's promotion.
"I didn't even hesitate to promote him," McKillop said. "Every opportunity he had, from being part time to full time to associate head coach, he developed and matured and grew as a coach in a way that is incredibly admirable. He did it through a step-by-step process."
Never having been to North Carolina, the transition was different for Fox after years in New York, but he was able to make it home quickly.
"Being away from friends and family was tough, but Davidson and Charlotte are incredible spots," Fox said. "I was ecstatic about how beautiful the area was and I was fortunate to get a job for an outstanding coach at a beautiful place like Davidson."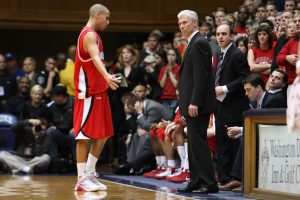 Enjoying much success with the Wildcats including an NCAA tournament run to the elite eight with then Wildcat and current NBA Most Valuable Player, Stephen Curry, Fox became a coach that players listened to and a key contributor for the Wildcats.
"[Fox] saw the game. He knew how the game was played and he knew how to teach and coach it," McKillop said. "He is a very IQ oriented coach and I look for people who are detailed and thorough and he really demonstrated that and his commitment and dedication to time was extraordinary. He went above and beyond to become a better coach."
After spending over a decade with Davidson, Fox finally had his opportunity, accepting the head coaching position at App State, a team he had faced many times in SoCon matchups.
"I knew it was a crazy business and coach [McKillop] always said if I have a great opportunity, those are the ones I need to jump at," Fox said. "I had a great opportunity at Davidson so I wasn't in a rush and I was learning under coach [McKillop] and that is not a bad thing. I knew my time would come and I had to be ready for it."
Tasked with the challenge of building a coaching staff, Fox hired VMI assistant Jason Allison, University of Texas assistant Bryan Lentz and Fairmont State assistant Mantoris Robinson as assistant coaches.
Robinson, who played for Winthrop and met Fox during Davidson's tournament run, didn't think twice about the opportunity to coach under Fox.
"It came as a surprise when he reached out to me and offered me the position," Robinson said. "I watched the press conference and was blown away at his will for basketball and his charisma. He was a man with a purpose and I was excited to work for him."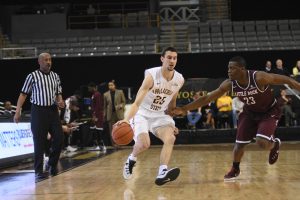 After being projected to finish last in their first season in the Sun Belt Conference, the Mountaineers finished sixth in the conference with Fox's at the helm.
Only having a handful of players that Fox and his staff recruited themselves, Fox was faced with challenge to implement his own system and culture on a Mountaineer team that had been struggling for a while.
"I was a high school coach and coached at Davidson and winning was the norm," Fox said. "It is tough to get through losing, but coach [McKillop]always told me, 'You have to impose your will' and it is a process that you have to build up and get that foundation. You can't go to the penthouse right away and I know we are building this program up and hopefully the penthouse will come soon."
Only having junior guard Jake Babic and forward Griffin Kinney as the two players that Fox and his staff recruited, Kinney had no doubts about Fox.
"He was a first year coach and I was a freshman so we could grow together and make mistakes together and that didn't really bother me or cross my mind," Kinney said. "It was a great decision for me."
Knowing the tradition that Davidson has, Kinney felt it would only make Fox a better coach.
"I knew he was at Davidson and that program speaks for itself," Kinney said. "What they [Davidson] have done and if he is bringing that culture here and that offensive system, it would be a really good fit."
After losing many close games last season and only winning nine games, Fox decided to take the team to Europe. The NCAA allows teams to take an overseas trip every four years and was something Fox wanted to do after experiencing it with McKillop and Davidson.
"We enjoy the thoroughness of education not just on a court or on campus but having a sense of a year abroad and giving that opportunity to players is part of a full experience for student athletes," McKillop said. "It gets your players bonding and becoming more familiar and without the pressure and spotlight to compete in front of the media and it is a laboratory that is extraordinary from the basketball, historical, bonding and sociological standpoint."
Experiencing it with Davidson as an assistant, Fox was the one in control this time.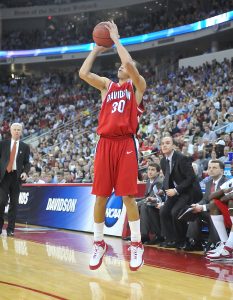 "It was a lot different from when I went on these kind of trips at Davidson because I was responsible for everybody," Fox said. "It made a big difference. When you are in charge of everything going on there it is a lot more responsibility. So, I was always on my toes making sure everything was going okay, making sure the bus is correct, the hotel is correct and that the game is set. I have an incredible staff and they were very helpful in that too."
Still tasked with developing his players, Fox has also been able to have an impact on his assistant coaches as McKillop did with him.
"My mentors were always defensive-minded people and now coach Fox brings an offensive mindset to me," Robinson said. "Finding ways to get these guys better and challenging me each and every day to bring something to the table and be creative, I have seen myself grow under him [Fox] in ways I couldn't have ever imagined."
Fox is hoping his third year will be the year a culture is finally formed, having the players he recruited and getting the system and foundation in place that he wants.
"We thought this could be a very special place and you take off from guys and really get this program going," Fox said. "You see the success the football program has had under coach [Scott] Satterfield and the culture that he has brought and that is something we can build here and I think we've got that with the culture and now we just have to get the wins to follow."
McKillop went through his own struggles at Davidson, but said he was never really put into the type of situation Fox was brought into and sees Fox making more progress than an average coach.
"To change an entire culture of a team for me is a five, six or seven year process and he has taken incredible strides and started to lay the foundation for that culture," McKillop said. "He is well on way to that and he has put the foundation in place and now it is a matter of putting together the building because it will be a very magnificent building once he gets it done."
Still continuing to keep in touch on a regular basis, Fox and McKillop will finally face off against as opposing coaches for the first time, with the hope it can rekindle a rivalry for fans and players to enjoy.
Not only does the matchup feature Fox returning to Davidson, but it also features two teams with similar offenses.
"I have always thought about [playing against Davidson] and thought it would be interesting to see how that game would match up because the offenses are very identical," Kinney said.  "I thought it would be fun to see how it goes and it will be a head-to-head battle a little more so with the offensive schemes and coach [Fox] returning."
Now having lived in Boone for three years, Fox has begun his own head coaching journey and is now the one wanting to beat Davidson, but he will never forget the experiences that helped him become the coach and person he is today.
"I will always remember those years at Davidson and the guys on the team I am still friends with because it was incredible. It is just such a great place," Fox said. "I am forever thankful for the opportunity that coach [McKillop] gave me."
Story By: Jason Huber, Sports Editor
Photos By: Dallas Linger