Open Mic Night in Boone
At the end of a song, Crossroads customers erupt into an applause of appreciation towards the previous performer. Simultaneously at 3rd Place, observers snap in appreciation of a phrase the spoken word poet just said.
At Crossroads in Plemmons Student Union, people sit down to watch people perform their original and cover songs on Wednesdays at 8 p.m. Performers can sign up the Monday before outside of Crossroads or when they arrive at the coffee shop. Typically, only a few people perform, allowing singers to perform multiple songs.
Sophomore graphic design major Sam Helms has performed there regularly for a year. He started performing at open mic nights in high school after his band broke up, and continued once he arrived in Boone. Performing is one of his favorite parts about music.
"It's fun for me," Helms said. "I really like getting myself out there and letting people give feedback on my stuff that I make."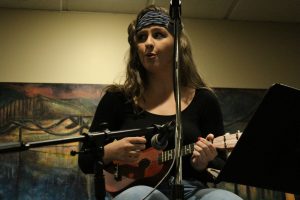 Helms did not always perform in Crossroads. He went to Bald Guy Brew a couple of times, but did not like it as much because the main focus of that open mic night was spoken word.
"I prefer the Crossroads [open mic] because the Bald Guy one was a lot of poetry and did not have much music," Helms said.
Helms has performed a wide variety of songs over the year that he has participated in open mic. He describes the music that he likes to play as "folksy" and said that many of the songs he writes are about love and relationships. Helms believes open mic has served as a good tool for him to show his work to a different audience.
"It gives the students an easy way to get their stuff out there and get their talents out there and help them learn and grow from it," Helms said.
For people who are thinking about participating in open mic night, Helms suggests that they take a chance and perform.
"I'm always nervous before I play," Helms said. "Once you finish doing it, you're very proud of yourself."
Helms also believes that open mic night is a good event to just watch.
"I just encourage everyone to go and support [open mic night] even if you don't play," Helms said. "Just go watch and listen and learn."
Rebecca Fuller, a junior biology major, went to open mic night in the beginning of the school year to support her friend performing.
"I loved it," Fuller said. "I think it's a good way to support the local artists."
Fuller wants to go more in the future and thinks that it also is a good resource for artists to try new work in a very calm, low pressure setting.
For people who want to listen to spoken word poetry, Lyric, Appalachian State's spoken word poetry club, hosts an open mic night at 3rd Place on Wednesdays at 8:30 p.m.
Sophomore physics major Brandon Schwartz is the co-president of Lyric, and is one of 3rd Place's regular performers. In high school, Schwartz enjoyed performing in theater programs. When he arrived at Appalachian State University, one of his friends convinced him to go to an interest meeting for Lyric. He said he hated the first poem that he wrote, but continued to write, liking each poem more than the previous.
"It was honestly like free therapy," Schwartz said. "Freshman year is a real hard time. It was a way that I could get heard and get my voice out there."
Open mic night also provided him with a social outlet that he could share his work with and also do things outside of writing with.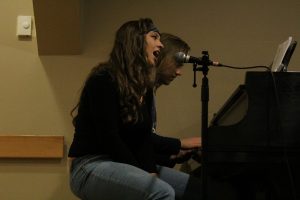 "I met a lot of cool friends and cool people through it," Schwartz said. "We're a good community, really supportive."
At the open mic night at 3rd Place, participants are able to sign up when they arrive. Performers usually only are able to present one piece due to the large number of people who want to share their work. This year, they have had an average of 40 to 50 people come out to open mic night, about 20 of which are poets and the occasional comedian or rapper. A different member of Lyric hosts it every week.
"We had a girl read the setlist to the new Gucci Mane album and then we had a girl who wrote about her first love and all of that," Schwartz said. Schwartz said anyone can do anything they want and not feel judged, but supported for what they want to write and what they want to put out there.
Schwartz described his work as being intrinsic. He said he has a difficult time writing from other people's points of view and likes to use things that have happened to him and portray his reaction. Some things he has written about in the past are his transition to college, his height and social anxiety.
"Snaps are my favorite thing in the world," Schwartz said. "It's enthralling. I'm a performer, when I get on stage, I really like giving people a show and an experience."
Schwartz believes open mic night is good for the Boone community because it provides people with a structured way to express themselves.
"Everyone is so nice," Schwartz said. "If you come out to our open mic nights, everyone is the most supportive, loving people."
Story by: Celia Calhoun, A&E Reporter