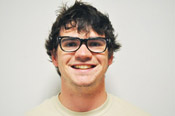 "Saturday Night Live" has been on the air for nearly half a century, and the cast still does their best to push boundaries and make viewers laugh uncomfortably.
But "SNL" might have pushed the boundary a little too far last Saturday, based strictly on recent feedback.
The show aired the sketch "Djesus Uncrossed," a parody on the Quentin Tarantino film "Django Unchained," which is up for Best Picture in this year's Academy Awards, and Tarantino's previous historical revenge film "Inglorious Basterds."
The "SNL" spoof featured a more vengeful Jesus than the Bible mentioned, who is portrayed by Academy Award-winner and "Django" star Christoph Waltz, as he rises from the tomb he was buried in after the crucifixion and begins his crusade of revenge on the Romans.
Waltz, the host for "SNL" that evening, is up for another Best Supporting Actor award for his role in "Django," and bore a very uncanny resemblance to the Christian savior.
It's easy to see how this short portrayal of a sword- and assault-weapon-wielding Jesus received a lot of negative feedback, since it aired right after Ash Wednesday and a lot of people – 50 percent, according to gallup.com – see Jesus as a sacred entity.
But this is "SNL." This is a show that routinely makes fun of anything topical, especially if that topic will stir controversy and garner gasps from viewers.
Am I the only one who remembers them repeatedly making fun of Gov. David Patterson, the former governor of New York, who is blind? Did that not cross a few lines?
But with this parody piece, the writers and actors of "SNL" did not do anything illegal or unconstitutional. And to be honest, "Djesus" was one of the show's better parodies in years.
Think about it. Tarantino's last two films have been historically based fantasies that revolve around the theme of revenge.
In "Inglorious Basterds," Jewish soldiers in World War II take violent and bloody revenge on the Nazis. In "Django," a recently freed black man in the South during pre-Civil War times joins a bounty hunter who is charged with the task of taking down mostly pro-slavery targets while searching for his wife.
So what would make the best fantasy revenge story that just so happens to have a connection with Lent, an ongoing ritual recognized by almost every Christian denomination?
Jesus killing Romans – that's what.
And yes, I was offended at first watching the Prince of Peace stabbing and shooting Roman soldiers as blood flew everywhere. But then I took into account that this was satirical and not meant to be taken seriously, and it does have a timely connection with the host, the Christian holiday and the recent Tarantino movies Waltz has played a role in.
And again, might I stress, this is "SNL." If anyone else did this sketch intending for it to be serious, then this would be something else altogether.
But it was a parody – a hilarious, well executed one at that.
So well done, "SNL" and Waltz, but maybe lay off the Jesus jokes for a little while, considering the backlash.
Bragg, a journalism and public relations major from Lillington, is the Editor-in-Chief.