On September 10th in Boone, North Carolina and the Appalachian State football team has just wrapped up their first victory of the 2016 season in their home opener against Old Dominion. The 31-7 win in the white-out game proved to be a fresh start for the team as the color white often represents.
Donning white jerseys, pants, socks, cleats, helmets and even white gloves, the full white uniform seemed fitting for a team to purify their season after a tough  week one loss to the University of Tennessee. But the win and the game itself two months ago meant much more than just a fresh start to the season for transfer senior Dezmin Reed. It was a fresh start to his career.
"The atmosphere here at the Rock is legendary," Reed said. "Coming here and playing in front of this big crowd and playing in a big stadium is a huge help for us. Obviously it is the same way for Tennessee, and after we were not able to finish off that game it was really nice to back back home to a warm welcoming here at the Rock."
Having transferred from Georgia Military College (GMC) as a junior to App State in 2015, Reed did not see much playing time. He saw action in eight games, but because more experienced players were starting in front of him, Reed accumulated only two tackles and a fumble recovery.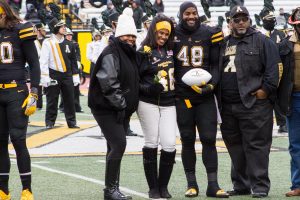 Reed is listed as an outside linebacker, but his body type and style of play is more fit for a spot on the defensive line. In 2015, the defensive line and the linebacker positions were filled with juniors and seniors that had been in App State's defensive coordinator Nate Woody's system at least two years longer than Reed because of his transfer.
"Last year Dez [Reed] really wanted to play, but he never had a set position," Woody said. "He moved around quite a bit from inside back to outside back, but he is more of a lineman than a linebacker, and we had several guys with more experience at that position last year."
After a full year learning Woody's system, Reed has accepted the role as a backup to junior defensive lineman Caleb Fuller on the defensive line and has impressed with 25 total tackles and six sacks for a loss of 38 yards in just nine games.
Reed credits his success on the field to the coaching staff and says that understanding Woody's scheme with a little more familiarity has helped greatly.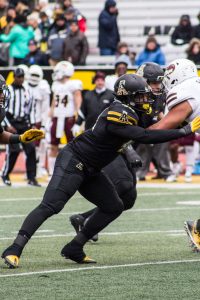 "Knowing what I'm doing out there has been the biggest difference from last year to this year," Reed said. "The coaches have done a great job helping me not to think so much while I'm out there on the field. I give all the credit to my success on the field to the coaching staff and what they give us mentally and physically. Because it is not only me who is excelling on the field, it is the whole team."
Reed is tied with junior defensive lineman Antonious Sims for the team high in sacks this season, but they have more in common than just taking down the opposing quarterbacks, they both transferred from GMC.
Sims played defensive end at GMC while also serving as a backup running back, an interesting combination that proved effective as he caught four passes for 65 yards and a touchdown.
Both having high school careers full of accolades and college careers at GMC that impressed but got them average prospect ratings, Reed and Sims paths keep intersecting as they work to contain opposing offenses.
Now, having both transferred to Appalachian, they are both shining on the stage that Division 1 football brings.
Reed, along with Sims is overextending the expectations others had for him, but all along he and Woody knew what he was capable of.
"All Dez [Reed] needed was an opportunity," Woody said. "He has been so hungry to learn as much as he could about the position, and thus far he has done a great job handling his role on and off the field this season.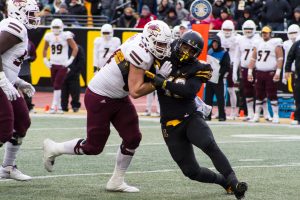 Reed is looking to further his career beyond what Division 1 football and App State can bring. His goal is to play in the National Football League after his time as a Mountaineer is up after this season. He understands the challenge at playing at the next level, but he knows what he has learned at App State will help him as he pursues his dream.
"Watching film and connecting with other teammates has been a big help for me," Reed said. "Talking football with other guys on the team whether we are on the road or at home, just talking strategy with other guys really helps. I hope that all this will help me reach my ultimate goal of playing on Sundays."
The Mountaineers still have one more game yet to play in the 2016 season before playing in their second consecutive bowl game in December.
Story By: Braxton Critcher, Sports Reporter
Photos By: Halle Keighton, Photo Editor