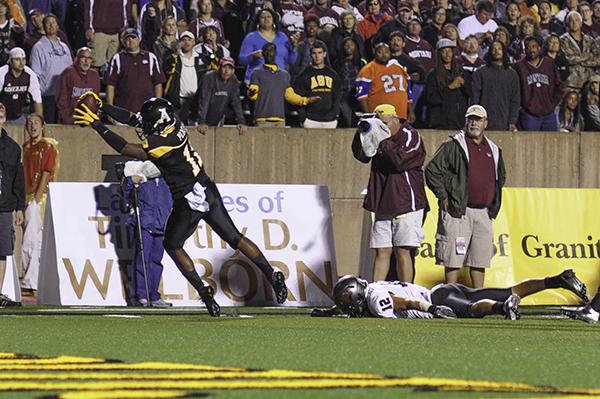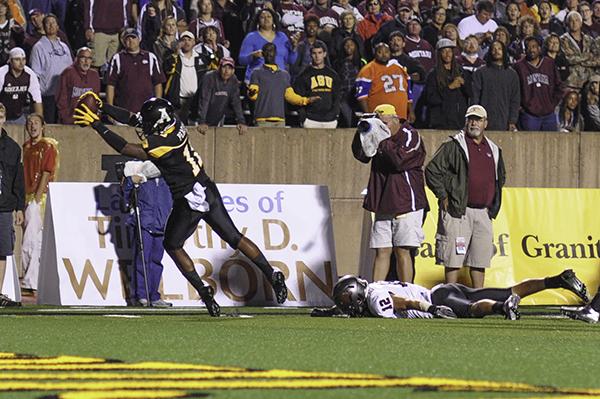 When Andrew Peacock came to college, he was a full-bred quarterback. He amassed nearly 3,000 yards of total offense as quarterback his senior year of high school according to goasu.com.
Peacock redshirted in 2009 and appeared in 12 games in 2010. Last season he ranked second behind the team leader Brian Quick with 48 catches and 564 yards. Playing alongside Quick was a cherished opportunity for Peacock.
"I got to play beside Brian Quick, which was a huge honor for me and taught me a lot, " Peacock said. "Even the year before that, I played beside CoCo Hillary and Matt Cline. All that was a learning experience for me and the only way I got here to where I'm at today."
Playing quarterback in high school, Peacock needed good receivers to teach him the wide receiver position, and he is very humbled by it.
"The stuff they taught me, the work ethic, the technique, everything they taught me was just a huge honor," Peacock said. "That's the biggest thing I picked up from last year and the year before that."
Peacock said his idol is Quick because in addition to teaching him about the position of wide receiver, he taught him about the true meaning of a team and about life.
"My biggest help, my biggest idol is definitely Brian Quick," Peacock said. " He taught us the game, taught us more about receiver, taught us more about life in general. It was just a family here and we take that and we use that on the freshman now. It's just a big family here. [Quick] is definitely the person I follow."
Jamal Jackson, starting quarterback said that him and Peacock have been working together since 2009.
"We were both down on the scout team my freshman year and we been building our chemistry for a long time now," Jackson said. "We got the chance to be on the field together towards the middle of the season and I believe that the sky is the limit."
In the two games this season, Peacock leads the team with 10 catches, 134 yards and a touchdown, according to goasu.com.
Winning the three national championships, Peacock has set high for the team to get back to winning the championship again.
"Last year we didn't get it and that a huge, huge chip on our shoulder," Peacock said. "We really feel like we could bring that tradition back."
Story: JAMES ASHLEY, Sports Editor
Photo: JUSTIN PERRY, Intern Photographer