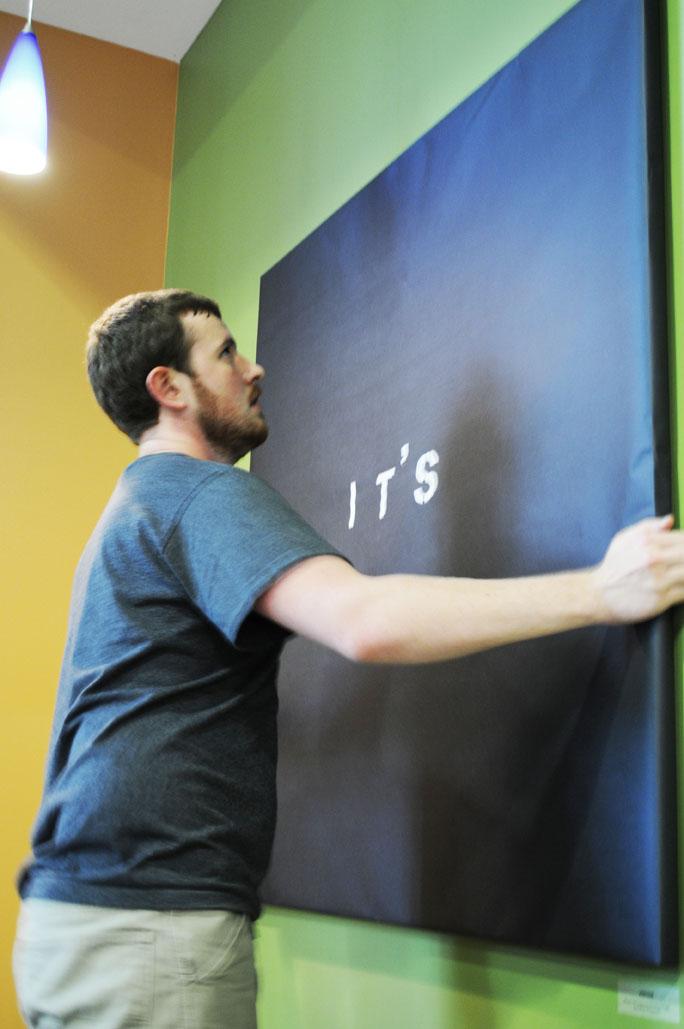 The photos in Central Dining Hall have been covered with black paper and stenciled with sayings or QR code.
The purpose is to "stir" up conversations about Walk for Awareness, Food Services Director Art Kessler said.
"We're excited to take part," Kessler said. "I like the idea of stirring up conversation and making students aware."
This year's Walk for Awareness theme is, "It's up to me," which is a yearlong message.
"I think the topic of safety is important on every campus," Dean of Students J.J. Brown said. "Ultimately, the things that happen in any community and how we work together to address these things is really important."
But the walk coordinates with an even bigger campaign – The Red Flag Campaign.
The Red Flag campaign, a bystander intervention, is sponsored by the Sociology Club and the OASIS Sexual Violence Prevention Committee.
Bystander intervention trains people to recognize red flags and empowers them to say something, Brown said.
The QR codes featured on the photos link to websites with numbers to medical, emergency, health, sexual assault, suicide hotline, abuse and counseling resources.
"If I can do one thing, it's to get the numbers in students' phones," Troy Tuttle said. "If that happens, it will make everything worth it."
Tuttle, one of the photographers of the photos in Central, was helping cover the photos Tuesday.
Junior public relations major Janea Brown also helped cover the photos on Tuesday.
"I think the campaign is a great idea and a great way to get the word out," Brown said.
The walk kicks off on Sept. 4 at 9 p.m. on Sanford Mall.
Story: KELLI STRAKA, News Editor
Photo: MAGGIE COZENS, Photo Editor