On Feb. 15, 16 and 17 at 7 p.m., Appalachian's Playcrafters will be holding their annual New Play Festival in the I.G. Greer Studio Theatre.
Playcrafters, a student organization affiliated with the university's Department of Theatre and Dance, was founded in 1933 and is one of the oldest student organizations at the university.
This spring's festival includes five original one-act plays that are written, produced and performed by Appalachian students.
One-act plays are shortened theatrical performances that usually consist of "one act" or one setting in which all of the action takes place.
Kat Butte, the New Play Festival Chair, said that each play consists of a playwright, director, stage manager and cast.
The Playcrafters go through a process when choosing plays for the festival. Butte explained that at the end of the spring semester, all plays are submitted to the organization. Executive members from the Playcrafters as well as several professors from the theater department meet and spend an hour or two discussing the submitted plays.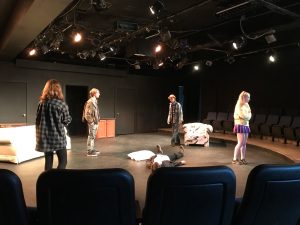 They then vote on which ones would fit best in the show and express what themes they would like apparent in the festival for that year.
The one-act plays chosen for this year's festival all range in genres, Butte said.
"We wanted to have a good range of shows; we didn't want to have all comedies or all dramas," Butte said.
Butte, a sophomore theater arts major, has been involved with Playcrafters since November 2016. Butte said that her main motivation for joining Playcrafters came from her desire to get involved with the theater department during her freshman year.
"I wanted to be known in the theater department and make more friends in the department, so I decided that I would try stage-managing a show," Butte said. "I ended up doing that, and it was a really fun and great experience. I got to meet a lot of great people that I'm still always hanging out with."
Participants of the festival are often theater majors, but several are pursuing degrees in other areas, predominantly English and creative writing, Butte said.
Many of the scripts submitted to the Playcrafters stem from Appalachian State professor Derek Davidson and his playwriting class.
Davidson has taught in the theater department since 2010. He said that as soon as he joined this department, he took an interest in supporting the Playcrafters and the New Play Festival.
Students interested in participating in the New Play Festival do not need to major in something pertaining to the department.
"We encourage anyone at all," Davidson said. "We like when there's a lot of different voices and participants."
Davidson also noted that students can have more than one role in the festival and participate in several different ways.
One of the playwrights for this festival, senior theater arts major Matt Denney, said that the idea for his play originated from a writing prompt that was written for Davidson's class.
Denney's play, "The Hurricane Party," centers around a husband and wife who are trying to have a child and the problems that arise from miscommunications in the relationship.
"I looked up the prompt and then started running ideas by one of my friends," Denney said. "I would just bounce ideas off of her so I could put them all together in my head."
Denney explains that playwrights submitting to this festival have a lot of creative leeway in their pieces.
"As far as I know, you have free range to write whatever you want," Denney said. "There's not really a limit to what you can do as long as you think a group of students can put on that show."
2017 alumna Paula Mandarino, playwright of "Strangers," said that her play also originated from a prompt and was written for Davidson's class.
Mandarino's play is about four college students who meet for the first time to do a class project together. The students accidentally kill someone in the process, and the play centers around each of their personalities unfolding as they react to this event.
"I definitely want (the audience) to be a little creeped out," Mandarino said. "I would hope that they would be like 'Wow, that's creepy,' and also have this idea of 'Wow, things can change so fast.'"
Mandarino graduated in December 2017 and said writing this play helped prepare her for success in her field after graduating from App.
"I've actually used this as sort of a tool to help me when I'm applying to grad schools," Mandarino said. "A lot of them, like if I'm applying to creative writing programs, wondered if I've done any scripts or plays that have been performed. So this has definitely helped me with that because it's given me experience in the process, and it's also something that I can present."
In regards to interested actors at Appalachian, Butte encouraged everyone to get involved with upcoming Playcrafters' events.
"Absolutely try to get involved with the New Play Festival and Playcrafters," Butte said. "If you didn't get into a main stage show or if you think that you're interested in theater but don't really know, it's a great way to just put yourself out there."
As for students interested in playwriting, Mandarino encouraged students to submit any works that they feel are suitable.
"If you have a gut feeling like 'I really like my play and I want to see if something can be done with it,' just submit it because you might end up being one of the few that's chosen," Mandarino said.
Story by: Laura Boaggio, Intern Reporter
Photos courtesy of Daniel Adkins
Featured Photo Caption: Actors rehearse for the New Play Festival.