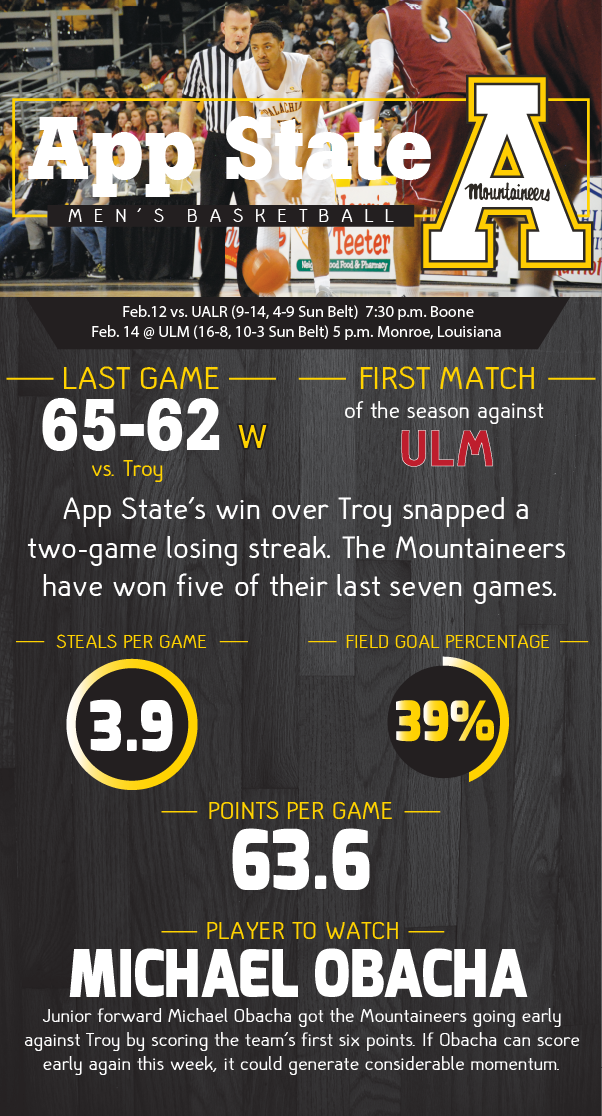 Confidence after Troy 
The Mountaineers (9-12, 6-6) played a solid game against the Trojans, but relaxed a bit too much in the second half and let Troy claw back into the game.
However, App State remained calm and collected to pull out a three-point win, which was exactly what the doctor ordered for a team that had lost two straight prior to the matchup.
The Mountaineers should be a confident team after closing out the Trojans, not to mention that they have won five of their last seven and have already matched the win total from last year with nine.
Going deep 
If there was one advantage that App State had over Troy in its last game, it was depth.
The Trojans used only three subs while the Mountaineers were able to bring in seven bench players to relieve their starters.
Off the bench, head coach Jim Fox can place several players into key game situations, such as freshman forward Milos Kostic and sophomore forward Mike Kobani.
App State's starters have been solid, but depth is important especially at this point in the season with the wear of the schedule weighing on the squad.
Story: Cory Spiers, Sports Editor
Infographic: Malik Rahili, Visual Managing Editor