Posting up
Appalachian State men's basketball has had their ups and downs throughout the 2016-17 season so far, but one constant has been the play of center Griffin Kinney.
Kinney and Jake Babic are the two juniors on the team, and with forward Matt O'Boyle being the only senior on this inexperienced team, Kinney has to put leadership front and center.
"The learning curve is over for me personally understanding the offense and defensive schemes," Kinney said. "I'm kind of taking that veteran role and helping other guys learn what is going on."
Babic, a guard for the Mountaineers, was a part of head coach Jim Fox's first recruiting class with Kinney, and no one has noticed the improvements of Kinney on and off the court more than him.
"He brings the intensity every time. He's a guy who is very blue-collared," Babic said. "He likes to do everything by example, so if people aren't doing what needs to be done he'll drag them along with him."
Babic also explained the big difference with Kinney compared to their freshman and sophomore seasons is the improvement of him vocally on the court and showing his young teammates where they need to be and when they need to be there.
Kinney's high school background out of Delaware, Ohio is very unique with him attending Fork Union Military Academy where a strict layout helped mold the leader that he is today for this program.
"Living away from home and going to that military school really helped him out and he has grown tremendously as a leader," Babic said.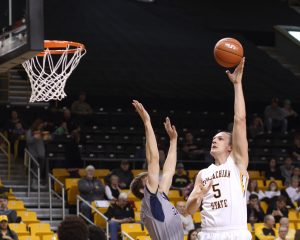 Not only have the strides of Kinney come from his leading, but his play on the court speaks for itself.
Offensively, not being a huge factor his first couple of seasons averaging 3.5 points per game as a freshman and 6.3 as a sophomore, his offensive game has blossomed with his defense staying consistent and bringing the interior intensity needed to protect the paint.
Kinney is second on the team in scoring with 9.7 points per game, second in rebounds per game with 6.3 and second in field goal percentage at 51 percent.
A much-improved interior post-up game from Kinney has been the real improvement for him offensively forcing defenses to foul him and send him to the free throw line at a high rate, where he leads the team in free throws attempted.
With that being said, Kinney is shooting 64 percent from the charity strike and hopes to continue improving that aspect of his game along with his 3-pointer.
"Throughout the season, free throws aren't where I want them to be right now, and that top of the key three," Kinney said. "That's another aspect I want to add to my game."
The offensive game has grown for Kinney but it leads to more opportunities for his teammates with his great passing ability and it's rubbing off on sophomore forward Tyrell Johnson.
"I know if I look for him, Griff is going to look for me," Johnson said. "I think he is an excellent passer and he's great to play side by side with."
Johnson, who is a year younger than Kinney, has looked up to him as a mentor in going through the growing pains of being a young player, similar to the way Kinney looked up to former Mountaineer Tommy Spagnolo when he was learning to play at the collegiate level.
"I had a veteran in Tommy Spagnolo when I was a freshman, someone I looked up to and tried to immolate parts of my game off of," Kinney said.
This role has also been present with Johnson who has changed his style of play since first entering college basketball as a freshman.
"I think when I first came here I always played fast, but working out with Griff, he taught me how to slow down and take my time in the post," Johnson said. "Griff has definitely taught me a lot."
The season for the Mountaineers is quickly heading towards the end already being in mid-February, but Kinney has high hopes for his team heading down the stretch and will continue to lead his team into later March.
As the postseason approaches Appalachian has hit a little hot streak after starting 1-10 in conference play. The Mountaineers have won their last two games, defeating first-place Georgia State in thrilling fashion 77-72 along with beating Georgia Southern on Feb. 13 led by Kinney's career-high 25 points and nine rebounds in only 26 minutes of play.
"We need to get hot at the end of the year," Kinney said. "All of our goals are still right in front of us with that conference tournament, anything can happen."
Story By: Adam Hothersall, Sports Reporter
Photo By: Halle Keighton, Photo Editor