President Trump's lackluster response to Hurricane Harvey
In the last weeks of August and into September, Hurricane Harvey has devastated most of southeastern Texas and the coast of Louisiana.
The Guardian reported on Thursday that "The storm has killed at least 44 people in Texas, […] and forced 32,000 people into shelters since it came ashore last Friday near Rockport on the Gulf of Mexico coast."
The article has also recorded flood damage to over 48,700 homes, 1,000 of which have been destroyed.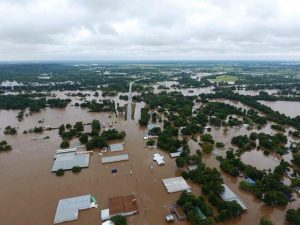 According to USA TODAY, "Harvey has dumped about 19 trillion gallons of rain over southeast Texas, and another 5.5 trillion gallons over Louisiana."
Needless to say, recovery efforts are widespread with resources coming to the affected areas from across the country. The anticipation and aftermath of Harvey has been highly publicized, drawing sympathies and responses from celebrities and public figures.
Most notably, President Donald Trump announced his plans to visit Texas "as soon as that trip can be made without causing disruption," via Twitter on Aug. 27.
Trump landed in Texas on Tuesday and only a day later he tweeted, "After witnessing first hand the horror [and] devastation caused by Hurricane Harvey, my heart goes out even more to the great people of Texas!"
Immediately after posting this, he received backlash both on social media and in the news.
The New York Daily News was quick to point out, "Through the trip, he did not meet with any victims of the storm, and he did not travel anywhere close to the horror and devastation in Houston. He also continued to keep mum about the people who have lost their lives in the storm, and he said nothing to promote volunteering or acts of charity."
While it is true that Trump has pledged $1 million towards relief efforts, AccuWeather estimates that the price on Hurricane Harvey could very easily reach $190 billion dollars.
The Washington Post writers Derek Hawkins and Travis M. Matthews said that the president not only made no acknowledgement of the victims, but also "gushed about the crowd that had gathered to see him ("what a turnout"), offered hyperbole about the recovery effort (it will be "something very special"), and thanked his Federal Emergency Management Agency administrator ("a man who has really become very famous on television over the last couple of days")."
Riding on the coattails of Harvey's increase of social media usage, Trump used the opportunity to also tweet about his disapproval for the North American Free Trade Agreement and his plans for his infamous Mexican-American wall.
It seems odd that in the wake of a storm which deranks Katrina, the president would tweet, "With Mexico being one of the highest crime Nations in the world, we must have THE WALL. Mexico will pay for it through reimbursement/other."
Harvey is clearly not just a travesty to the president, but an opportunity for himself to build on his public image.
Not only has he claimed to understand the pain of actual victims of the storm, but he has also abused the hurricane's publicity to make more brash proclamations about his policies and plans for his term.
It is hard to doubt that Trump cares about the people of Texas; however, he has also used their devastation as a platform for gaining publicity.
Donald Trump met with no survivors, and is incapable of seeing the true "horror and devastation" experienced by all those who were displaced from their homes, lost loved ones, or their own lives.
Hansen Dendinger is a freshman Creative Writing major from Waxhaw, North Carolina. Follow her on Twitter at @HansenDendinger