Rachel Bowles, junior graphic design major, is one of the many students whose artwork is being displayed for Appalachian State University's annual Art Expo. It displays artwork of all medias including graphic design, painting, video, sculpture, ceramics and photography. The Smith Gallery and the department of art organized and will host the student exhibition, which will take place Feb. 23-March 28.
The juror, Mary Anne Redding, selects artwork to receive a "Best in Show" award, as well as first, second and third place awards. Students may go in and vote for their favorite piece to win the People's Choice award. 


Bowles submitted three different paintings for this event. Her artwork is a mixed media piece, meaning that she used multiple different materials to make it.
The Appalachian asked Bowles about her artwork and her experience with Art Expo.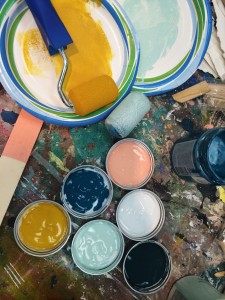 ––––––––––
The Appalachian: What's it like having your artwork displayed so publicly?
Rachel Bowles: "The last time I had my art displayed like that, in a gallery setting, was elementary school. In high school and middle school I had stuff up in our shows, but this setting it's in, the Smith Gallery, is great. It's very exciting."
TA: What was the process with Art Expo like, from creating the paintings to getting them displayed?
RB: "So, I submitted a drawing I did in a Drawing 2 class. I honestly don't remember what the prompt was specifically. But I decided I wanted to do some really big pieces. So I did a series of seven drawings, mixed media drawings. I picked a night and took over the painting studio and just spread out on the floor and laid out my paper, listening to music the whole time. I listened to a lot of Ben Howard and just drew influence from what I was feeling and seeing and listening to, so the series is a lot about motion and movement. I decided to submit a few pieces of the pieces I'd done, because seven would be a lot of frame. I asked friends which ones they found to be the strongest, and took into consideration what my teacher said. The one that is up there is actually my teacher's favorite. I just thought it was a really good opportunity. I submitted a total of three, and I felt really good about being able to get something in. It was really exciting. The bodywork they have up is really diverse, which I think is cool. "
TA: Was there a certain style you tried to incorporate?
RB: "I looked at one of my favorite painters, Heather Day, for inspiration. Her work is about movement and conversations between people, but it's very abstract, very colorful, so I was kind of pulling from that and artists similar."
TA: What tools did you use?
RB: "I used house paint, gel medium for some texture, charcoal, oil pastels– which is one of my favorite mediums to work with. I also had some tape left from putting it up on the wall. It's actually on the one that's up there now; there's a little piece of tape just hanging on it, and it's one of my favorite parts of it."
TA: When people look at your work, what do you want them to get out of it?
RB: I want them to sense that movement. I'm also very conscious when I paint a color, of the color scheme I'm using and how they relate with each other. So I want it to make people conscious of the colors around them and how they're relating with life and stuff like that. It's like an exploration of nature and what individual mark making can be."
Story: Molly Flinchum, Intern A&E Reporter