Rapid Reaction: App State vs. #15 Georgia
On Saturday night, the Appalachian State (0-1) football team traveled to Athens, Georgia to face off with No. 15 Georgia Bulldogs (1-0) in their 2017 season opener. It was their second straight season opening up against a ranked SEC opponent on the road.
The Mountaineers could not catch a break, taking a loss 31-10. After getting off to a good start holding Georgia to two straight three-and-outs on defense, senior quarterback Taylor Lamb broke out for a 32-yard gain. Lamb promptly fumbled the ball on the next play and it was all downhill for App State from there.
The Good
Mountaineer running back Terrence Upshaw returned to the field for the first time since 2015, running for 17 yards on seven carries and had two receptions for four yards. While these numbers are nothing to write home about, it was good to see Upshaw back in action. His return can do nothing but help the Mountaineers, adding some much needed depth to the running back position with the departure of Marcus Cox.
Senior defensive back A.J. Howard led both rosters in tackles with 11, including an assisted tackle for a loss. Sophomore defensive back Desmond Franklin picked up the Mountaineers' first interception of the season in the fourth quarter, returning it for 26 yards and eventually leading to a Lamb touchdown run, the only touchdown of the game for App State.
During the fourth quarter, the Mountaineers picked up their play. In addition to Franklin's interception and Lamb's touchdown, App State rushed for 47 yards on eight carries and put up a field goal before the final buzzer sounded. They averaged 5.8 yards per carry in the fourth, a number significantly better than the 3.7 mark they produced in the first three quarters.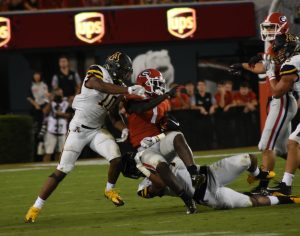 Several freshmen made their debuts for the Mountaineers, including receiver Thomas Hennigan, who finished second in yards among App State receivers for the night and did good work returning the ball, and athlete Malik Williams, who rushed one time and caught a pass for seven yards.
The Bad
While the Bulldog's returning starting quarterback, sophomore Jacob Eason, went out early with an apparent strained knee, true freshman Jake Fromm came in to replace him. Fromm wreaked havoc on the App State defense, completing 10 of 15 passes for 143 yards and a touchdown, including a 34-yard completion for a score. The Mountaineers could do little to stop Fromm in his debut, possibly even creating a question mark on Eason's starting job upon his return.
Penalties were another huge problem for the Mountaineers. When it was all over, they had amassed over 100 yards in penalties on 11 thrown flags, compared to Georgia who only took 46 yards on eight flags. After the game, App State head coach Scott Satterfield said this is something a team cannot do against any team and expect success, let alone a national powerhouse like Georgia. Too many small mistakes turned into a huge one for App State.
The running game was completely ineffective for much of the game, with 2016 Sun Belt offensive player of the year Jalin Moore posting only 38 yards on 13 attempts, with quarterback Taylor Lamb gaining the most of any Mountaineer by 28 yards. Together, App State running backs amassed only 70 yards on 22 carries, earning 3.1 yards per touch.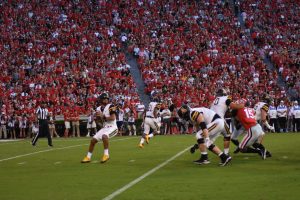 Three Takeaways
The run game: App State cannot expect to be successful with the kind of run production they received against the Bulldogs. Although they will not see a front seven as talented as Georgia's at any other point in the season, but Moore and Upshaw will have to do better in the future if the Mountaineers want to win.

Small mistakes: Careless mistakes and penalties can be a game-ender. App State will need to tighten up their execution and keep their penalty yards down to be able to win games. Several times during the game, big plays were overruled by bad penalties.

Freshmen: With veterans Shaedon Meadors and Darrynton Evans out with injuries, freshmen Thomas Hennigan and Malik Williams took the field for App State. While neither had amazing statistics, both played respectably against a powerful SEC opponent in their first collegiate action.
Up Next:
App State will host Savannah State in their first home game of the season at Kidd Brewer Stadium on Sept. 9 at 3:30 p.m.
Story By: Brooks Maynard, Senior Sports Reporter
Photos By: Lindsay Vaughn, Senior Staff Photographer