Rapid Reactions: App State 38, Georgia Southern 14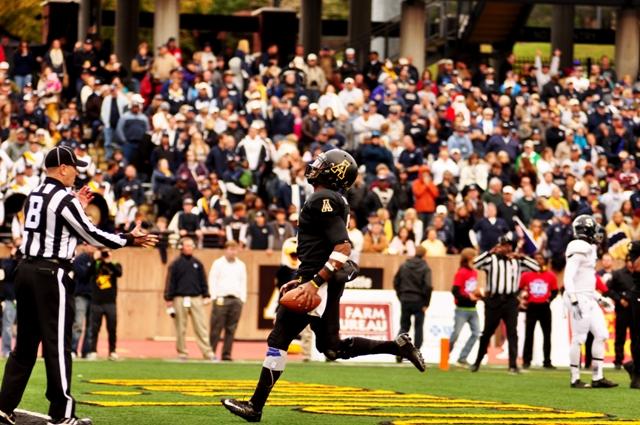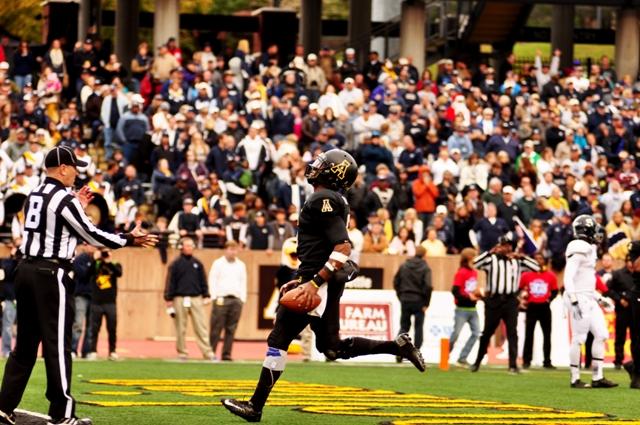 Rapid reaction after the Mountaineers (2-6, 2-3 SoCon) took down the Eagles (4-3, 2-3) at Kidd Brewer Stadium in the annual Black Saturday game.
When It Rains, It Pours
After a slow start to the game, App State came alive in the second quarter and didn't look back. Sophomore quarterback Kameron Bryant had an all-around great game and showed why he leads the SoCon in pass efficiency, going 27 for 33 with 381 yards and two touchdowns.
It wasn't all Bryant, however, as the Mountaineers' wide receivers stepped up in a big way, snagging pass after pass. Senior Tony Washington had a career game with 5 catches for 129 yards and one touchdown, while senior Andrew Peacock had 10 catches for 127 yards.
Sophomores Malachi Jones and Simms McElfresh rounded out the complete passing attack with 57 and 47 yards, respectively.
Freshman running back Marcus Cox broke the century mark rushing for the third time as he finished with 105 yards.
Defensive Lockdown
The offense may have filled the stat book, but the effort by App State's defense today can't be understated. Senior inside linebacker Karl Anderson and junior inside linebacker Brandon McGowan led the way at the line, having 10 tackles each.
Close behind with nine tackles each were sophomore defensive back Doug Middleton, junior defensive lineman Deuce Robinson and freshman defensive back Alex Gray.
App State also held Georgia Southern to 5 of 12 third-down conversions and forced two fumbles, one of which they recovered.
This is the first time this season the Eagles have been held below 20 points total.
Playing For Pride
The Eagles were the clear favorite going into this game. They were ranked 24th in The Sports Network FCS rankings and were figured to win by 16 points in the Vegas odds.
But you can't place a number on the fight a team can give when pride is on the line.
If there was a game that App State wanted to have everything come together and have a great game for, it was this one. They now have matched their longest winning streak against GSU in series' history at three games straight.
The last time the Mountaineers won three straight was from 1995-97.
As for the slow start, hopefully that was just the beginning to the rest of the season. If the ending performance by App State can carry-over into the next games, the slow starts should become less noticeable.
The Good
There was a lot that went right today for App State, but one of the really significant things was the play calling offensively. Perhaps it was because things were going right, but the offense ran a variety plays.
Switching up sides and switching up targets kept the Eagles guessing and allowed the Mountaineers to avoid stalling out at midfield and keep pushing toward the endzone.
Punting isn't usually a stat that teams brag about, but App State only had four punts and they averaged a distance of 45.8 yards. GSU had five punts and averaged 37 yards.
The Bad
Perhaps the only sore spots App State can work on are the slow start to the game and the penalties.
Seven penalties cost App State 70 total yards, while GSU only had five for 43 yards.
On one drive alone, the Mountaineers gained 96 yards but lost 40 yards due to penalties—even if one flag was a controversial taunting penalty called on Cox that had no business being called.
What's Next?
App State will try to continue their impressive play in the second of their back-to-back home games against Chattanooga on Nov. 2 at 3:30 p.m.
Story: Andrew Clausen, Sports Editor
Photo: Justin Perry, Photo Editor