Record breaking weekend for App State men's basketball
Game One: App State vs. Toccoa Falls. November 11 at 3:30 p.m.
It was a historic night for the Appalachian State Mountaineers men's basketball team (1-0) as they defeated the Toccoa Falls Eagles (0-4) 135-34 in their regular season opener. According to ESPN Stats & Info, it was only the sixth time in NCAA Division I men's basketball history that a team won by 100 points or more.
The Mountaineers came out firing on all cylinders, taking a quick 23-5 lead with over 13 minutes left in the first half after shooting an eye-popping 71 percent from the field, including 60 percent from beyond the arc. Junior guard Ronshad Shabazz led the opening onslaught, having 19 points to go along with three rebounds and three assists in only 14 minutes in the first half. Appalachian's bench players combined for 3/11 when they shot threes, the only real weak point of the first half. Despite what few problems they had, App went into the second half with a 63-16 lead and out-rebounded Toccoa 41-15.
Despite their sizable lead, the Mountaineers were not going to take their foot off of the gas pedal anytime soon. They widened the gap considerably with a 38-3 run to start the second half and took a 101-19 lead with over 10 minutes to go in the game.
Part of the big lead was the Mountaineers' reign of three-point shots,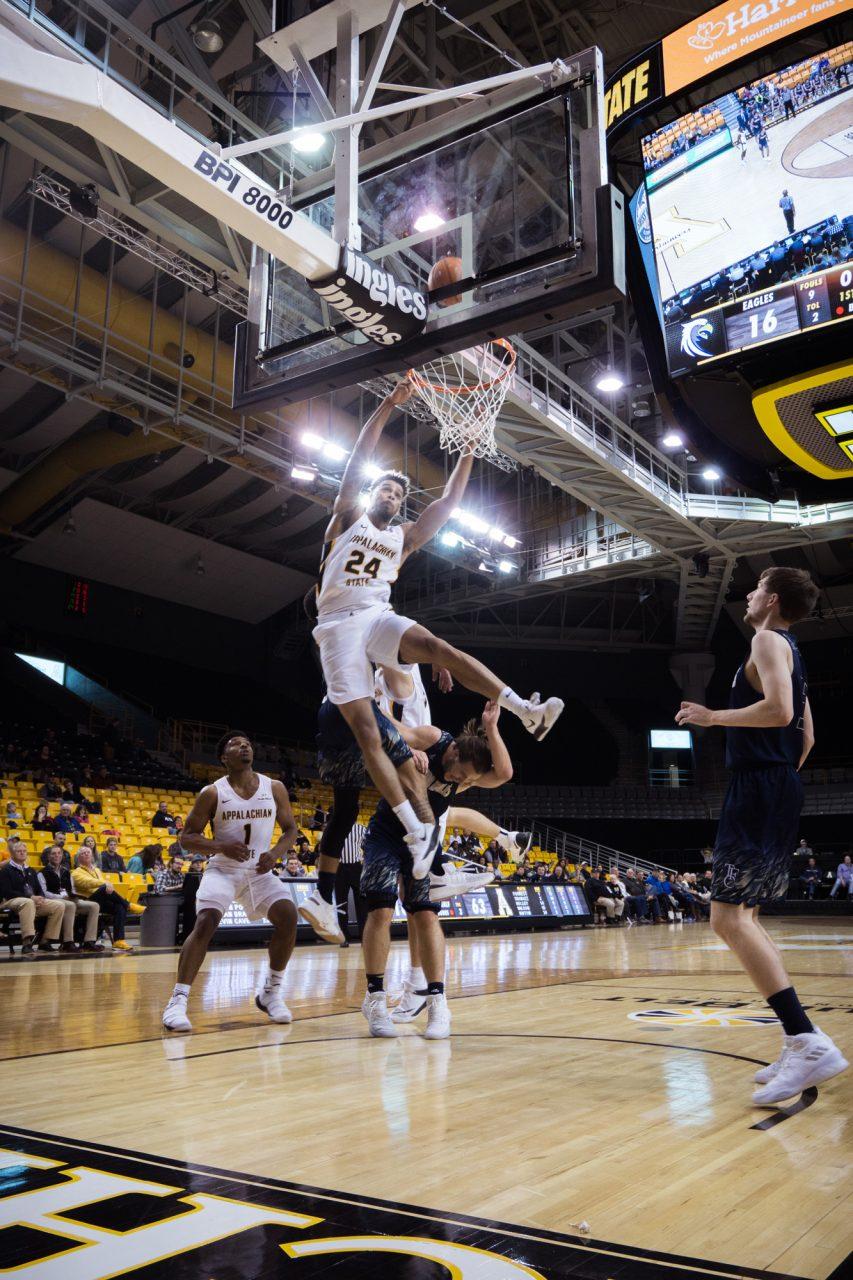 20. Two of those were by junior forward Tyrell Johnson, making the transition to a new role while trying to go outside a bit more.
"It's been a pretty good transition, I'm just trying to expand my range a little bit this season," Johnson said. "I want people to think I'm not only a one-dimensional player but I'm a two-dimensional player."
With 4 minutes, 27 seconds left in the game, it was one of those many three point shots that made school history. Junior guard Kevin Kerley jacked up an outside shot at the top of the arc with a defender in his face to take the score to 123-29, a new single-game scoring record for the team.
The second half was highlighted by 71.4 percent shooting from what were mostly bench players, as the Mountaineers had 13 players play into double-digit minutes during the game. The final score of 135-34 was definitely what will be talked about for a long time.
According to head coach Jim Fox, the team was not aware of the record and he was proud of how the team handled themselves despite the scoring difference.
"I don't know about records or anything like that," Fox said. "I just wanted to make sure our guys were playing the right way, handling themselves the right way and they did that."
For the second straight game, the Mountaineers used a sizable height advantage to dominate the boards and strong-arm their opponents defensively. Toccoa Falls' tallest players checked in at 6 feet 5 inches, allowing Appalachian's taller players like junior Jake Wilson and Isaac Johnson to set career highs in rebounds, and the team to out-rebound the Eagles 70-24.
The team broke four school records during the route, the highlight being the most points scored in program history, the previous record being 120 against Wofford in 1977. The team also set new highs in point differential with 101, field goals made with 50 and players with double-digit minutes with 13.
Story By: Ian Taylor, Sports Reporter
Photos: Hayley Canal
Game Two: App State vs. Bridgewater College. November 12 at 3:30 p.m.
It is always going to be difficult to top the 101-point victory the Mountaineers earned in their previous outing, but that did not stop them from producing another impressive offensive display.
Taking full advantage of their size and skill, the Mountaineers (2-0) were able to easily defeat opponent Bridgewater College (0-2) by a score of 95-57 on Sunday afternoon.
The Division III Eagles are no strangers to tough competition, as they just came off of a game against another Division I opponent in James Madison, and were in the game early, trailing by just one at the first media timeout. App came out of the huddle fired up, put together a 14-3 run and didn't look back after that.
Junior guard Ronshad Shabazz, junior forward Tyrell Johnson and sophomore guard O'Showen Williams all scored in double figures, with Shabazz leading the way with 25 points. He picked up right where he left off last season as the team's leading scorer, averaging 24.5 points a contest after the first two games.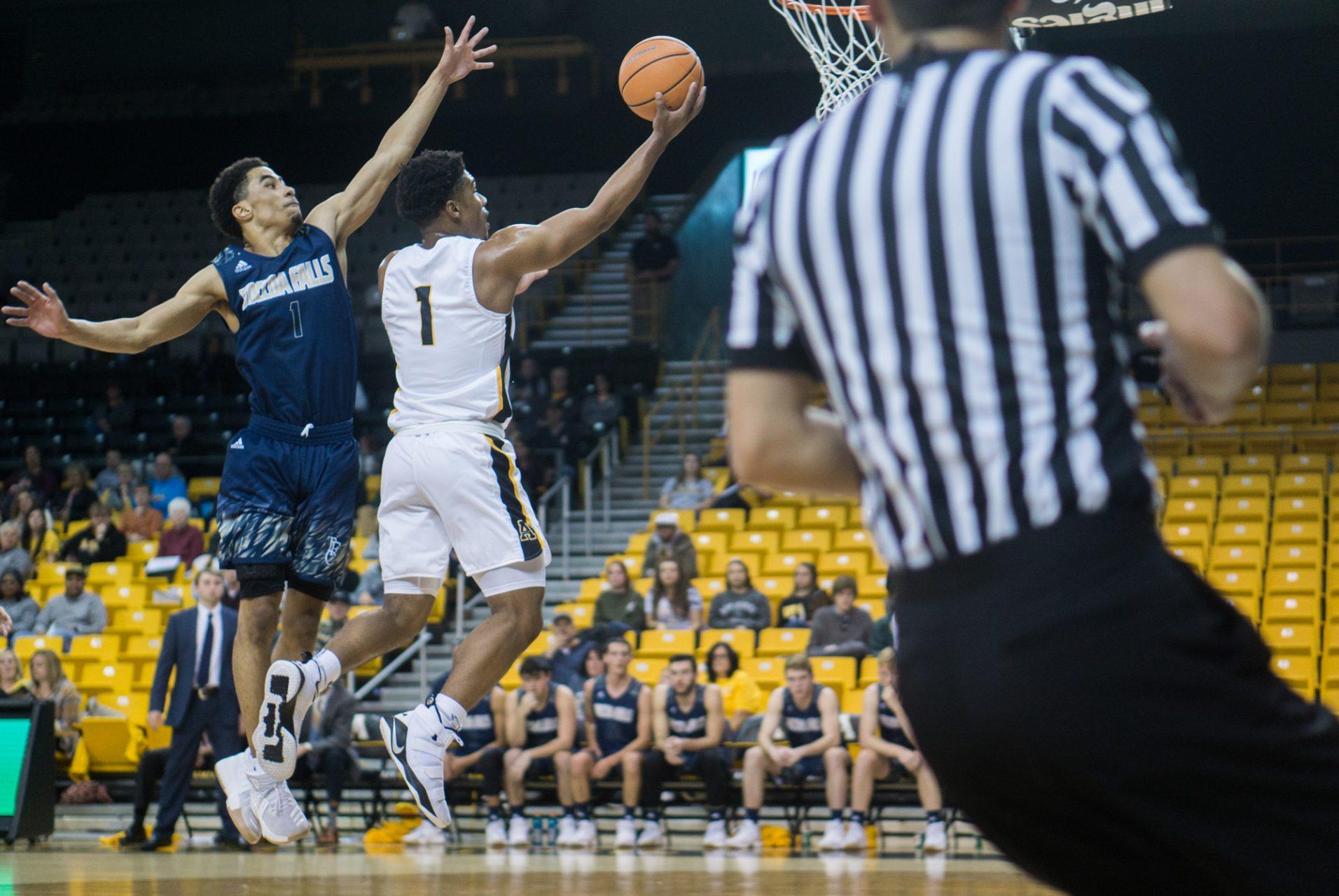 Williams, a junior college transfer, has already shown how valuable he can be on both ends of the court racking up six steals to go along with his 17 points.
"I think we've gotten better defensively these past two game. We've gotten better helping each other out and talking on defense more," Williams said. "I like being an underdog, I've been an underdog my whole life. I had to go the JUCO route then come here, so I'm ready for the challenge."
Head coach Jim Fox said that he also feels like the team is ready for the challenge of facing some tougher competition in their schedule. The team will face their first Division I opponent on Thursday when they take on a tough Iowa State team that has made appearances in last six NCAA Tournaments and are most recently coming off of a Big 12 Tournament championship.
"I think our post guys will be glad to play on Thursday against some guys their size," Fox said. "They (Iowa State) are a very young team and I think they'll be hungry to play."
The Mountaineers hope to continue their hot start to the season and pick up a few big wins this week as they travel to South Carolina to take part in the Puerto Rico Tip-Off at Myrtle Beach.
Story By: Zack Antrum, Sports Reporter