Appalachian State football continued its spring practices with an hour-long full-squad scrimmage at Kidd Brewer Stadium on Saturday.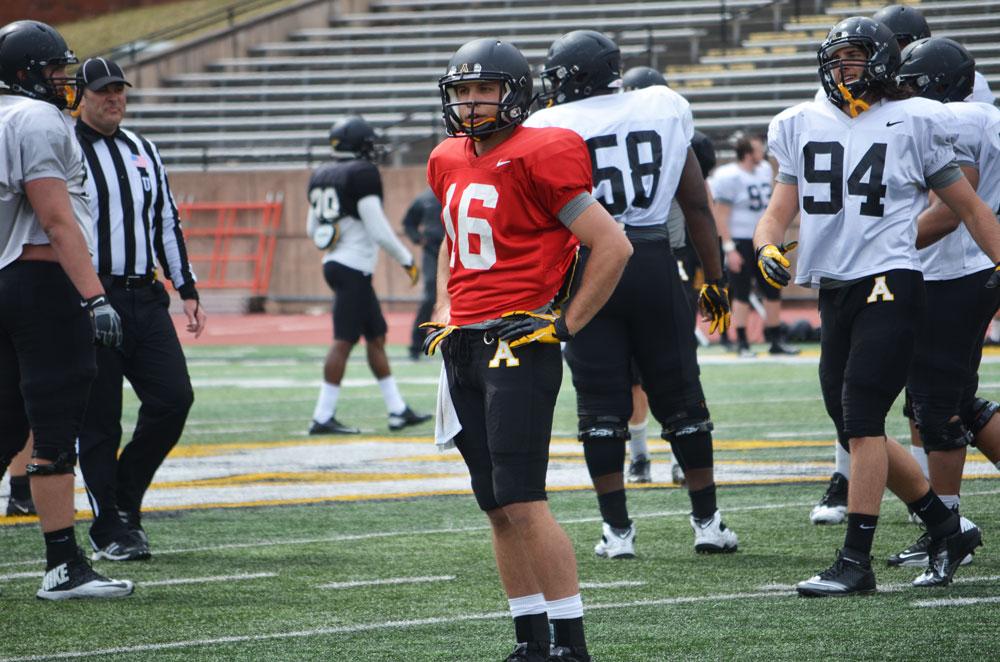 Freshman linebacker Devan Stringer made a statement early when he leaped up to intercept a pass from freshman quarterback Taylor Lamb. Lamb threw the ball up in the middle of the field allowing Stringer to catch it and run 47 yards the other way for a touchdown.
But Lamb responded two drives later, when he found freshman wide receiver Trey Anderson open on the sideline. Anderson caught Lamb's pass in stride and ran into the end zone for a 65-yard touchdown connection.
Junior quarterback Kameron Bryant started to find confidence midway through the scrimmage. His first touchdown pass came when he fired a pass into the hands of sophomore tight end Barrett Burns for a 10-yard connection.
The rest of the scrimmage was dominated by defense. For the latter half, the App State offense scored only three points that came when freshman placekicker Mason Moore drilled a 40-yard field goal after a drive stalled.
Senior linebacker Brandon McGowan impressed as he finished with four tackles and a sack. Sophomore linebacker John Law also compiled a scrimmage-high six tackles.
Bryant led all App State quarterbacks in yardage as he completed six of his 13 passes for 104 yards and a touchdown.
Freshman quarterback J.P. Caruso looked sharp as well, completing five of his seven passes for 44 yards.
The young Mountaineers receiving corps, which does not feature any seniors, saw the juniors lead the way in the scrimmage.
Junior wide receiver Malachi Jones said the whole team played an up-tempo scrimmage, which helped get the team energized.
"We're progressing every day and adjusting to the game," Jones said. "We have to focus on consistency."
Junior wide receiver Trey Kavanaugh led all receivers with three receptions for 24 yards. Junior wide receiver Bobo Beathard grabbed two passes for 28 yards.
Junior wide receiver Simms McElfresh was also credited with one reception for five yards.
"It's been a learning curve for a lot of guys," McElfresh said. "A lot of guys have been stepping up, but they have to get used to everything."
Wide receivers coach Justin Stepp said the team is working on staying consistent as the spring practices conclude.
"I think these guys are hitting the spring ball wall," Stepp said. "Consistency is a big thing I've been stressing to this group all spring. We're looking for a lot better practices next week as we move forward."
App State will wrap up its spring practice slate with the annual spring game April 4 at 7 p.m. at Kidd Brewer Stadium.
Story and photo: Cory Spiers, Sports Editor