School's out for winter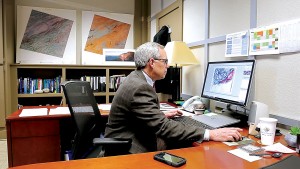 Class cancellation process requires careful decision making
Cancelling classes at Appalachian State University is a decision ultimately made by Chancellor Sheri N. Everts, but it is not an easy one.
Mike Mayfield, vice provost for undergraduate education and professor in the department of geography and planning, is partially responsible for making the proposal to Everts on whether or not to delay or suspend classes and operations at the university.
"Each semester, I get a day-by-day, hour-by-hour, class-type-by-class type breakdown on a complex spreadsheet from the Registrar's office, so when we're contemplating a closure, I open that spreadsheet, sort it and determine how many classes would be impacted by a delay or cancellation," Mayfield said.
Mayfield also corresponds with climatologist Baker Perry, associate professor at the department of geography and planning, to get updates on his interpretations of forecasts from the National Weather Service.
Appalachian has cancelled classes seven times so far this academic year, once for a full day, compared to nine class cancellations last year. The university currently has 3,634 active courses, of which 7,315 individual classes are affected either partially or in entirety. If a cancellation interrupts a class, teachers may suspend class in full or hold class until the time of the cancellation.
Lab and studio classes are often longer and meet less frequently than regularly scheduled classes and are more difficult to make up. Mayfield describes them as "problematic."
Vice Chancellor for Business Affairs Greg Lovins is also responsible for the proposal to the chancellor. He pulls together information from AppalCART, the Physical Plant, the university and police departments, Ray Russell of Ray's Weather Center, the National Weather Service, University Communications and occasionally the Department of Transportation.
Lovins contacts the chancellor with a recommendation after reviewing information across the departments and consulting the Provost's office about class schedules.
"We're very thorough with this process with the primary goal that our students and our faculty and our staff are prepared and that they are safe," Lovins said.
Mayfield said in most cases, if AppalCART can't operate, the university will not be open as a whole.
During a weather-related event in the early morning, AppalCART Operations Manager Tim Townsend patrols parking lots, inspects hills and problematic areas for issues. He then reports his findings to Lovins or ASU Police Chief Gunther Doerr, and decides whether or not AppalCART should cancel transportation.
"We're the public transportation agency for Watauga County," Townsend said. "The least bit of snow is challenging to us due to the hills that we have to encounter."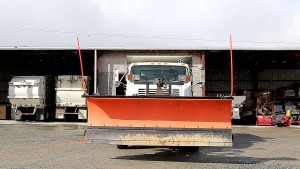 Delaying class can be beneficial to clearing roads during heavy snow, allowing extra time for workers to clear sidewalks and parking lots.
Landscape Services are responsible for maintaining the roads and sidewalks for traffic during inclement weather. Before the winter season begins, 250 tons of calcium chloride, used for salting roads, arrives at Procurement Services from Knoxville, Tennessee.
Three to four truckloads of bagged salt is also stored for sidewalk use, said Jim Bryan, Landscape Services superintendent.
Bodenheimer Drive, a road extending from Rivers Street to the old location of Broyhill Events Center, is a primary concern for all departments.
"That particular area is one of the first areas that we hit because it is so critical," Bryan said.
Bryan said each snow is different and has its own identity, making its circumstances and class cancellation decisions unique as well.
"The best tip on safe driving during winter is not to drive unless you have to drive," Townsend said.  "If you do have to be out, be prepared."
Story and photo by: Jackson Helms, Senior Videographer
Video: Jackson Helms, Senior Videographer and Fouad Abou-Rizk, Intern Videographer