Sculpture Center crew pour their heart into local art
Located south of Boone in Happy Valley, a renovated school gymnasium has been cast into the Western North Carolina Sculpture Center and Park. 
Joe Bigley, App State alum and professor in the art department, founded the Western North Carolina Sculpture Center in 2019 with co-founder Zack Smith-Johnson, a Boone native.  
"I just enjoy putting together a community of artists," Bigley said.
Bigley acquired a painting degree at App State, but his artistic interests peaked after taking a sculpting class. He said that after taking the sculpture class he was hooked on the craft.
  Bigley's interest to start a sculpture center was solidified after his time as an artist at a sculpture garden in Minneapolis. When he came across the old Patterson School gymnasium in Appalachia his plans of starting a park came to fruition.  
Bigley had known Johnson for the better half of a decade and after his time teaching in Atlanta the pair reconnected and teamed up for the project.  
"When I found this abandoned gymnasium, it was just kind of screaming to become a studio, and it was a beautiful location," Bigley said. "Luckily the people who run the former boarding school were open to the idea, and we were just foolish enough to try it out." 
The Patterson Boarding School was originally a private, non-profit boarding school located in Caldwell County and opened in 1909 as an agricultural and industrial school for the "fine minds of mountain boys." In 1994, the property was almost sold when a Patterson heir reclaimed the land through a purchase agreement, and re-opened the school as a newly formed non-profit Patterson School Foundation. In 2009, after a century of operation, Patterson ceased to exist as a private school, but the foundation still carries a rich Appalachian history that centers around education and agriculture. 
 Outside of the converted gymnasium lies the sculpture garden itself. What was once just 13 sculptures in the park has grown to almost 80 works over the past three years; there's even a trail lined with sculptures tucked away in the woods.
Bigley said the center typically gets its traction from social media and joining Facebook groups centering around iron casting and sculpture. The primary source for upcoming events is their website. 
An event hosted there was the Fire In The Valley Halloween Iron Pour and Fundraiser on Oct. 29. The event allowed guests to create their own iron casting and participate in a myriad of events including live music from Trailer Witch and Andrew Massey, as well as food trucks, a costume contest, scarecrow making and a silent auction. 
Bigley said since the center is a nonprofit, artists volunteer their time to help out, help build structures and provide artistry to raise money for events. In return, the artists get equipment access and dedicated workspace. 
The Sculpture Center itself was founded just six months before the COVID-19 pandemic. Bigley said it was a "challenging" time to begin a nonprofit, especially considering that they are fully independent and rent from the Patterson foundation. The foundation encourages and supports donations to the WNC Sculpture Center.
In the front of the workspace lies the breezeway gallery, used for events to showcase dozens of works that bleed out to the front of the building. 
The number of artists at the center has also increased alongside its works. 
Emma Rose is a Boone local and studies art education. Rose applied for a summer internship in 2021 with no previous experience and it ignited her passion for the art. 
"When I started here, I had no sculpture experience, I had no metal experience, none of that," Rose said. "And I definitely fell in love with it."  
Rose said the center has given her the space to experiment with art and do things she never imagined she'd be able to do. Rose's focus for the Halloween event was on ceramics and mugs made to sell. 
Early on, Bigley said there were about three to four artists working at the center, but they gained more sculptors after starting an artist residency program, where artists are invited from all over the country every summer. The furthest traveler they've had was an artist from Ontario, Canada who ventured to the High Country and resided near the center for a couple weeks to make molds and to cast into iron. 
  "It's kind of an organic entity where the works on the park are constantly changing," Bigley said. "And people are making work on-site, which is a nice addition to what's going on here." 
Bigley said several artists journey to the center for their pours. With guests traveling from distances as far as Orlando, Florida, Ohio, Greensboro and as close as Asheville and Boone. 
Sculptor Chris Ness traveled from Pennsylvania to participate in the Halloween Iron Pour and fundraiser.  
Ness first found out about the WNC Sculpture Center after the foundry program, a program for metal casting, ended and their friend Remi Hanuman from the program informed them about the sculpture garden. Hanuman donated two furnaces to the center and currently has an abstract sculpture made from pipes sitting at the sculpture garden's trailhead.  
Ness said it took a couple years to "wander over here" but eventually came for a ceramics conference where they stayed on a compound and fired wood kilns for about two weeks. Ness said they always travel with scratch blocks, or a mold made to be cast in iron, so when they had a moment during the conference's cooldown period they took a scratch block and headed to the WNC Sculpture Center.  
"I finally ended up here and met Joe and saw what was going on," Ness said. "I just kind of showed up in my truck, jumped out all dirty with a leather jacket on and said 'you guys are pouring, cool, I'll help.'"
Ness set up their tent outside the center for their stay during the recent iron pour. 
"It's a really unique spot and I think the potential here is pretty unlimited and boundless." Ness said. 
Emma Finnen has explored the boundless opportunities offered at the sculpture garden. Finnen started as a volunteer, served for a year as an education intern and is now an in-house sculpture and education coordinator for the center. 
"I've been here since 2019 and only missed one pour," Finnen said. 
Finnen's tasks include making artwork, helping around the studio with iron pours and assisting Bigley with coordinating educational workshops.
Finnen is working on a giant infinity swirl sculpture for display in the garden. 
Ness said there's a lot of history in casting and the art as a whole has evolved since the 1950s. 
"It's kind of like a unique American subculture that you can kind of step into, which is pretty interesting," Ness said. 
Rose said that nowadays the community has expanded to include people of all orientations, despite it being a previously male-dominated craft.
Finnen agreed with Rose that the culture of the craft is changing.
"Pretty much everyone who I've poured with has no tolerance for any kind of hatred at all," Finnen said. "It's like a super inclusive space now." 
The WNC Sculpture Center is a community-based arts organization and Bigley said that they will accommodate anyone who is willing to come "no matter your ability or your background."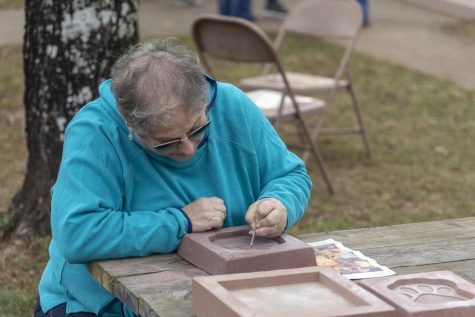 Since the center is an educational non-profit, they offer K-12 programs and workshops at the center to local school districts as a way to engage within the community. Additionally, the center offers a free workshop series for military veterans.
"All this knowledge is shared and it's really kind of beautiful," Ness said. "Everybody knows a little bit and you kind of all share and come back with this sort of enlightened experience." 
Trafford Alexander shares Ness's love for iron casting and sculpture and is one of the main artists at the center. Alexander is a builder in Boone and was working with the co-founder Johnson when he heard about the gym's renovations and discovered his own love for the craft.  
Alexander said he first visited the gym during the center's remodeling; there wasn't even a roof on the building. 
"If you came in during the day, it looked like stars, all the holes through the metal roofing," Alexander said. "It was crazy." 
After Alexander came to check out the facility, he was informed they were going to do a test iron pour, and if it was successful they would do one for the public. He said they told him to buy some leathers and a hard hat with a face shield and come down to participate on the floor.  
"That really appealed to me. So I came down and then I was hooked," Alexander said. "I've been to every pour they've done here, which I think is 10, and this will be 11." 
Alexander specializes in making all kinds of iron masks and said he's done a lot of experimenting with texture and has learned a lot from his fellow artisans. 
Aiden Llorem is another artist and intern at the center and a fourth-year studio art major at App State. After experiencing two iron pours during his internship he "caught the casting bug." 
Llorem works on crafting reusable molds and did a "lost wax mold" at the Halloween Iron Pour. He said it's the oldest version of casting, where you take a pattern out of plastic or foam, make a plaster mold to fill with wax and then the wax melts and leaves a cavity for the metal to be filled.  
Llorems' recent sculpture is made from "pipe making jigs, flywheel for car, old pipe and some sort of bracket" and just debuted in the garden. 
Alexander said the cooperation and community that exists within the iron community has had the most impact on him. 
"I think this sort of small, community feeling is something that, in this sort of modern era, is lost for people," Alexander said.  
Anthony Deal is another artist at the center and attended Southern Illinois University, the same school as artist Kevin Curry, who created the "The Baby" statue that once graced Duck Pond. Deal said when being an art student you grow to have friends that you never lose touch with.  
"Although I've lived in other places around the country, this is home." Deal said. 
Alexander said that being a part of this niche community that is not only 'going strong' in the High Country, but that is occurring at a national level and a part of a larger industrial process is really impactful. 
"I never thought I'd get to see molten metal like in front of my eyes," Alexander said, "So to be a part of that. I think it's just something really special." 
The center plans on doing another monthly music concert series with plans starting in April and ending in November. They had Andrew Massey do a fireside performance Dec. 3 as their final event for the year. This year there will be an all-day music festival on Oct. 7 and Bigley said they would be open to considering student bands and will be accepting performance inquiries through their email. The next iron pour is planned to take place on March 18.