Season recap: Men's aims to improve
With a little more than half of the regular season in the books, the Appalachian State men's basketball team has not performed as well as many had hoped.
With four of the five players that led last year's team in minutes returning, many believed the stars were aligned for App State to contend for a Southern Conference championship. Instead, the Mountaineers have been unable to come away with victories, sporting a 4-12 (0-3 SoCon) record.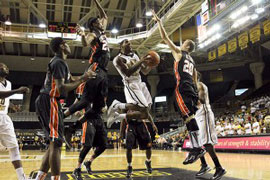 Although a conference title is still attainable, it will take some major improvements during the second half of the season to right the ship.
"We've been in a little slump lately so hopefully we can get ourselves going," junior forward Jay Canty said. "We've been doing a better job of sharing the ball and actually we've been doing a lot better job on our halfcourt defense.
Through 16 games this season, the Mountaineers have just four wins – all of which were at the Holmes Convocation Center.
Led by fourth-year head coach Jason Capel, the squad has struggled against Division I opponents as they have yet to register a victory against another D1 team. The Mountaineers have also struggled away from home, as they seek their first road victory.
Canty, who was academically ineligible for the first nine games, has returned and adds an extra scoring option for the Mountaineers.
"Most importantly [Canty] brings a mindset, he brings some toughness and he's a guy that can do different things on the court with his versatility," Capel said. "You're talking about a guy who can do a little bit of everything."
As a redshirt sophomore last season, Canty finished second on the team and 10th in the SoCon in scoring, averaging 14.3 points per game.
If App State can repeat last year's success down the stretch, the season could be turned around.
In conference play for the 2012-13 regular season, Capel's team dropped just two home games and finished 10-8 before dropping a three-point loss to Davidson in the conference tournament.
In SoCon play this season, App has been defeated in all three of their games. In each contest, however, the Mountaineers played half of the game well enough to win.
In the conference opener at Elon, App State outscored the Phoenix 46-40 in the second half after being crushed 35-20 in the first period.
In the following game against UNC Greensboro, Appalachian took the lead heading into the intermission, before faltering late in the game and losing its conference home opener.
In their previous game against Davidson, App trailed by just one point entering halftime, before losing 78-66 and falling to 0-3 in conference play.
"We're able to hold the lead now as you can see when we played Davidson in the first half," junior guard Tab Hamilton said. "We've picked up a lot on defense, our intensity has changed."
Capel will look to lead his team to a strong finish for the second year in a row, and will have to take it one step at a time.
"We're just staying the course," Capel said. "Each season is a process and you can't skip steps, right now we're just working on getting better every day and preparing for our next game."
App State plays host to Chattanooga on Thursday at 7 p.m. and Georgia Southern on Saturday at 2 p.m. as they look to pick up crucial conference wins down the home stretch of the season.
Story: Nick Joyner, Senior sports reporter