Second Chance Dance recreates prom for LGBT students
On Feb. 16, the Henderson Springs LGBT Center will revamp the glitz and glam of the high school prom in the organization's annual Second Chance Dance.
The dance, which will feature music, food and a photo booth, is intended as an opportunity for LGBT students to attend a prom while feeling comfortable bringing who they want and wearing what they want.
Junior psychology major and administrative coordinator Marine Delgreco said that for some students, the dance can be a do-over or even a first-time opportunity for LGBT students to experience prom the way they want to.
"The goal of the event is a second chance prom for people in the center who maybe didn't go to their prom the way they wanted to or weren't allowed to be out," Delgreco said. "It's supposed to be a do-over of sorts. You can present yourself the way you want to and just have fun."
The event will take place in the Summit Trail Solarium, where Delgreco said the center will dim the lights and allow the trees' lighting to illuminate the room. Paper chains and table props will decorate the space, creating a subtle ambience well suited for Valentine's Day.
Delgreco said the dance will have a "bring your own theme," referencing the dance's lack of dress code and laid back atmosphere. She hopes the dance will create an opportunity for students to explore their identities while making connections with the center and other LGBT students.
"It's important to have events like this because I think college in its own way is a place for coming into yourself," Delgreco said. "You're still trying to figure out who you are, and if that journey just started in high school, you can continue it here, where we have things like this fun dance just for people to get together."
The dance only became a tradition three years ago, and Delgreco was there for the first Second Chance Dance her freshman year.
"I just thought it was really exciting to get to cut loose a bit for people from the center and other people who otherwise don't really come into the center to come to this event and have fun with us," Delgreco said.
Lee Hansen, a sophomore studio art and nursing major, said his experiences at the Second Chance Dance gave him an opportunity he could not have in high school.
"It's just like coming in and knowing that you can be safe in whatever you're wearing," Hansen said. "You can just completely have your own choice and your own opinions and live it while being with your partner or your friends. It's just a lot of leniency and acceptance. I thought it was a lot of fun because I never got to experience prom. It was definitely a big thing for me in particular, it was touching to be able to do that."
He said his favorite part of the dance, however, was spending time with his friends afterward.
"We all got to dress up and dance and take funny pictures at the photo booth, but then afterward we went out and had a nice dinner," Hansen said. "I hadn't been able to have an excuse to dress up and have a nice dinner with friends in a really long time, so it was really nice to be able to do that."
This year, Hansen said, he hopes to convince his partner, who lives in Virginia, to come to Boone to attend the dance. Hansen also hopes to see new faces at the dance, enjoying the same experience he did when he first attended.
"I'm excited for all the new people who have come to the center to be able to have this experience, because I know it was really important to me my first time going," Hansen said.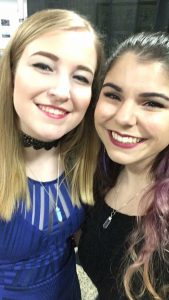 Desk shift volunteer and junior public relations major Becky Parsons said she hopes that the dance will also bring attention to the LGBT Center's other resources and opportunities.
"I think events like this really give App's community an opportunity to be more involved with the LGBT community here and also to learn more about the center and resources available," Parsons said. "Whereas with more educational events like LGBT 101 or the booths that we do, people might not stop by because they might not know what it is if they're not already involved in the community."
Parsons hopes the event will provide connections and resources for LGBT people and allies alike.
"Basically, as the LGBT Center, we strive to provide resources, a sense of community and a welcoming environment for LGBT folk but also for allies who are looking for resources to provide maybe to a friend or even for them to learn more about the community and the identities that fall under it," Parsons said. "But it's all about education in a friendly way that provides resources and builds a strong community."
The LGBT Center hosts panels, discussions and events throughout the year, both in the center and around campus. They also are involved with or help run six LGBT-oriented clubs at App State.
Three are directly involved with the LGBT Center: the Sexuality and Gender Alliance, the transgender and nonbinary club TransAction and the asexual and aromantic spectra club A-SPEC. Three more, the Gay and Progressive Pedagogy club, the Queer People of Color club and the Accessibility Council are more loosely affiliated with the center.
"A lot of people don't think the Accessibility Council necessarily falls under MSD or is related to the LGBT Center, but it really is, because a lot of LGBT folk are also in some way not as able-bodied," Parsons said. "The university is taking this new stance where they want to include people of different abilities in their definition of diversity, which I think is super cool."
The Second Chance Dance will be held on Feb. 16 from 7-10 p.m., and admission is free.
"People can expect a fun-filled night," Parsons said. "It's just something I hope people enjoy and want to come back again next year. It's a chance for them to come let loose and make new friends while eating good food. I think we're even going to try and make punch."
Story by: Ashley Goodman, A&E Editor
Photos courtesy of Marina Delgreco
Featured Photo Caption: Marina Delgreco takes a selfie alongside a bunch of Second Chance Dance attendees in 2017.