Reflecting on her career journey up to this point, Cindy Wallace believes she has broken every mold of a planned path – something she does not regret.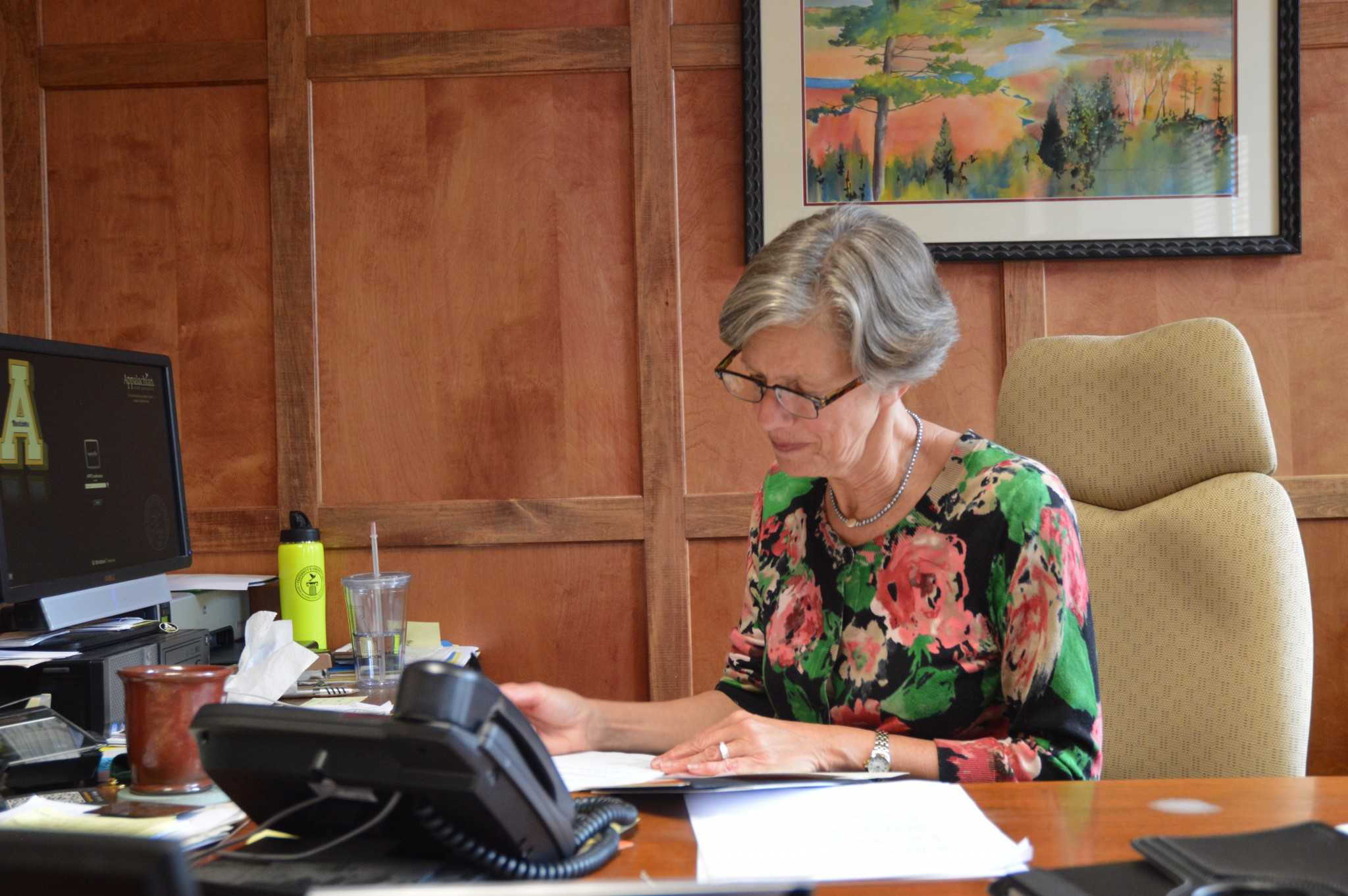 Wallace is currently serving her 11th year as the vice chancellor of student development at Appalachian State University. Her first 20 years at Appalachian were spent in Academic Affairs working with federal grants for low-income, first-generation students, as well as the learning assistance program and enrollment services.
"I'd love to say that my life has been incredibly serendipitous and wonderful opportunities have opened for different reasons," Wallace said.
March is Women's History Month, and Wallace said it serves as a reminder of where the American people have made progress and where they have also been regressive to certain extents.
"That big question for all of us – gender and race – have we made progress? Do we need a month or a commemorative time to say, 'We need to talk about this and we need to think about this?'" she said. "One of my great awakenings as a college student was how and why did it take this long for me to read about these remarkable people in the history of the United States?"
Wallace thought she would enroll in law school after completing her undergraduate degree at Baylor University, despite being involved with writing and student life work additionally. But by the time she graduated, she was deeply committed to higher education and went to graduate school at UNC-Chapel Hill, thinking she would become an academic.
"I think my heart went more into the world of learning and education as opposed to one discipline," Wallace said. "I ended up moving to Knoxville to work [at the University of Tennessee with] admissions and then academic advising and started teaching first-year seminar and it has been my heart ever since."
As an undergraduate, Wallace was very captivated by the advent of the women's movement in the '70s and understanding of the need for more equality and the equal rights, as well as women's leadership.
"I felt that was fascinating, and that was really a place of looking historically where women are and how that influenced my past as a woman in the '70s and the '80s as I started my career," Wallace said.
The lack of equality for women was a relevant issue for Wallace early in her career of higher education, specifically concerning her salary and merit-based pay, she said.
"I have never been terribly conscious of salary, always thinking that I would prove myself and I would be paid what I was worth, and that was a bit naive of me, to say the least," Wallace said.
The notion was brought up to Wallace that, because she was married – her husband being a lawyer with the university at the time – it was more important to a male colleague that he received the bigger raise out of a larger need. Wallace said she discussed the matter with her superior and voiced her disagreement, which resulted in a reevaluation of the pay raise.
"I think it was very important that I did [have that discussion] because it wasn't just me that was at stake there, it was the way all of my female colleagues were worked and how they were rewarded," Wallace said.
Around the same time of Wallace's discussion, Harvey Durham, former Appalachian provost of 24 years, decided it was important to launch equity studies at Appalachian and look at faculty and staff to see if they truly were providing fair salaries. Wallace said this was a huge step despite still having income inequalities in today's society based on gender, race and other social constructs.
Wallace credited phenomenal mentors and colleagues like Durham in motivating her to work hard and seize opportunities in a career where she found herself "in roles where everyone else at the table was a male."
"I had a huge comfort level in the work that I was doing and that I was well-informed about who I was representing," Wallace said. "A lot of it was from doing your homework and working incredibly hard and feeling confident that you could prove your mettle."
One of Wallace's biggest accomplishments as vice chancellor of student development has been the start up of the ACCESS Program – Appalachian Commitment to a College Education for Student Success – which is a subdivision of the Learning Assistance Program and works to ensure students from low-income families in North Carolina can attend Appalachian debt-free, according to www.lap.appstate.edu.
Wallace, who said she grew up in a very traditional family in the deep south that was horribly segregated, said her upbringing in that situation has been part of her story as a woman and wanting everyone to have the same opportunities she has had.
"I look at the world and I say, 'What about this isn't fair and what should we do to make it more just for everybody?'" Wallace said. "To me, if you work in education, I think that needs to be part of our message everyday – it needs to be what we do.
Wallace learned from Maya Angelou, who has visited Appalachian three times, of the importance of paying it forward for those you may never meet.
"Someone else has paid and paved your way to where you're at, and you might not even know who they are," she said.
A major change Wallace believes is coming with today's young adults entering the job force is a flatness of leadership across the board. She said this change will be key in helping all voices be heard – including women's.
"The experience I've had with women working as a team in contrast of men working as a team – I do think there are some fundamental differences in the way we all approach situations," Wallace said. "Some of it may be gender-specific, and some of it may be far more complicated."
Wallace said she hopes this change will give all people in the workplace the confidence to have and practice leadership and show different angles to solving the nation's issues.
"That richness in every field, [can] lead to a creativity that is limited when you don't bring everyone to the table," she said.
At its core, Wallace said these changes can only start to be made with self-awareness and each individual understanding where he or she needs to be a better person, before pointing the finger at someone else.
"Knowing and appreciating one another is so important," Wallace said. "Being able to say, 'It's great to be different,' can help us so much."
Story & Photo: Gerrit Van Genderen, Managing Editor