The first time I joined The Appalachian, I was a shy freshman, unsure of myself and what I wanted to do with my life. I wandered into the newspaper's interest meeting just a few weeks after I arrived at App because I knew that I liked to write. At first, I was drawn to copy editing simply because I was introverted and liked the idea that I wouldn't have to go out and interview anyone. Joining the copy editing desk didn't work out, however, so later in the semester I went over to Arts and Entertainment. I only wrote one or two articles for the desk before the semester ended, and then with an 18-hour class load and other commitments waiting for me in the spring, I figured I would be too busy for the newspaper and decided to leave.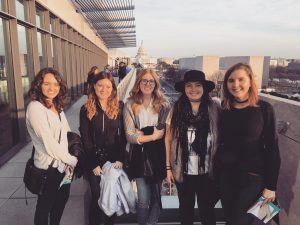 At that point, I had decided to major in public relations. My sophomore year, however, I had to take a couple of journalism classes for my major, and almost immediately, I fell in love with journalism. I learned how to write in AP Style, how to write news and feature stories and how to fact-check. And I was pretty good at it. My professors encouraged me to double major, and The Appalachian's A&E editor, Katie Murawski, convinced me to rejoin the newspaper the second half of my sophomore year.
This time, I was hooked. I wrote features on everything from Banff Mountain Film Festival to a professor who calls himself the "Fall Color Guy." My favorite topic to write about was music; I loved exploring the local music scene, interviewing bands and going to concerts. Even more, I loved the stories that explored an aspect of campus or the community that was lesser-known. Being on the newspaper made me realize how many interesting stories there are in the world, even in the most unexpected places.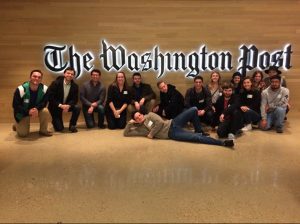 The Appalachian made me more confident not only in my writing and reporting ability, but also in myself. It helped me come out of my shell; I became less nervous each time I interviewed someone, and I gained confidence in my leadership abilities. This semester, I moved from being a reporter to being the A&E editor, and although it was challenging to switch from writing full-time to managing a desk of over a dozen reporters, it has been such an enjoyable and valuable experience.
Thank you so much to Olivia and all of the editorial board this semester; you've been wonderful people to work with, and I'll miss you a bunch.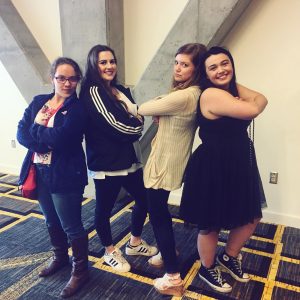 Thank you to Katie for being an awesome editor and friend when I rejoined The Appalachian, and for always supporting me and believing in me.
Thank you to my amazing A&E desk. You've made this crazy semester a lot easier and a lot more fun, and I know you'll all keep on killing it. Thanks especially to Ashley for all your help; you'll be a fantastic editor!
Deciding to pursue journalism and join The Appalachian was the best decision I made in college. Because of the newspaper, I've gotten to have fun, crazy experiences like covering my favorite music festival and running around Washington, D.C. over inauguration weekend. More importantly, The Appalachian gave me a purpose, helped me to grow as a person and gave me a solid foundation of journalism experience that I could not have gotten only from my classes. I can't wait for what my future holds, and I know that this newspaper will continue to be influential to so many students.
Story by: Adrienne Fouts, A&E Editor
Photos courtesy of Adrienne Fouts