Senior tennis player serves up career season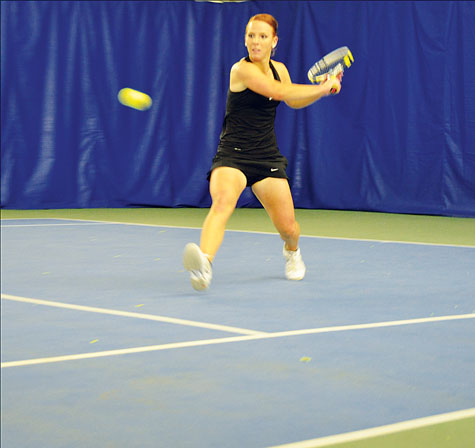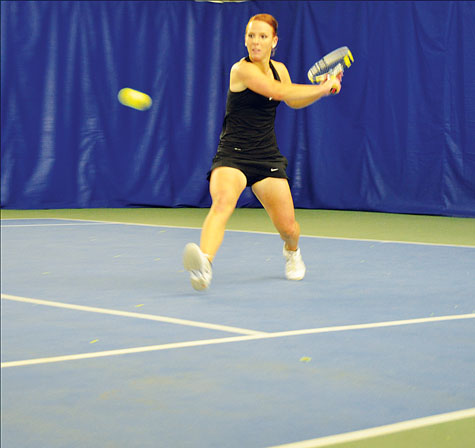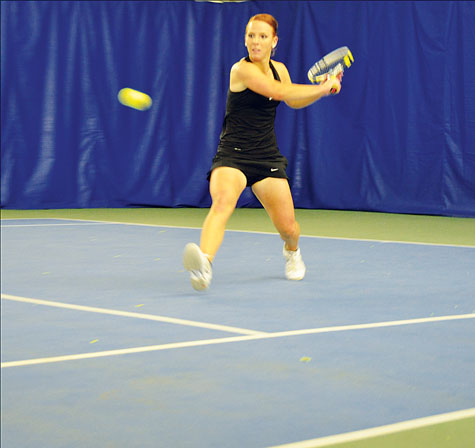 Surgery can be a scary option, especially to an athlete who is playing some of the best tennis of her career.
But after Ellie Linsell had surgery last year to fix a partially fused joint in her ankle – a problem she's had her whole life – she is playing pain-free for the first time ever.
"It was a nine-month recovery, but I never missed a match," Linsell said. "Now I feel pain-free. I could run 10 miles right now if you asked me to."
As the team's No. 1, Linsell is consistently given the task of taking on the best each opposing team has to offer. She has compiled a 12-2 record so far this season.
Women's tennis team head coach Colin Crothers, speaks highly of Linsell.
"Ellie has just really been able to put it all together her senior year," Crothers said. "She's very mature. She's become a real leader."
Coming to Boone from Southampton, England, Linsell led Cheam High School to the United Kingdom National Tennis Championships her junior and senior seasons. Linsell also earned a top-50 ranking in her native country, according to goasu.com.
"We have started a tradition of winning here, and a lot of that has to do with her," Crothers said. "We have also been able to recruit better talent to our roster for the future."
Linsell said playing pain-free makes tennis feel much more natural.
"Being here and being injury-free is just so nice," Linsell said. "I trust myself more on the court and I can train harder. Back in England, when I was suffering with such a bad injury, I had to cope. Now, I don't have to cope anymore and I can just succeed."
In addition to being the team's No. 1, Linsell is also half of the Mountaineer's top doubles tandem along with freshman Mackenzie LaSure. Linsell and LaSure hold a record of 8-5 this season.
"She's really experienced," LaSure said. "It's hard to adjust to college tennis coming in, but she has really helped me just by being there for me."
Closing in on her final weeks of collegiate tennis, Linsell plans to finish strong.
"I've always said I would throw away my rackets, but I think that tennis has been such a big part of my life that I'll always keep playing," Linsell said. "Competitively, I think I'm going to leave it all on the court these last few weeks."
The women's tennis team will look to build its 11-4 (3-0 SoCon) record Wednesday when they host Furman at 3 p.m.
Story: JESSE WARE, Sports Reporter
Photo: ANIESY CARDO, Staff Photographer