Let's start by stating the obvious: App State football is wildly popular.
The legacy that the Mountaineers paved under Jerry Moore in the Southern Conference in the 2000s is what most people associate with Appalachian.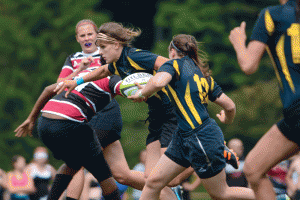 However, neglecting App State's other sports in the name of football would be a true disservice to yourself in your time at Appalachian.
This is because, while perhaps not as popular, App State's other sports are home to a collection of very fine student athletes who, like the football team, give their all for their school in every game they play.
Even better, these other sports generally take place during the week and can offer much needed study breaks when school life begins to stress you out.
The men's and women's basketball teams are both talented squads with great players and even better coaches.
Women's head coach, Darcie Vincent, accepts nothing but hard work, and has the ladies playing tremendous basketball. The squad went 13-16 last season, but lost only four times in 11 tries at home.
The ladies are always ready to defend their home court and seeing the players buy into Vincent's system is a sight to see.
The men's basketball team, having parted ways with head coach Jason Capel after a 9-21 campaign last season, begins an exciting new era with the enthusiastic and charismatic Jim Fox as head coach.
Fox served as an assistant at Davidson for 13 years, during which time the Wildcats went 288-131. Fox has some intriguing pieces to work with and will have some interesting matchups with unfamiliar Sun Belt foes next season.
The baseball and softball teams are always fun to follow and go see live.
The baseball stadium, while quite a hike from most everything else on campus, is a beautiful place to catch a ballgame and head coach Billy Jones always has his squad ready to play.
Despite a slow start this past season, the baseball team rallied to finish 21-34 and were above .500 at home with an 11-7 mark.
The softball team, which went undefeated at home during the 2011-12 campaign, was slowed down a bit this season as it went 19-32 overall and just 5-9 at home. However, the girls are always passionate and willing to put on a good show in front of the home fans at the softball stadium, located right behind Kidd Brewer Stadium.
In addition to these sports, everything else App State has to offer is certainly worth checking out during your time here.
Whether it's soccer, wrestling, volleyball, golf, tennis, field hockey or track and field, you will always find athletes who take pride in their school and want to win for you and Appalachian.
The bottom line – support all of the Mountaineer athletes. In the end, you'll be glad you did.
Story: Cory Spiers, Sports Editor