Two Appalachian State University students, an alumnus and two local artists will display their original painted skateboard decks during Art Crawl on Friday as part of the first annual Decked Out Art Show at 3rd Place.
Local artists Greg Andersen and Michael Guerin, alumnus Ryan Harrison, senior graphic design major Ethan Streicher and junior studio art major Alec Castillo will display skateboard decks at the event. The show is inspired by similar events happening in cities all over the United States, Streicher said.
"There's a [similar show] happening in Charlotte and we decided to bring that to Boone," Streicher said. "Skateboarding is still pretty illegal in here, which is something I don't understand. I would understand if people were destroying property, but most people who skate are using it as a method of transportation and a way to get around."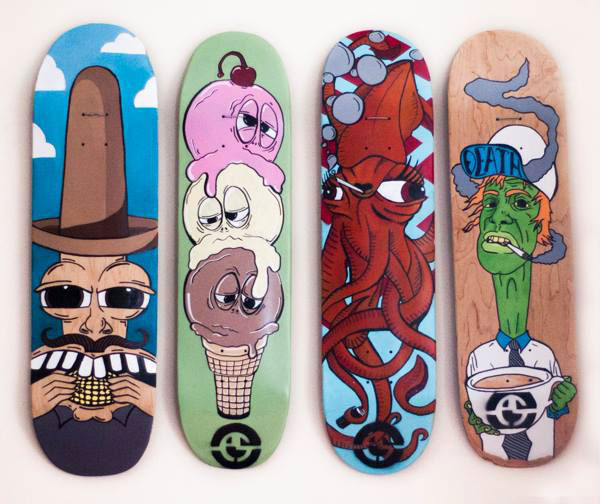 Harrison, who is known artistically as "Ryan Patric," based five of his six skate decks on the kingdoms of life: Animalia, Plantae, Fungi, Monera and Protista.
"On the surface, it doesn't seem very parallel with skate culture, however, by depicting each type of existence to its own skate deck, I am stressing its relation to skateboarding as a lifestyle," Harrison said. "Serious skaters dedicate their blood, sweat and tears to this sport, practicing trick after trick, big or small, until it's perfect. Skaters are also notorious for being innovative when trying new things, using whatever mostly public or private resources they can find to create makeshift skateparks."
Streicher, on the other hand, focused on creating characters with different personalities.
"My skateboards are wacky and bright colored illustrations," Streicher said. "Depending on the board, it takes me about six or seven hours to finish one. I really like to use house paint, which gives me nice flat colors. Figuring out what I want to do takes more time than the execution."
All of the pieces are cohesive and repetitive in shape, Streicher said, and the group will have the same canvas size for the entire show.
Both Harrison and Streicher said they have or have had a personal connection with skateboarding, adding influence to participating in the show.
"I grew up with plenty of friends who skated, some more serious than others," Harrison said. "To my chagrin, I can barely stand on a skateboard, let alone ride. I love the culture though, especially artistically – graffiti, fashion, photography, videography."
Harrison added that he thinks the Town of Boone should build a public skatepark for locals to use.
"[We] want to keep our kind safe and off the streets, and give a growing skater population the opportunity to legally pursue their passion and art," he said.
Local skateboarder and sophomore sustainable development major Savannah Wishart agreed with Harrison's stance, saying she wants a place to skateboard in Boone but is skeptical that it will ever come.
"I'm going to the show on Friday because this is the first skateboarding exhibit I've seen in the area," Wishart said. "I am constantly at skate shows on this coast and I'm thrilled that we're having one here."
In addition to skate decks, the exhibit will also feature one painted smoker bench for viewing purposes, Streicher said.
The group started an online Kickstarter to support the purchase of skate decks for the show.After debuting at 3rd Place during Friday's Art Crawl, the exhibit will remain at the venue until the end of April.
STORY: Kelsey Hamm, Intern A&E Reporter
PHOTO: Courtesy of Ethan Streicher