With App State being located in the Blue Ridge Mountains, it is no surprise skateboarding is common among students and residents of Boone. 
Skateboarding has grown both within and outside of town limits, offering riders a creative indoor park in Zionville, right on the border. 
The art of skateboarding, according to the Department of Education, has the potential to impact mental health and communities positively. The sport can be utilized for decompressing and staying active while being in a lively environment. 
However, the university's parking and traffic regulations prohibit skateboarding as a form of transportation and entertainment on campus.
Almost all parking garages, buildings and stair sets have one, if not multiple, "No Skateboarding" signs posted around campus. Many individual and separately-owned properties prohibit it as well.
The town of Boone and local skate shop Recess have brought a public outdoor skate park to the community. However, as the temperature drops to the low 30s and 40s, fewer people are feeling inclined to skate outside. 
Ashley Galleher has provided Boone and Tennessee residents a safe and fun indoor space for just the occasion. In hopes of increasing youth development and the skate community as a whole, she opened Zionville Ramp Company. 
ZRC, which is located on the border of Tennessee 30 minutes from App State's  campus, offers the public a large indoor space with ramps, rails, ledges and banks; all of which were built and designed for all skill levels by Galleher herself.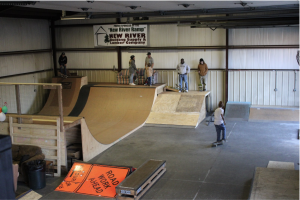 "They've got pretty much everything you need. Snacks, skateboarding, games, swag you name it," said Sierra Ritchie, a member of the company and student at App State. 
Galleher's desire to open a space originated when she was 13 years old, before she realized what skateboarding was.
In her 20s, she discovered a group of people who helped her comfortably and confidently get into skateboarding. She realized it is never too early or late to try something new, let alone something that can be helpful to a person in so many ways. 
"A lot of nonprofits focus on poverty, substance abuse, etc," Galleher said. "Skateboarding lessons at a young age can help keep you from getting down bad. It can really teach a person about falling and getting back up repeatedly." 
Now, she owns a recreational space offering that and more. To be involved further with her community, ZRC offers individual lessons, group classes, camps, Wednesday ladies nights, custom ramp builds, birthday parties and a "pop-up park," which is a transportable and rentable set of obstacles for different occasions. 
The ZRC also hosts events and live bands from time to time.
Providing the public with an accessible and friendly place to get into skateboarding was and continues to be the ultimate goal for Galleher. It is also open regardless of Boone's back and forth weather patterns. 
"Seeing people push themselves, challenge themselves is awesome," Galleher said. "When they leave here it sticks with them, these times will forever impact them.".
The creation of ZRC was self-funded and designed by Galleher. While charging participants either a monthly membership of $35 or a $10 charge for each visit, she offers the community a place for people to "play and experience a chill zone." 
ZRC continues to provide surrounding areas with a safe place to comfortably push themselves to learn new skills.