Slow second half start dooms Mountaineers, fall 86-67 to Western Michigan
Following an exciting, high-powered battle that ended in a loss to Iowa State on Thursday, the App State men's basketball team struggled mightily in the second half on Friday, falling 86-67 to Western Michigan in the second round of the Puerto Rico Tip-Off at Myrtle Beach.
Sinking a deep 3-pointer at the halftime buzzer, junior guard Ronshad Shabazz sent App State (2-2) to the break deadlocked at 40 apiece. However, the Mountaineers were unable to capitalize on that momentum, going scoreless for over the first seven minutes in the second half and getting behind 55-40.
Turning the ball over eight more times than they did last night, Western Michigan (2-2) translated App State's 16 turnovers into 20 points.
"We were really stagnant, and that hurts our offense," Shabazz said. "We were out of position, and that's how turnovers happen. Not as much coming from the other team, it was mostly on us."
Starting slowly in the first half, Western Michigan jumped out to a 21-14 lead after three straight free throws from junior forward Josh Davis. Answering at the other end, Shabazz poured in a triple, cutting the lead to 21-17.
Working the game to a tie at 27-27, freshman guard Justin Forrest drained back-to-back 3-pointers, giving App State their largest lead of the game at 33-27 with under four minutes remaining in the first half.
Instead of stretching out their lead, App State allowed the Broncos to hit a run of their own, taking the scoreline from a 33-27 deficit to a 38-35 advantage with 1:17 remaining in the half.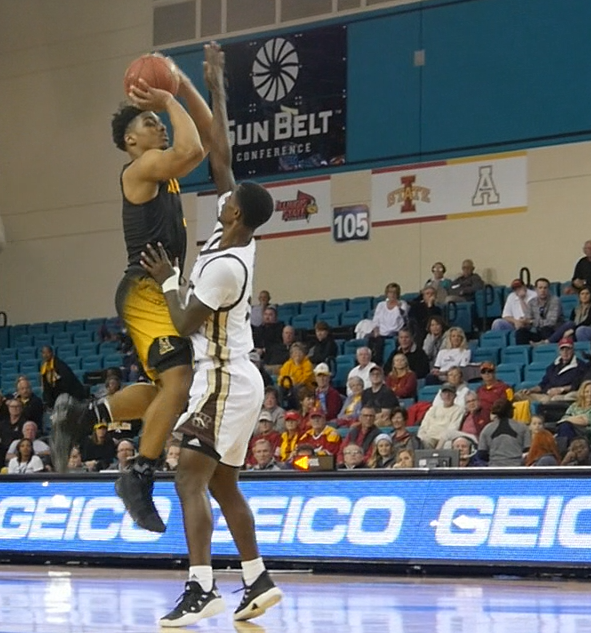 "It's kind of what Ronshad hit on, we didn't finish the half out very well," head coach Jim Fox said. "They got back in the game and then we came back and tied it [at the end of the half]."
Coming out in the second half, Western Michigan did not change much from their first half defensive strategy. One point of emphasis that Broncos' head coach Steve Hawkins did stress, however, was running Shabazz and Forrest off the 3-point line.
Making five triples in the first half, App State only made three in the second half on 14 attempts.
"We challenged our guys to take away the 3-point line and stay up into them and when they step back don't give them space," Hawkins said. "It was OK to get beat off the drive, at least they're scoring two and not three, so that was the biggest challenge."
Driving hard to the basket, Shabazz made a layup and trimmed Western Michigan's lead back down to seven at 68-61 with just over six minutes remaining. Getting fouled on the shot as well, the team-leader in points on the night missed his free throw, revealing a common trend the Mountaineers have seen all season long.
Part of the Mountaineers' struggle tonight stemmed from the free throw line, where the team only converted 17 times on 28 attempts. Entering the night, the team's 66.2 percentage from the charity stripe was far below an ideal mark, and it was even worse tonight at just under 61 percent.
"What happens when you miss free throws is that it's almost like a turnover when you miss the front end of a one-and-one," Fox said. "So, because we did that, it's the same feeling when you turn the ball over. When shots aren't going and your free throws aren't, that hurts you going down to play defense."
After Shabazz's missed free throw, the Apps saw the Broncos go on an 11-0 run over the next three minutes to ice the game.
Failing to put together a complete game, App State saw moments in both of their tournament games where they let the game get away from them.
"We have to look at each other and handle business, because before you know it, it'll be the 12th game and then the 25th game and you can't keep saying the same thing," Shabazz said. "We have to put together a full game."
A sloppy second half sealed the Mountaineers' fate, but App State did hold their own in the paint. Pulling down nine rebounds, sophomore forward Isaac Johnson was one rebound short of a double-double.
With few positive signs from Friday's contest, App State will be looking to bounce back strongly on Sunday against UTEP at 11:30 a.m in the seventh place game. The championship game will be decided between Boise State and the winner of Iowa State vs. Tulsa on Sunday at 7:30 p.m.
Story By: Tyler Hotz, In-Depth Editor
Photos By: Jamie Patel, Video Editor