Softball remains undefeated at home on Senior Day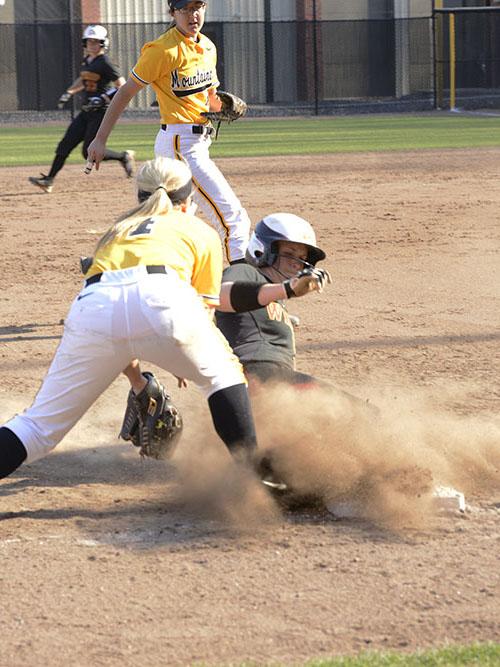 The Appalachian State softball team finished its weekend series against Furman with a 5-3 win Sunday, sweeping the series and bringing their home record to a perfect 14-0.
Senior outfielder Allie Cashion finished the day hitting 2-4 with 4 RBIs. Fellow senior and infielder Meghan Smith hit 1-3. Both players were honored after the win by fans and teammates.
"Meghan and I have played together the last three years," Cashion said. "It was a special moment for us. We've been through it all and we've done it together."
The Mountaineer hitters knew they would be facing tough competition on the mound.
"Furman's pitchers lead statistically in just about every pitching category in our conference," head coach Shae Wesley said. "We knew coming in we would be facing some good pitching. We knew our hitters would have to make adjustments, and they did."
App State (24-16, 16-5 SoCon) struck first on a Cashion single in the bottom of the first inning that scored sophomores Dani Heichen and Sarah Warnock.
"I just have to make sure I get on base," Heichen said. "I trust my teammates to move me over. I just have to run."
The Paladins (22-24, 7-10 SoCon) would not take the lead again until the top of the fourth inning, which saw them up 3-2. It was short-lived, though, as the Mountaineers took advantage of an error, a run walked in and another two-RBI single from Cashion for the final points of the game.
Sophomore starting pitcher Alissa Schoelkoph, pitching for her senior teammates, cranked out six innings from the mound and struck out five Paladins. Schoelkoph earned the win and improved her record on the year to 16-9.
"My job is to get ground-outs and pop-ups and lean on my defense to get the outs," Schoelkoph said. "You have to play for [the seniors] on senior night. It was all about the seniors today."
Freshman pitcher Shivaun Landeros came on to pitch a perfect seventh inning and notch her second save of the season.
"Being able to make a switch like that in the seventh inning really makes our pitching staff a complete staff," Wesley said.
The Mountaineers face USC-Upstate on Tuesday and then return to Boone for a doubleheader against North Carolina A&T on Wednesday.
Story: JESSE WARE, Sports Reporter
Photo: COURTNEY ROSKOS, Senior Photographer