The App State men's basketball team has been looking to a familiar face to rally the troops this year, naming sixth-year senior forward Tommy Spagnolo the captain for the season on Jan. 12, following a 64-46 loss to UALR on the road.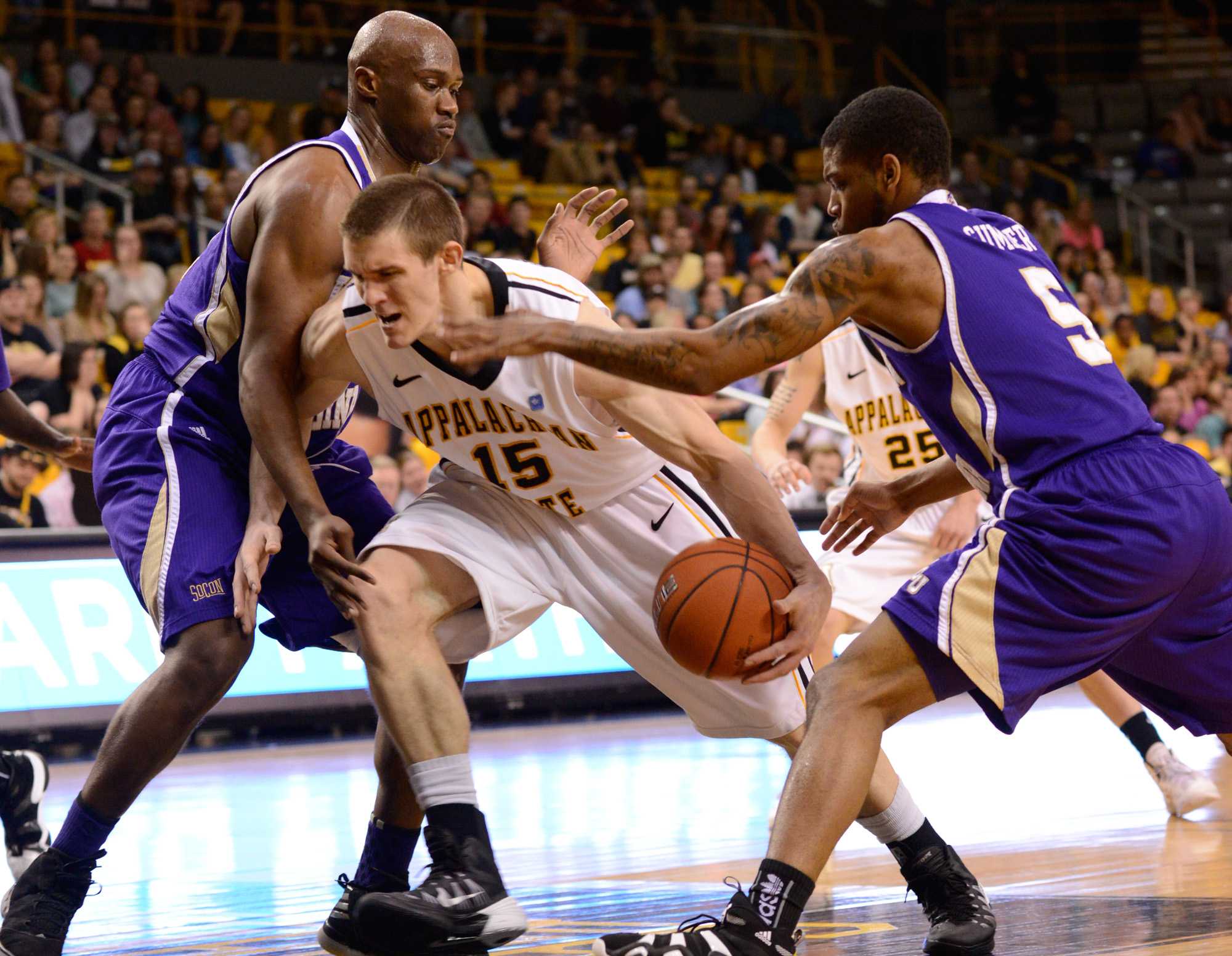 The news of the captaincy came after the team's third-straight loss earlier this month and was before a two-game home stand that was crucial for the Mountaineers to turn the frustration into wins.
Spagnolo, a native of West Jefferson, walked on to App State's men's basketball team in 2012 after transferring from Radford University, where he played one season.
Last season, Spagnolo played in all 30 games for App State, averaging 8.5 points and 6.9 rebounds per game while also leading the Mountaineers with 26 blocked shots.
This past summer, Spagnolo was granted a sixth year of eligibility by the NCAA due to an injury he sustained his freshman year at Radford, allowing for his return for a final season.
First-year head coach Jim Fox said having Spagnolo return for another season is a boost to the team, both on and off the court.
"It's extremely valuable," Fox said. "He's a coach on the floor. He's a coach in the locker room. Everything we ask him to do, he does."
Spagnolo's presence is already being felt by the team on the stat sheet, as the forward has started all 18 games for App State, averaging 27.9 minutes per game – a number that places him third on the team only behind guards Chris Burgess and Frank Eaves.
Through those 18 games, Spagnolo averages 11.2 points and 7.5 rebounds per game, which are good for second and first on the team, respectively.
However, junior forward Michael Obacha said Spagnolo's return has given the team a boost in morale and versatility that goes beyond the stat sheet.
"If you watched our games last season, he was one of the guys who really helped us," Obacha said. "Now we have a lot of offensive and defensive options with him."
Spagnolo said his leadership style is exhibited most in his daily routine.
"I try to lead by example," Spagnolo said. "Don't take a play off. Give it everything I've got every single day. Hopefully my teammates see that and they emulate that."
Fox said Spagnolo truly fits the mold for a role model and leader of the team.
"Guys – especially the young guys – look to him and see how hard he plays on every possession," Fox said. "When guys come in to visit the school, like recruits, [Spagnolo is] the guy that we want our guys to see."
Obacha echoed Fox and acknowledged that although he can speak when necessary, being a vocal leader isn't Spagnolo's style.
Spagnolo would rather show you how hard he's been working by example, Obacha said.
Last season, he recorded eight double-doubles in the team's final 13 games, including a span of six double-doubles in seven games. He finished second in the Southern Conference in field goal percentage, shooting 59.6 percent.
This season, the story isn't much different.
Spagnolo has already amassed five double-doubles while also shooting 69.4 percent from the free-throw line – a career-high.
The best part for Spagnolo and the Mountaineers, however, is that the team has already won eight games, nearly surpassing their win totals in a 9-21 campaign last season.
And although the veteran forward was only announced officially as the team's captain recently, his role on this Mountaineer basketball team has never really been in question, Fox said.
"He was named captain but he's always been the leader of the team since the beginning," Fox said. "[Spagnolo has] always been an extension of the coaching staff, so I think everything's been kind of the same."
More of the same is a good thing for Spagnolo, who continues to let his actions do the talking for him.
Spagnolo and the Mountaineers take a four-game winning streak onto the road Thursday, facing Georgia Southern at 7:30 p.m.
Story: Chris Warner, Intern Sports Reporter

Photo: Justin Perry, Web Manager