Tank's Tacos y Tequila opened its doors for business in March, joining the Boone restaurant scene to provide top-shelf tequila and specialty tacos made from fresh, local ingredients.
Tank's serves southern California style food and has 10 tacos on its menu, ranging from standard ground beef and shredded chicken to more uncommon options like crab cake, blackened beef tips and pork belly. The restaurant also has over 30 brands of tequila, ranging from their house brand El Toro to Gran Patron Platinum, which runs $35 a shot.
The restaurant replaced Parthenon Cafe, but isn't looking to limit itself to the same clientele. General manager Ben Bowlick, a Boone native, said he wants to go beyond just students to attract locals as well.
"I think because I'm a native and I know a lot of people, that's helped with getting all different sorts of customers to come out," Bowlick said. "Obviously we want students but I'd like to get a lot of local people here too."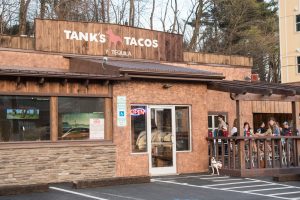 Tank's is the collaboration of realtors David Welsh and Jeffrey Vanacore, who purchased the space after Parthenon went out of business last summer. The two had never owned a restaurant before, but decided to open Tank's Tacos y Tequila to respond to a growing trend for southwestern cuisine, and particularly with tacos.
Welsh and Vanacore changed the space from the inside out, not just in appearance but with structural changes to the building as well, leveling the floors and adding and removing walls to create an open dining area.
Vanacore's dog, a pitbull named Tank, serves as the restaurant's mascot and the inspiration for the restaurant's name.
Since the restaurant is locally owned and brand new, staff members have had the freedom to experiment and change menu items behind the bar and in the kitchen.
"We built up the drink menu, we built up the kitchen menu, everything has kind of been changing and it's still changing," bartender Annabel Butler said. "We're working on specials that work really well, and it's the learning experience that makes it a lot of fun and makes it beneficial for everybody here."
One of the first drinks the staff created was the Tankerita, a strawberry margarita with an organic strawberry puree and margarita mix, both made in-house.
Cory Rodriguez, a bartender at Tank's, helped create the rest of the restaurant's current drink menu. The menu has 10 custom drinks, six of which don't include tequila, because Rodriguez said he wants to offer drinks that people aren't used to seeing.
"Our primary focus is tequila, yes, but we also have a full bar aside from that," Rodriguez said.
The kitchen staff has the same goal with their food. The most commonly ordered taco on Tank's menu is the ACP,  because it's familiar, Butler said, but she urged customers to try the other nine tacos on the menu that are unique to Tank's, like the crab cake taco, the summer anna or the mahi mahi.
"We've got tacos that are vegan, you can turn any taco into a salad bowl, we've got corn tortillas," Butler said. "We've got a wide variety."
As of now the restaurant doesn't have a set list of food or drink specials. Instead, the staff collaborates to creates specials based on the ingredients at hand. Taco specials can run for days at a time, until the kitchen staff runs out of a particular ingredient or comes up with a new taco they want to try out.
"Every time the kitchen comes together with something they really like and something they're really proud of we'll put it on special," Butler said. "That's the same thing with the drinks."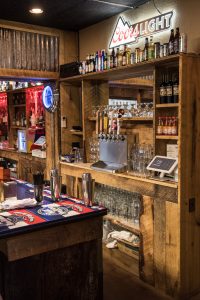 Rodriguez, who has been in the restaurant industry for 15 years, said he wants to bring some of his experience from world travel and working in bigger cities to Tank's by providing unique food and drink options. He said he wants to bring molecular mixology to the bar, and the kitchen just recently started serving alligator meat.
"A lot of people think they have to go to restaurants like Gamekeeper and spend crazy amounts of money and it doesn't have to be like that," Rodriguez said. "We can appease them here."
Bowlick wants to continue changing expanding the restaurant in the next few months, adding activities like live music and trivia nights and adding more outdoor seating options. Before the summer begins, Bowlick plans to create a more structured set of daily specials for food and drinks.
Even with structured specials, Bowlick wants to continue making changes to the menu and encouraging variety to include more than just tacos.
The freedom to experiment with food and drink creations has helped the staff stay passionate and excited to learn and grow in the industry, Butler said.
"Everyone in the kitchen really likes what they're making, they get excited about it and take pride in putting out really good looking and good tasting food, and from behind the bar it's the same thing," Butler said. "Maybe it is because we're really new, but the passion is high from everybody."
Tanks is open every day from 11:30-2 a.m. Monday through Sunday.
Story by: Aleah Warner, managing editor and Haley Shelton, A&E Reporter 
Photos by: Halle Keighton, Photo Editor