Student organizes fund for late Watauga Deputy's son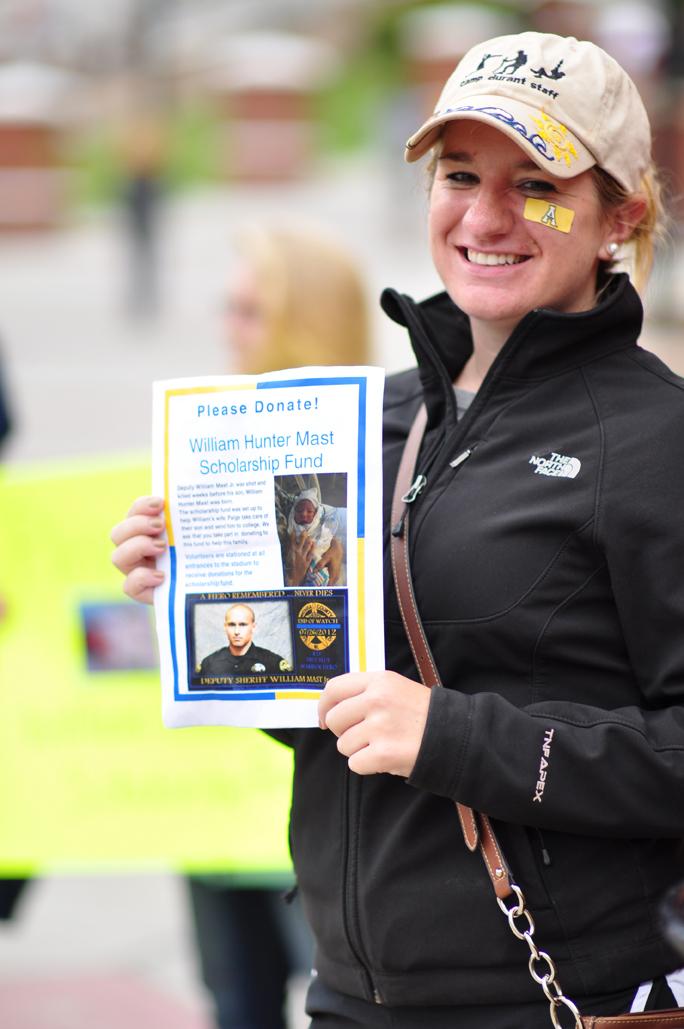 Prior to the university's home victory against Montana, nine volunteers were stationed at each entrance collecting donations for the William Hunter Mast scholarship fund.
The collection totaled more than $5,300.
Mast is the son of the late Watauga County Sheriff Deputy William Mast Jr.
Deputy Mast was shot and killed while responding to a 911 call on July 26, just three weeks before his son was born.
Emily Greer, a sophomore child development major, organized the fund, which will go toward Hunter's future college tuition.
Greer said the support for the fund had been great.
"I know that Paige [Mast] really appreciates it and it is going to be a great thing for Hunter when he gets older," Greer said.
Cpt. Kelly Redmon of the Watauga Police Department said the support was "humbling."
"We know that people are thinking of us," Redmon said. "When something like this happens it is hard to describe. It is difficult to cover and we've taken it one step at a time and one day at a time."
Redmon said the Watagua Police department was "slowly getting back to normal."
"But we'll never forget William [Mast] or the things that the community has done for the family," Redmon said.
But Saturday's collection was only the first of more to come.
Over the next two weeks, a run from Wilkesboro to Watauga County benefits Deputy Mast and Officer Brian Thomas who was killed in the line of duty as well. The date has not been decided.
Appalachian's Athletic Director Charlie Cobb said he thought the death of Deputy Mast was a "tragedy in every sense of the word."
"Law enforcement officers go to work every day to sacrifice for all of us," Cobb said. "Our gratitude to each and every one of them can never be adequately demonstrated. In a small way, we wanted to show respect to Officer Mast, his family, and his colleagues."
Story: ANDREW CLAUSEN, Intern News Reporter