For the past semester, the students of Laura England's special topics course, Outreach Skills for Sustainability, have been collaborating with nonprofit organizations in Boone to study sustainability efforts in our community.
The students have been doing more than studying, however. England's students have been working to create short documentaries following the initiatives of the seven organizations the students' groups have partnered with.
The students have learned and worked through every aspect of documentary making themselves, from interviewing to filming to editing, with the guidance of their professor and University Documentary Film Services.
On April 28, England's students will invite the Boone community to attend a free film festival titled "Roots of Resilience," featuring the students' seven documentaries, discussion and locally donated food.
England's students have used the opportunity to learn about what it takes for community organizations to thrive and succeed and are hoping to use the opportunity of a film festival to teach the rest of the Boone community the same thing.
"I hope that my students gain a respect for what these organizations do," England said.
As many of her students are sustainable development majors intending to go into the nonprofit sector, England said that it was important for her students to realize how much time and effort goes into outreach and sustainability efforts.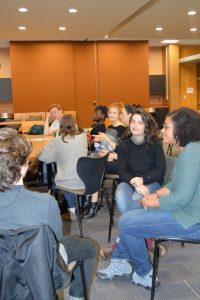 Natalie Willmschen, a senior sustainable development major, said that she enjoyed the opportunity to do real work in the field.
"This feels very tangible," Willmschen said. "That's what I like about this class; it feels very real-world. We aren't just make-believing in the class that we might do this eventually. We're actually planning this event and we're actually putting something out there."
Willmschen's group for the project partnered with Appalachian State's Office of Sustainability. Willmschen and the other students on her team have spent the semester interviewing the office about initiatives, including the Zero Waste Initiative and the free store.
"We're trying to connect issues of food insecurity with ideas about zero waste and show how they're related to each other and that they're not completely separate issues," Willmschen said.
Willmschen and her partners hope to use the opportunity to present the class documentaries to let students know about the positive initiatives taking place on campus and in the surrounding community.
She said that community awareness about these organizations is especially important in the current political climate, as the federal government is cutting funding to science and clean energy initiatives.
"I hope this inspires hope that there are still really good organizations doing good work out there, no matter what is happening in the nation and higher up than that," Willmschen said.
Senior sustainable development major James Hogan also felt that the current political climate demanded greater outreach from nonprofit environmental organizations.
"I think these are issues that need to be addressed, and it starts on a community level," Hogan said. "National action hasn't been taken, so it's important when it comes to individual, everyday decisions people make."
Hogan's group is creating their documentary about Blue Ridge Women in Agriculture, a nonprofit dedicated to connect local farms to the community. Hogan's teammates are also partnering with Faith Mountain Farms, one of the farms associated with Blue Ridge Women in Agriculture.
Hogan said that despite living only about 200 yards from one of the association's food hubs, he didn't know of the organization until he began working on this project, which made it all the more important to him to educate others.
"Starting this project was how I learned about Blue Ridge Women in Agriculture, so I feel like it's already working as a tool for educating people," Hogan said.
Olivia Nelson and Morgan DePue, both seniors majoring in sustainable development, sought not only to educate students about their partner organization, New River Conservancy, but also to promote one of its larger initiatives, the Water Watchers program.
New River Conservancy is charged with protecting the "waters, woodland and wildlife" of the New River Watershed, and has been doing so for over 40 years, according to their website. Their recent initiative, the Water Watchers program, encourages community members along the New River to participate in scientific research.
The Water Watchers' citizen scientists receive basic training to run tests on water turbidity, temperature, pH levels and other factors to collect data on the branches of the New River running right through their own yards and communities.
"They champion what they're doing as citizen science," Nelson said. "Instead of using federally backed research, they're getting people that can take very simple measurements after taking a class. They actually monitor the health of the streams and creeks that add to the overall health of the watershed, just in their backyards once a month. It really helps create a reliable source of data for the conservancy to figure out which places are successes and which need some restoration."
In their documentary, the students sought to shed light on the issues faced by the New River, and the urgency of its protection. They hoped to teach the community about what the Water Watchers are doing, and encourage people to participate in the initiative themselves.
"This is one of the oldest rivers in the world, so we have this huge responsibility to protect the New River," DePue said.
England's class plans to showcase its work and incite community education through the student-run film festival. The students have taken responsibility for organizing the festival, from creating publicity with posters and graphic designs to meeting with local businesses to coordinate refreshments for the event.
The hope of the class is that the opportunity to show their documentaries to the public will encourage more participation in sustainability initiatives throughout Boone.
"The fact that all of these organizations are rooted right here in Boone really lets you know that it doesn't take much to be involved in a community," Nelson said.
England and her students are using the festival to share their own work over the past semester and to spark conversation about the work that local organizations have already been doing. England felt that celebrating the successes and accomplishments of our community is important to promoting better work in the future.
"It's easy to get overwhelmed by the scope of what we collectively need to do to become a resilient, sustainable community," England said. "In order to not let that overwhelming feeling take over, stopping to celebrate is really important."
The event is free and open to the public, and will take place on April 28 at 7 p.m. in the Blue Ridge Ballroom.
"Food, film and fun – and bring your friends," England said.
Story and Photos By: Ashley Goodman, A&E Reporter