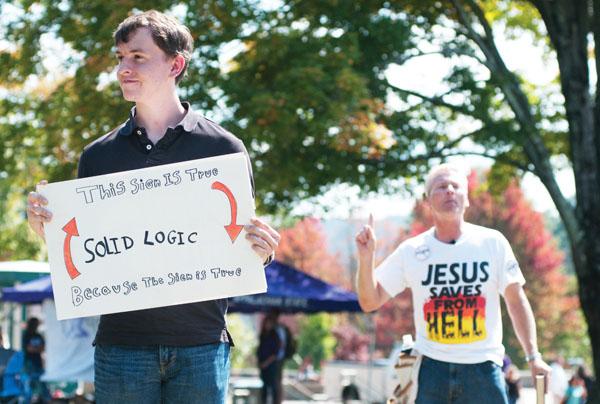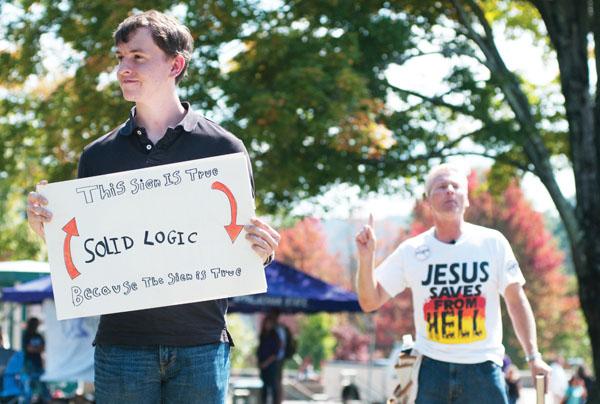 Recently, the "screamer preachers" have been making their appearances on Sanford Mall — calling people out for being sinners for a variety of reasons.
So to contrast the "screamer preachers," Chris Stevens helped initiate a silent protest with signs to offer "comic relief," Tuesday and Wednesday afternoon on Sanford Mall.
"Our idea was to not interact with the pastors at all but make some goofy signs," Stevens, vice president of the Appalachian Agnostic/Atheists Association said.
"A lot of them were nonsensical and provide some comic relief. And in a way, it helps to invalidate these guys opinions…it makes them look more ridiculous with our signs."
He said he protested with about 14 people by who silently held signs filled statements ranging from "Thank God I'm an atheist" and "Kittens are cute."
Stevens said the club got involved to help show regardless of religious affiliation, the preachers made everyone feel uncomfortable.
"The most important thing was to not be confrontational," Stevens said. "We weren't there to establish our views. We wanted to do it in a way people could read our signs and enjoy themselves. We weren't there saying 'all religion is dumb,' we were just saying 'these guys are dumb' and we can all agree on that."
But the club also wanted to convey another message.
"There's a pretty bad misconception in America, that Atheists and Agnostic lack morals and empathy," Stevens said. "That's not really true about us at all. We wanted to show these people that we care about the people [the preachers] were dissing."
Shea Akers, junior technical theatre arts major, said she felt the same way.
"I'm happy to find a club where everyone has the same mindset," Akers said. "…it's nice to get out here and express ourselves."
Preacher Buddy Fisher said he didn't mind the signs, as long as there were no obscenities.
"I'd rather have someone hold up a sign against me, then walk on by because at least that person with a sign is listening," Fisher said. "And then whatever the sign is we can maybe work off of that. So, that's fine. It's free speech and signs are effective.
But fellow Pastor John McGlone disagreed and said the signs were vain and had no purpose.
"Some of the signs were blasphemous against God," McGlone said. "It's very offensive to a Christian, Christ and God himself. And some of them were just nonsense."
Story: ANNE BUIE, Managing Editor and MAGGIE COZENS, Photo Editor
Photo: MAGGIE COZENS, Photo Editor