This past weekend, various App State students protested alongside Emma Watson, Madonna, Janelle Monae and a total of over one million protesters across the globe, according to The Washington Post.
On Jan. 21, protesters gathered to march and demonstrate against President Donald Trump's inauguration the day before. Marches throughout the U.S. stemmed from the Women's March on Washington, created by a committee of numerous co-chairs. From the March's website, the organizers' mission statement states that "The Women's March on Washington will send a bold message to our new government on their first day in office, and to the world that women's rights are human rights. We stand together, recognizing that defending the most marginalized among us is defending all of us."
The Women's March on Washington was estimated by crowd scientists to have had three times greater attendance numbers than President Trump's inauguration, according to The New York Times. Several public figures and celebrities spoke and made appearances at the March, including America Ferrera, Ashley Judd, Scarlett Johansson, Gloria Steinem and Madonna. Joining these speakers in D.C., at least 470,000 protesters were in attendance, The New York Times wrote.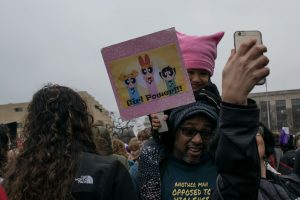 Emily Kubera, a junior political science major, attended the Women's March on Washington, traveling to D.C. to protest with friends. Kubera said that she appreciated the energy of the march and having the opportunity to be around so many like-minded people. During the demonstration, she enjoyed hearing speakers and the multiple different perspectives provided.
"I felt that I have all of the resources, and as a white woman that has a voice that people listen to, to an extent, that I should use it and go and march. And after this there's no way I can't go to something else, like another event like this," Kubera said.
Treasa McDonald, junior music therapy student, was unable to attend the March on Washington in D.C. and decided to travel to her hometown of Raleigh to join local demonstrations of approximately 17,000 protesters, according to WRAL.
McDonald explained that one of the reasons that she marched are changes to healthcare and insurance. She attended the march with her mother and family friends, making posters and waking up early to be there. McDonald felt empowered after the march in Raleigh, and plans to stay as involved as possible.
"There are so many people that care about these issues, not just women; family members, children and men," McDonald said.
Demonstrations were also held in Boone, which Shannon Furr, a sophomore social studies secondary education major, attended. Protesters in Boone lined King Street and were encouraged not to react to negative remarks from passersby, Furr said. Throughout the March in Boone, drum beats were used to unite marchers and mimic the sound of a heartbeat.
"It was reassuring that there were people in my community that want to make the world a better place," Furr said.
For students interested in becoming active in protesting and demonstrating, Kubera encouraged students to continue to become informed and do research. On campus, joining organizations and groups of like-minded people, such as the Women's Center and Multicultural Center is important, Kubera said.
As a whole, Kubera encourages students to continue speak out and make change to continue progress.
"I felt that I couldn't sit around any longer. It's easy to say things from behind your computer, but you have to take action," Kubera said.
Story by: Mary Elizabeth Myrick & Francisco Delacruz-Hernandez, A&E Reporters