Students trade fall break for volunteer experience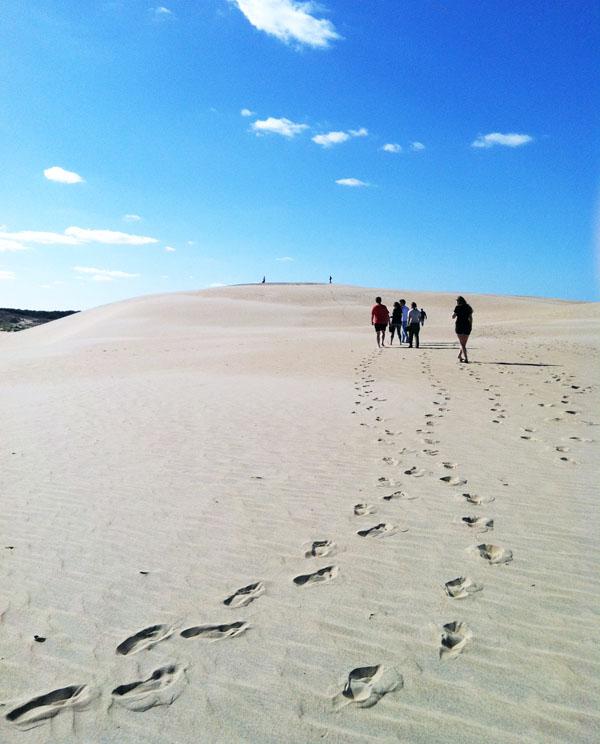 Fall Break is typically a time for students to catch up on sleep and not have a care in the world.
But some students, however, had a different idea of fall break this year and signed up to go on an Alternative Fall Break program with Appalachian and the Community Together.
The ACT organization provides programs for students to travel to a new place and work together to help the surrounding community during Fall and Spring breaks.
Four trips with an 11 student cap per trip were offered this year by AFB: Asheville, Nags Heads, Georgetown, S.C. and Williamson, W.V.
The trip to Nags Head focused on working with Nature Conservancy for the Outer Banks. Students on the trip worked to restore an oyster reef, plant and mulch native plants and visited area wildlife preserves.
Junior Communication Studies major Rebecca Jones was a co-leader for the trip to Nags Head this year.
While this was her first year to go on an AFB, she has previously participated in the similarly run Alternative Spring Break programs.
After hearing about trips that her friends went on, Jones wanted to give the trips a try for herself.
"After I did one session I got hooked and began leading the trips, becoming more involved with behind the scenes and planning" Jones said. "It's really neat to have the trip that you planned come together and know that everybody had a great time while helping out an organization so much."
Jones said she felt that she benefitted from the experience as a leader.
"I've learned not only about the organization and the issues but also about people, planning, volunteering and so many life skills" Jones said.
Senior Sustainable Development major Hannah Barnwell also led the group to Nags Head.
"We were digging holes for plants and pulling up bermuda grass in the hot sun and while that doesn't sound fantastic, we had so much fun" Barnwell said.
Barnwell has participated in several other programs and thought the fall break trip was a much-needed break from the stresses of the fall semester.
"Half way through the semester, students' stress seems to explode, so getting out of town for a few days and doing service is a productive way to combat it" Barnwell said.
The best part of the trip for Jones was seeing her group bond over the course of the four days they went on the trip.
"I love seeing the group at the beginning of the trip, when nobody really knows anybody then comparing it to the end of the trip when the group finds themselves as great friends" Jones said.
Junior elementary education major Tara Powell participated in AFB two years ago and felt she benefitted from the experience.
Powell's group went to Williamson, where they worked with the JOBS Project, dedicated to promoting renewable energy in Central Appalachia, according to jobs-project.org.
"I learned a ton about strip mining, slurries and I even got to learn about the history of the area," Powell said. "It was a really interesting experience and I learned a ton."
There are some programs already listed for students interested in signing up for an Alternative Spring Break next year. This information is available on the ACT website, act.appstate.edu.
Story: KALEY CAMPBELL, A&E Reporter
Photo: MAGGIE COZENS, Photo Editor