As Appalachian State approaches the move from the Southern Conference to the Sun Belt Conference, the university received good news about the economic stability of the conference.
The Sun Belt earned approximately $4 million in BCS revenue this past season, the most among the four non-automatic qualifying conferences, according to CBSSports.com.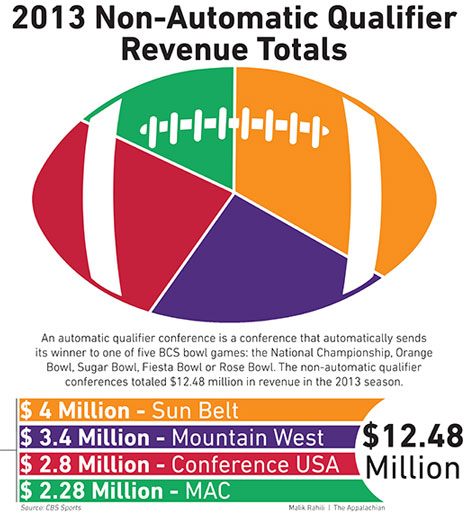 An automatic qualifier conference automatically sends its winner to one of five BCS bowl games – the national championship, Rose Bowl, Sugar Bowl, Fiesta Bowl or Orange Bowl.
A substantial amount, $1.7 million, separated the Sun Belt from the Mountain West Conference, which garnered $3.4 million in BCS revenue. Conference USA earned $2.8 million and the Mid American Conference rounded the group out earning $2.28 million.
The $6 million performance-based revenue – which was divided into shares in which the Sun Belt received four shares, the Mountain West had three, Conference USA had two and MAC had one – was based off of where conferences finished in the standings.
Next season will also usher in the elimination of the previous BCS system. Effective next season, four teams will compete for the National Championship in a playoff system, resulting in more opportunities for smaller conferences.
The new playoff system will produce $86.5 million for the non-automatic qualifiers to split, as opposed to the previous maximum of $28 million in the BCS system, according to a statement from CBS Sports.
Out of the total $400 million, 71.5 percent will be divided amongst the five power conferences leaving, approximately $86.5 million remaining.
That revenue will be divided between the five non-AQ conferences, which now includes the American Athletic Conference after they lost automatic qualifying status.
The Sun Belt will see their revenue per team increase 10 times the previous from $100,000 per team to $1 million.
The highest ranking team from the five non-AQ conferences will also receive an automatic berth to one of the four playoff bowl games beneath the two national semifinals. App State, however, is ineligible for this next season as a result of their conference change.
Current SoCon rival Georgia Southern, also ineligible, will also make the jump to the Sun Belt, giving the conference two teams with winning traditions at the FCS level that should improve the competition and subsequent economic success in a conference fresh off of a positive year.
Story: Ben Cogsdale, Sports reporter
Photo: File Photo

Infographic:Malik Rahili, Head of production and design