Tattoo artist Greg Kinnamon opened Speakeasy Tattoo Company on King Street in 2008. With the recent closing of Ink Link Tattoo and rebranding of Joker's Asylum on NC Highway 105, Speakeasy holds a monopoly on the industry for Appalachian State students and the accompanying local population.
Four artists hold space at the studio in addition to Kinnamon, not including the guest artists that frequently make their way through Boone. Their names are commonplace even to the non-inked students on ASU's campus, but each have their own stories, styles and motivations. Kinnamon was voted Best Tattoo Artist in the Appalachian's Best of Boone competition last year.
Derek Lilly's time at Speakeasy started two and a half years ago, after traveling from parlor to parlor on a yearly basis. Tattooing, he says, is not something most people recognize as conducive with traveling.
Before Boone, Lilly lived in Atlanta and dreamed about coming back to the mountains for a relaxing life and to "actually enjoy doing tattoos again."
"I chose to tattoo because I can pay my bills and have a smile on my face at the end of the day, and so I can do something fun that I enjoy," he said. His father was a photographer and his mother was a portrait artist. Lilly has always been around art, he said.
Like his mother, Lilly specializes in portraits and realism. "Not a lot of people can do portraits and that's why I enjoy doing them," he said. "It's a specialty thing and there's no room for error. I enjoy the challenge for that."
Most famous artists have a particular tattoo style, Lilly said, although every artist learns dozens of different techniques.
"For the most part, super famous artists have a style and that's what they are famous for," he said. "I think it gets boring doing the same type of tattoo all the time. To get pigeonholed is kind of boring."
To learn, Lilly called tattoo artists he admired and asked them about their equipment and pigment. Once, he quit at a shop the day after giving the wildest tattoo he'd experienced.
"I did an octopus with the head of a peach on a woman's vagina, with the tentacles going around and everything. It was gnarly – it was not cool," Lilly said.
Currently, Lilly is working on half a body suit with jungle scenes and tree frogs for a client. Intricate tattoos normally take multiple sessions, Lilly said.
"A lot of people you have to ask, 'Where are we starting?' because they have all these ideas but … we need to have a beginning point," Lilly said.
Cutty Bage started her tattoo journey in Albuquerque, New Mexico after learning to draw at age of 23 and completing a three-year apprenticeship.
"It didn't take me long to get a feel for drawing, I was watching someone draw and one day it kind of just clicked in my head that it all made sense," she said. "I never in a million years thought I would be able to draw or draw something well enough that someone would want to put it on their body."
Her style ranges, but clean lines are found everywhere in Bage's work. Multiple clients, like sophomore theater major Noel Harrold, said they are ecstatic to have a talented female tattoo artist in the area with unique work.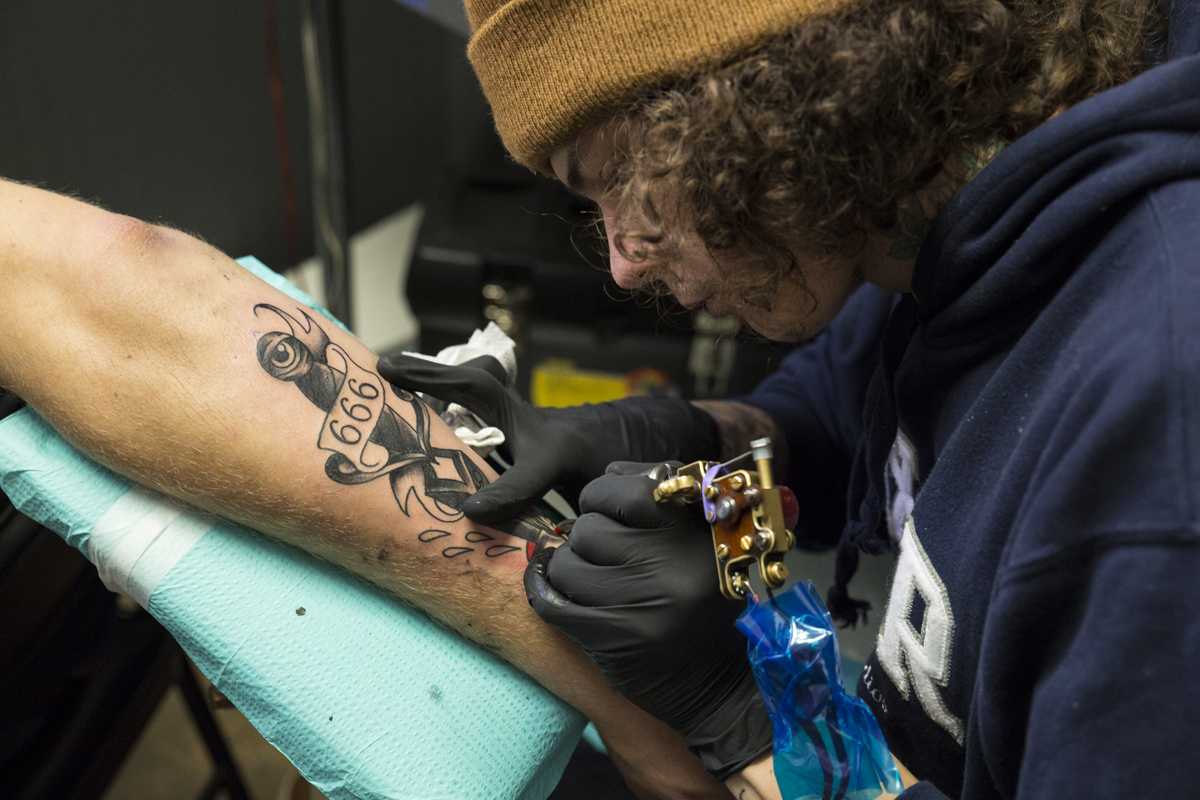 "I really like a couple different styles, like neo-traditional with solid bold line work and solid color fills – kind of comic book style," Bage said. "I also like black work, or dot work or tattoos that look like they're etched in wood."
Bage's tattoos can be seen on campus with students sporting themes of women, Halloween and the Hogwarts School of Witchcraft and Wizardry. Designing a tattoo requires picking the customer's brain, Bage said.
"It's different for everyone, some people are better at verbalizing exactly what they want and some people have no idea and need the help figuring out what would look cool and what wouldn't," she said.
Unfortunately, people do try to purchase tattoos while intoxicated or before thinking their ideas through, she said.
"There are definitely some tattoos I don't want to do, like if some kid comes in and wants a pot leaf on their hand I'll say 'let's think about this for a minute,'" she said. "I won't do anything offensive."
Even as a tattoo artist, Bage is still not completely used to the pain of getting a tattoo.
"I'm the biggest baby ever when it comes to getting tattooed and I feel like it gets more painful the older I get," she said. "I mean, I freak out before every tattoo. I always get super nervous but it's fine. Once it starts happening I remember that it's not so bad and that there's a reason why I do this."
Growing up in a religious family, Taka Cooper never thought he would be a tattoo artist. Throughout high school, Cooper took summer school every year and avoided paying attention by drawing on himself. While studying at the Art Institute of Chicago, a friend convinced him to take on an apprenticeship that lasted only one month.
"I had in the back of my head an image of people who tattooed and just in general this idea of traditional American tattoos and really boring stuff, so it never really interested me," Cooper said. "I never knew you could do other stuff with tattoos until I started tattooing."
Since starting, Cooper's perception of the industry has flipped 360 degrees, far away from the stereotype of bikers and drug addicts, although there are "certainly people like that."
"Different people are getting into tattooing. It started out as bikers and hardcore old school dudes wanting to do tattoos and now slowly there's a lot of art students and even moms doing them," he said. "Honestly, anyone can do tattoos if they get the right practice and the right training."
Cooper is covered in his own work from the knees up, and has also tattooed his brother, sister, friends and many other tattoo artists, he said.
"I'd say my style is progressive Japanese, just because my mom is Japanese and I've always liked that kind of stuff," Cooper said. "I wouldn't say it is traditional Japanese, I don't want to do traditional Japanese. I wouldn't mind doing it, but I feel like my style is a little aggressive. I love cool, mean looking things." Cooper has outgrown his dislike of traditional American styles.
There's a lot of feedback received in a tattoo parlor that the client might not think about, Cooper said. For example, accurate tiger teeth need to be rounded because carnivores blunt their teeth while eating. Additionally, owl claws are usually the same size as the head.
"I feel like the best artists are tattoo artists, because we have to draw so many types of things every day and you want it too look good," he said. "You constantly re-draw and there's a bunch of other people here telling you if it looks good or not."
If asked about the kind of people who tattoo, Justin Norton would say that they are "mostly nerds." Norton moved to Speakeasy from Louisiana a year and half ago and immediately recognized the positivity of tattooing in a place with "comic book stuff everywhere."
"I think for many people there's an intimidation factor when they come in and most of us are laid back people who want to tattoo," he said. "The whole attitude since the '80s and '90s has changed. We're all regular people."
Norton commonly receives compliments on his lettering, video game and music related tattoos. Recently, Norton tattooed "Final Fantasy" characters and Evil Knievel. Of the four artists, Norton took one of the more traditional paths through apprenticeship, learning to draw for the purpose of tattooing and discovering the ins and outs of the business.
"I learned how to draw because of tattoos," Norton said. "I apprenticed for a while, and it's a strict learning curve that leaves room for no error. You can't mess up at this. The learning curve comes in during the apprenticeship and people get weeded out then, and if not then, in the first three years."
Tattoo artists supply everything themselves, from their machinery to pigment, with the exception of their own room in a tattoo studio. Some beginners tattoo pig ears and pumpkins first, though it is nothing like human skin, Norton said. Most people begin tattooing on themselves, friends and family. To practice, Norton attached a pencil to his tattoo machine.
"At my apprenticeship I lucked out. It wasn't the greatest shop and they were just looking for free labor and never intended to teach me how to tattoo, but I loved it," Norton said. "Once I got out of that, I found someone to teach me how to tattoo immediately. You have to build up from nothing."
By: Kelsey Hamm, A&E Reporter