For over a century, the big three fossil fuels, coal, oil and natural gas, have powered the overwhelming majority of the world's vehicles. Humans have been spewing harmful emissions into our atmosphere while steadily decreasing the world's oil supply. Decades of research have gone into finding clean alternatives to fossil fuels, and at Appalachian State, one of our most well-known programs, Team Sunergy, has been doing just that.
Team Sunergy was established in the fall of 2013, and has since been showcasing Appalachian State's sustainable initiatives at international competitions and races. The solar vehicle team has been growing and developing over the last few years, and is now a part of the Office of Sustainability. The team's members come from a wide variety of different majors, including physics, sustainable technology and the built environment, business and computer science.
The team's current car, Apperion, originated as a shell of a former Iowa State University solar car, donated to Appalachian State in 2015.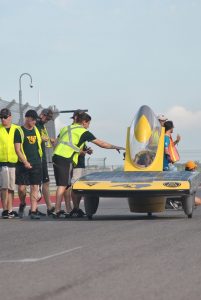 "It was just the body of the car, which had the solar array on it but it didn't have any suspension, any wheels, and it didn't have any batteries or electronics or anything. Our students designed and built all of that in a very short period of time," Jeremy Ferrell, Undergraduate Program Director for the sustainable technology major and a faculty advisor for Team Sunergy, said.
Team Sunergy competed in its first race shortly after the acquisition of the car from Iowa State, racing in the Formula Sun Grand Prix at the Circuit of the Americas in Texas. The team received an award for "most perseverance."
The project only grew from there, receiving more funding from the university and a dedicated space to call their own.  
"We got a grant of $100,000 and we used it to rebuild Apperion. In 2016, we competed in the Formula Sun Grand Prix outside of Pittsburgh and we got third place," Ferrell said.
The team also qualified for a road race called the American Solar Challenge. Apperion raced from eastern Ohio to South Dakota along public roadways, earning sixth place.
The team's biggest accomplishments, however, came in the summer of 2017. The team returned to the Formula Sun Grand Prix in Texas to go head-to-head with solar vehicle teams from 18 other schools.
"All solar-powered vehicles have to be built under specific requirements. The first few days of the event are called scrutineering, where all the cars are inspected from head to toe, making sure they meet a bunch of guidelines that are set before they can go on to start the race," Cristian Gulisano, assistant electrical director and driver for Team Sunergy, said.
Apperion weighs about 430 pounds, and has a six square meter silicon solar array. The array contains 391 SunPower C60 monocrystalline cells, which, during sunny conditions, make the car capable of travelling on its three wheels at speeds between 45 and 55 mph indefinitely with a top speed of 75 mph. Without sunlight, Apperion can utilize its batteries to travel up to 150 miles at 45 mph.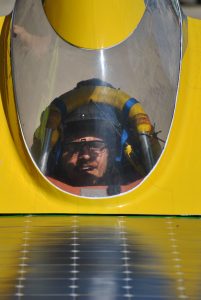 The race is a three day track race with each team racing for eight hours each day. Weather conditions vary over the period of the race, affecting the output of the solar panels and therefore the speed of the car. The race focuses on endurance and the number of laps achieved.
"We started in first place, and held between first and third place all three days. We ultimately came in second place, behind UC-Berkeley. We competed against a lot of other polytechnic schools from the U.S. and Canada," Gulisano, a senior computer science major, said. "The cool thing is that most of the other schools sent their engineering departments, but you know, here at App we don't have an engineering department. But we were definitely able to hold our own out there."
Gulisano believes that the team has more resources and opportunity now that it has been incorporated into the Office of Sustainability. The team is now aiming to compete in the World Solar Challenge in Australia, and is working through the Office of Sustainability and the university to make that happen.
However, Team Sunergy is not all about winning races. Through research and development in solar efficiency, aerodynamics and testing during endurance races, Team Sunergy learns about the future of sustainable transportation.
"One of the biggest reasons I decided to come to Appalachian State was because of their mission of sustainability and the difference they're looking to make in the world," Kali Smith, Team Sunergy's operations director and junior economics major, said. "I saw this project and I guess I just saw the future in it, and I knew I wanted to be involved in the beginning of the future."
Ferrell knows that transportation is one of the areas in which humanity is most dependent on fossil fuels. It is very inefficient and a finite resource, and the environmental implications that go into finding and extracting fossil fuels are just not sustainable for energy that goes primarily into the transportation sector.
"Petroleum is a very 'energetic' resource, there is a lot of energy in a gallon of gasoline and the amount of energy that can be stored by batteries isn't there yet," Ferrell said. "But, the fuels that we call 'alternative' now won't be alternative for much longer. Soon, they'll be our only option."
Team Sunergy is aware of our current fossil fuel crisis and is working towards a new generation of solar vehicle to be unveiled for races in 2018. The new solar vehicle will have a smaller area for the solar array, four wheels instead of three, and will also have a passenger seat following a sedan-type design.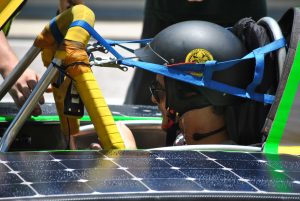 This design, with passenger seats and a larger body, will increase the weight and drag of the vehicle, making it more inefficient. However, some on the team believe that this is a step in the right direction as the next generation car will be more practical, and we may see elements of it in consumer vehicles someday.
"We can't continue to sustain our habits, driving combustion vehicles because we're going to run out of fuel for them at some point. In the last few years, though, we've really seen a spike in the number of electric powered vehicles," Gulisano said. "While it is very unlikely to someday have a fully solar-powered car, it is not unrealistic to one day see solar panels on electric vehicles to provide passive charging."
Gulisano also believes that the issue is especially relevant in Boone. He says that the team has received tons of support from the town of Boone and the university, and believes that generally people are very on board with the project and what the team has been able to accomplish.
Over the past few decades, humanity has become more aware of its increasingly dire predicament regarding its dependency on fossil fuels. With solar vehicle teams and similar programs around the country taking the same proactive steps as Team Sunergy, the reliance on nonrenewable resources could come to an end in the near future.
Story By: Steven Caughran, A&E Reporter
Photos Courtesy of Diego Lewis