The art underground
Layers of colorful paint cover the walls of the expression tunnels, advertising people's beliefs, different events around campus and cool pictures and designs. Every section of the tunnel has something for the daily passerby to view and appreciate, or even add to. Some parts of the tunnel are worn out from too many layers of paint and crumble. There are things in the tunnel that stay for months at a time, while other things remain for a few days or a week.
The expression tunnels under Rivers Street are the only place at Appalachian State where graffiti and other forms of art and vandalism are not only allowed, but encouraged. The main medium used to decorate the tunnels is spray paint, but there are some artists that use acrylic paints and paper mache to create their pieces.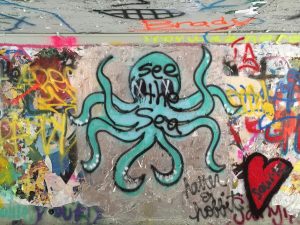 Sophomore art education major Corryn Thompson and sophomore biology major Rebecca Fuller used acrylics to paint anything from album covers to replicas of famous classical paintings. Their friend, sophomore psychology major Lauren O'Fallon, joined them for their expression tunnel sessions to help hold their paint and converse about their days.
"We have a huge wall," Thompson said. "We can make stuff as huge as we want and it's not going to be there forever."
When Thompson, Fuller and O'Fallon go to the tunnels, they said they spend about two or three hours working on a project. Sometimes they will collaborate, other times they will separately paint something they saw on the internet, laughing and complaining about how it looks the entire time.
"It's cool that people are forced to see it," Fuller said. "Most of the time I'm not happy with the stuff I make, but knowing that it's going to be gone and that I won't have to see it again in real life is cool."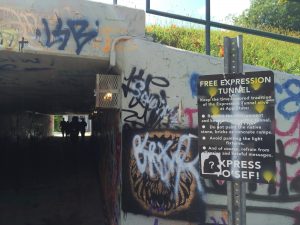 Thompson said she thinks that the expression tunnels are a good resource for people on campus because they serve as a place for people to advertise about clubs or events that are happening. It also provides artists with a way to showcase their work and get their name out to the student population and larger audience.
"Kids have to walk through it to class, so it's like they have a hallway of art outside," O'Fallon said.
Thompson and Fuller said that people passing through are generally excited and curious when they see them painting in the tunnels. In the past, they said they have had people try to get a look at what they are putting on the walls.
"People come in between us and go, 'Oh my gosh! That's so cool!'" Thompson said.
One of Thompson's favorite pieces of art that she has painted in the expression tunnels was a replica of Van Gogh's "Starry Night."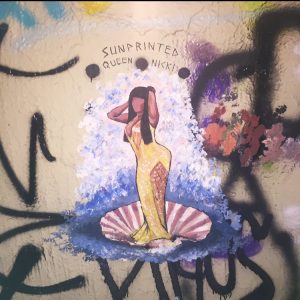 "I try to put some of the kind of classic, well known art in there," Thompson said.
Some of the trio's favorite things that they have seen in the tunnels include a paper mache spiral of Michael Cera's head, a giant paper mache astronaut, the black, handsome Squidward and black and white spray-painted people in bottles.
"One of the great things about the tunnel is the impermanence of the art," Fuller said. "So if you don't like it, someone will paint over it."
A lot of people have been using the expression tunnels recently to express their support for Harambe by writing "Dicks out for Harambe." Fuller and O'Fallon's favorite Harambe piece in the tunnel was Thompson's realistic acrylic painting of the gorilla.
They agreed that part of the appeal behind displaying their art in the expression tunnels are the environmental and social aspects. They go to the tunnels because it is something exciting and different from what they do most nights.
"Everyone's friendly in the tunnel," O'Fallon said. "It's a nice social environment."
Thompson and Fuller like to paint in the expression tunnels because of the impermanence.
Since they are both critical of their work, they like that they won't have to see the end result for a very long time like they would on a canvas or in a sketchbook.
"It's kind of cool to go there, create something and take a picture," Thompson said. "You'll see it for maybe a week and then someone else might do the same thing."
Story by: Celia Calhoun, A&E Reporter
Photos by: Dallas Linger, Photo Editor