Quarterbacks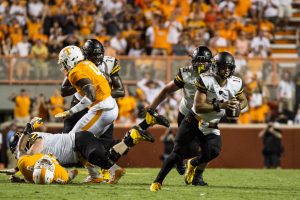 #11 Taylor Lamb (Jr.) – The redshirt junior quarterback is an experienced signal caller for the Mountaineers heading into the season with 23 career starts. With a 3-to-1 touchdown to turnover ratio, Lamb is known as a game manager for the App State offense. With a steady running game and top 25 defense, his job will be to limit mistakes by making good decisions. He heads into the season ranked as the nation's No. 19 quarterback by Sporting News and No. 20 by Athlon. Lamb is ninth currently in passing yards in program history (4,768 yards) and is 17-6 as a starter.
#10 J.P. Caruso (So.) – The Florida native Caruso has proven in limited playing time he is a capable backup for starter Lamb.  Appearing in five games in 2015 Caruso had impressive numbers, throwing 8-for-12 with 109 and two touchdowns. Also running for 141 yards on 19 carries, he has shown in small doses that he is ready if his name is called.
Running backs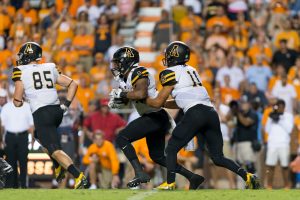 #14 Marcus Cox (Sr.) –
As Cox goes into his senior season, school records may soon be in his name. He is the first running back to run for 1,000 yards each of his first three seasons at the school and is just 716 yards from breaking the school record in total rushing yards. The Georgia native enters the season as the nation's No. 25 running back, according to Athlon and Sporting News, after averaging 119 (13th of best in country) rushing yards per game. He ran for a career high in rushing yards last season with 1,423 and was second-team All-Sun Belt Conference selection.
#25 Jalin Moore (So.) –  After a breakout second half of his freshman year, Moore adds even more depth to a very strong running back position. He was on the 2015 All-Sun Belt Freshman Team while rushing for 731 yards (second on team) on 99 carries. He broke out against Idaho late in the season when Cox missed the game due to injury with 244 yards on 27 carries, (nine yards per rush), a school freshman record. Expect his workload to increase this year, making him and Cox a two-headed monster in the backfield.
Wide Receivers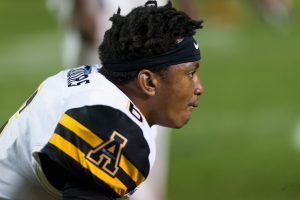 #6 Shaedon Meadors (Jr.) – Coming off of a season playing in 11 games with one start, Meadors is the most experienced receiver of the Mountaineers to return in 2016. After losing seniors Malachi Jones, Simms McElfresh and Bobo Beathard, Meadors will have to help bring leadership to the position. He caught 21 passes for 439 yards before missing the final two games due to a leg injury.  He is the deep threat for the team averaging a best of 20.9 yards per reception last season.
#16 Jaquil Capel (Sr.) – Capel has been one of the standouts at camp as he heads into his senior season. He has limited playing time through his college career because of injury, but hopes to be able to play all season and shine for the Mountaineers. In the three games he appeared in last year, he caught two passes for 26 yards while also making an impact on special teams returning two kicks against Clemson for 73 yards. Expect him to not only start as a receiver but be present on special teams as well in 2016.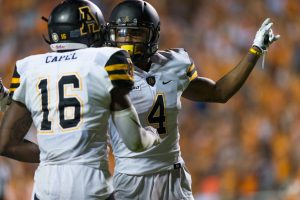 #4 Jaylan Barbour (So.) –  The speedy sophomore receiver played in all 13 games last season and will get his opportunity to start this season. The Monroe, North Carolina native caught three passes for 49 yards in 2015 after playing in just two games in 2014 because of injury.
#3 Deltron Hopkins (So.) – Another young threat at receiver is Hopkins, who is expected to compete with Barbour for playing time. After playing in seven games in 2015, Hopkins had four catches for 27 yards along with two rushes for 31 yards on the season. With the loss of the three starting receivers from last season, Hopkins will be expected to help add to the depth to the receiving corp.
Tight End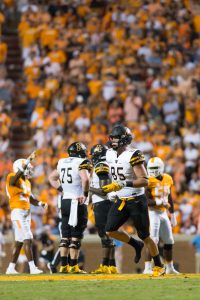 #85 Barrett Burns (Sr.) – Coming off of a career year during his junior season, Burns has received all-conference recognition and comes back as a reliable target for Taylor Lamb. The third year starter had eight touchdown receptions in 2015, which tied a school record for most by a tight end. As his senior year begins he ranks ninth in school history with 11 touchdown receptions.  With a 6-foot-4 inch frame, he is an important target inside the red zone for the team, and with the loss of the App State's top three receivers, expect his role to become even greater.
The Offensive Line
The offensive line comes back anchored by seniors Parker Collins (C) and Jamie Collmar (OG), along with experienced juniors Beau Nunn (OT) and Colby Gossett (OG). Newcomer and redshirt freshman Victor Johnson (OT) will come in as the only starter with no experience. The other four starters have combined to make 64 starts in their careers at App State. Depth at this position is still in question with younger guys competing for backup roles, but senior nose tackle (defense) Tyson Fernandez is possibly playing both offensive and defensive line in 2016. This big offensive line will have the same expectations as they have had the last couple of years to be the anchor to the running game. Going 11-2 in 2016, the App State offense has a formula to win and that is not turning the ball over with quarterback Taylor Lamb, and running over people at the point of attack up front. Averaging 268.8 yards per game during the regular season on the ground, App State ranked fourth in the FBS. With this formula moving forward, expect a great season from the Mountaineers offense.
Story By: Adam Hothersall, Sports Reporter
Photos By: Halle Keighton and Dallas Linger, Photo Editor