Eli Farmer wakes up at 5:30 a.m. every morning and steps into the role of CEO. Before he eats breakfast, before he goes to his classes and before he goes to the gym, Farmer begins each day on Youtube, looking for potential motivational speakers to provide uplifting speeches for his mobile app, ProMo.
ProMo, short for Promoting Motivation, aims to do just that: motivate its users. The app works like music streaming apps Pandora and Spotify, but rather than providing music, it provides its listeners with original motivational speeches on a variety of topics.
The idea came to Farmer, a senior exercise science major, a little over a year ago when he was eating in one of Appalachian State's dining halls. He noticed that many of his peers looked stressed and thought to himself, "I wish there was something I could do to get these people going and put some oomph in their day."
That thought quickly developed into the early planning of the app. Farmer called his best friend Nathan Brown to ask for his advice. Brown, who decided to leave college after his freshman year, immediately supported the idea for the app because it was something he could have benefited from having when he was trying to figure out the next step in his life, Farmer said.
"We want to help those kids who are about to graduate or have graduated and don't know what they're going to do next," Farmer said. "They can listen to this and find something from it and be motivated to go chase that passion they've been putting on the back burner."
Farmer and Brown, each holding the title of co-creator of ProMo, set the plans for ProMo in motion in March 2015. First, they needed to develop a team. Farmer's job as a resident advisor on campus helped him find Alex Page.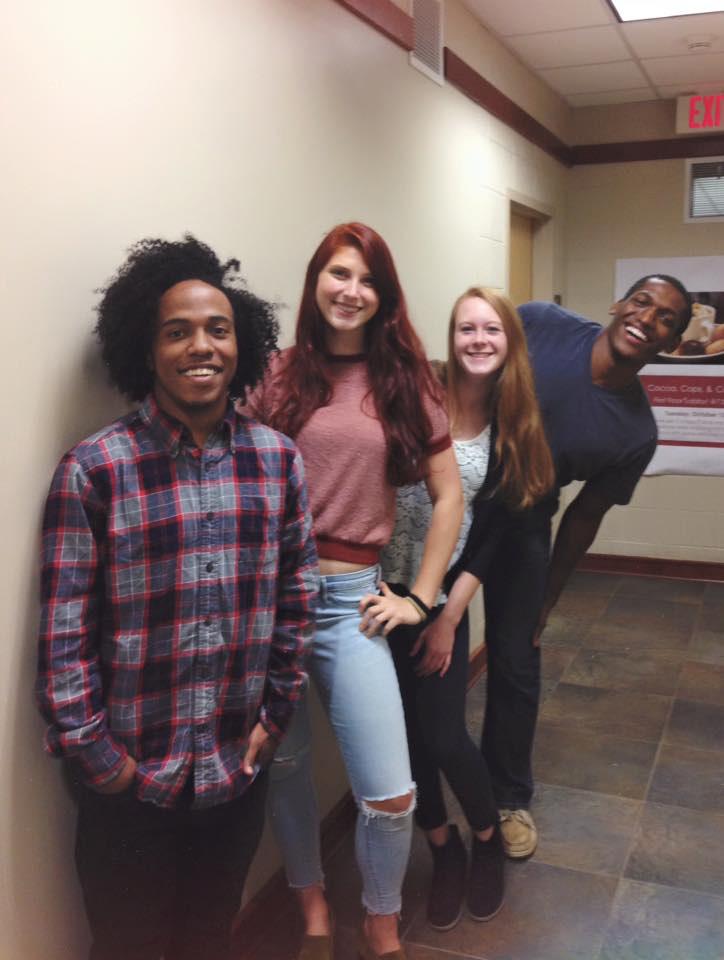 Page, one of Farmer's residents during the 2014-15 school year, told Farmer she would be willing to help with any graphic design needs for ProMo. She has since created their logos, icons and screen layouts as well as posters for events.
As a junior graphic design major, Page was looking for an opportunity to take what she was learning in the classroom and apply it to a real project. She struggled with the idea that graphic design is sometimes seen as just advertising.
"I've always been looking for things that kind of stray from that idea and this was the perfect thing," Page said. "It's an app design, and yet it's something that is so powerful and positive and good for the world, not just promoting an item or something like that."
Farmer then faced the challenge of finding someone to do the technical work of creating an iPhone app. It wasn't until Farmer visited his hometown of Virginia Beach, Virginia that he found the right people for the job.
Justin Robertson and Gabe Hollins, childhood friends of Farmer's living in Virginia, created the ProMo app and had it ready to launch in December 2015.
Farmer met the team's final member, Mallory Colbert, two years prior when the two were resident advisors together in Justice Hall. Colbert, a senior public relations major, is the community outreach coordinator. She updates their social media accounts and has helped Farmer land interviews with AppTV and WASU-FM.
Now, just one year after the idea originated, Farmer's app is up and running and has a total of twenty motivational speakers providing speeches. Farmer and Brown search for new speakers every day on YouTube and reach out to them through email to invite them to join the app. Farmer said that they find new speakers every few weeks.
"It's been a slow growth process, but I always have to check myself every couple of weeks and remember that, 'Eli, this [app] has been out for less than a year,'" Farmer said.
The app is currently free to all iPhone users, and the team generates a profit through advertisement revenue. Farmer said that the goal of ProMo is to make enough money that they can make this a full-time job, but he wants to assure it stays free to its listeners.
"We don't really care about maximizing profit," Farmer said. "We care about maximizing how much we can help people."
The team's most recent project has been working with Colbert's public relations campaign class to host Inspire Appalachian, an event that is aimed to give students the opportunity to share their stories and encourage their peers.
"Instead of us just reaching out to you through social media, it's your chance to interact with the app in person," Colbert said. "It's a unique experience because people can meet Eli, and he is just a driving force. He is so charismatic and easy to talk to, so it's kind of neat to see the man behind the app."
The six students confirmed to speak at Inspire Appalachian, all seniors at App State, are theatre arts major Carson Rich, exercise science major Denzel Dejournette, international business major Daniel Tassitino, social work major Emily Oakley, public relations major Olivia Shields and sustainable development major Jabari Rogers.
The speakers will also be competing for the title of crowd favorite. The winner will get a prize, and each of the speakers have been offered the opportunity to put their speeches on the ProMo app.
Farmer said that the most valuable thing students can gain from attending Inspire Appalachian is the mindset that everyone has the power to motivate others.
"I want them to go home, think about a story that they've experienced, something they're passionate about," Farmer said. "I want them to record a speech of their own so that they can spread their positivity to someone else. I want positivity to be infectious."
Inspire Appalachian will take place from 7-9 p.m. on April 14, on the second floor of the Whitewater Cafe in Plemmons Student Union.
Story by: Aleah Warner, Chief Copy Editor