Marching band festival attracts crowd of 8,000
About 8,000 people attended the 36th annual Appalachian Marching Band Festival on Saturday.
The competition, organized by the Rho Tau chapter of the Phi Mu Alpha Sinfonia fraternity, took place at Kidd Brewer Stadium and hosted 29 high school bands from across the state.
The bands were judged by an adjudication panel of 10 experts on all aspects of their performances.
The body of the competition ended with a performance by Appalachian State's marching band.
The awards ceremony presented the different size categories, ranging from A being the smallest and AAAAA being the largest, with awards based on each judging category. The overall winner of the competition received the Chancellor's Cup award.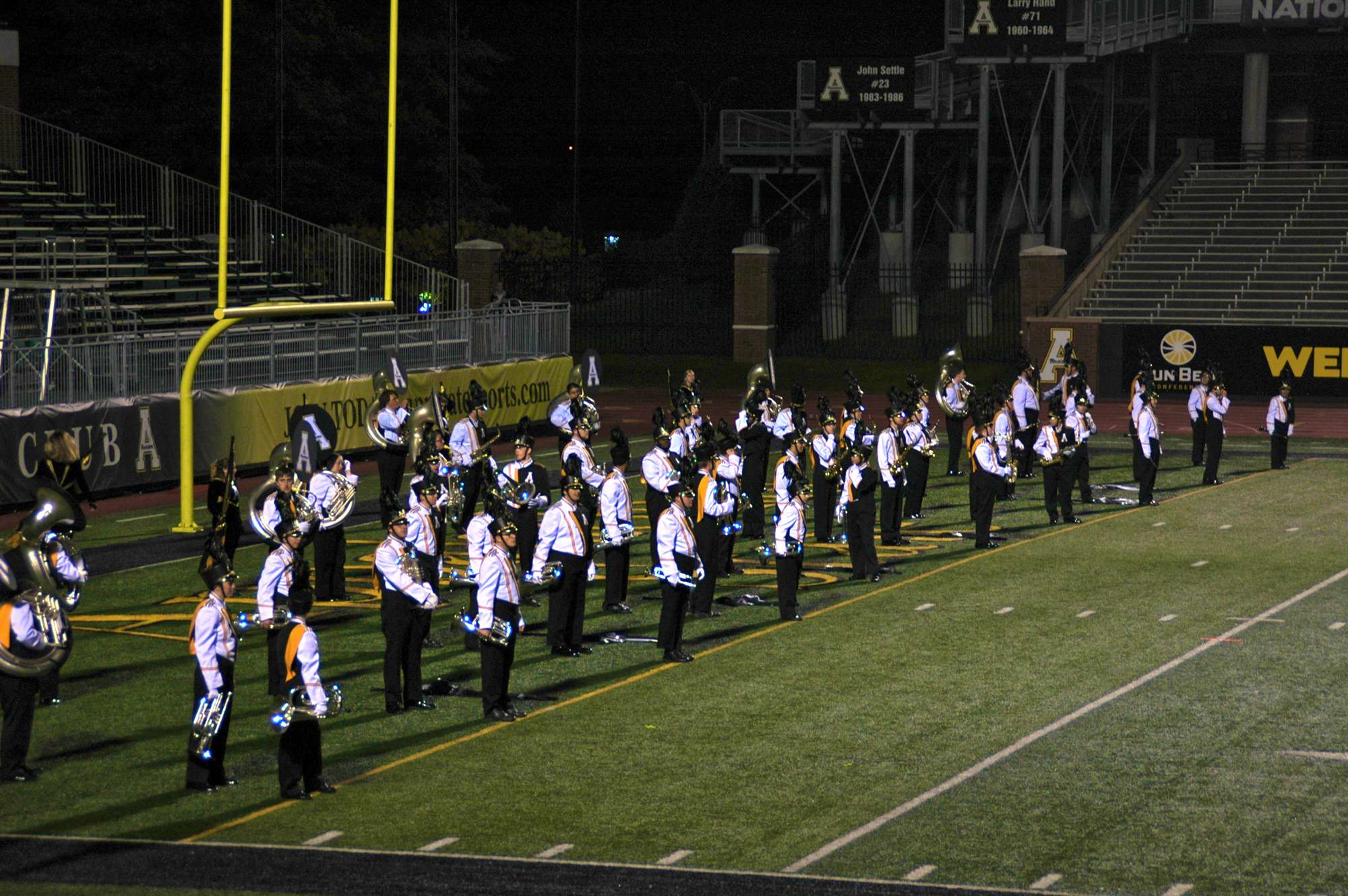 This year East Lincoln High School won the Chancellor's Cup with the show titled "1001 Nights, the Music of Scheherazade," about the legendary storyteller Scheherazade.
East Lincoln band director Brent Harris said this is the first competition the band has won this year.
"It's great music and we are able to design a great marching band program around the music and the storyline," Harris said.
Harris said that the competition is one of several large competitions East Lincoln attends annually.
Festival chair Nolen Hughes said the festival is the largest hosted so far and that it went very smoothly.
"A lot of very happy band directors from what I've heard," Hughes said. "We did the best we could with what we were given."
Hughes said that the positive reception from the band directors was due to the quality of the mostly state sanctioned judging panel, and moving bands around smoothly.
Phi Mu Alpha Sinfonia chapter president Adam King said the bar was set high this year, as last year the competition fielded just over 20 bands compared to this year's 29.
"We had to deal with a large population increase of attendance," King said.
King said that they intend to make the competition bigger every year.
"The primary reason we do this is to raise money to further other projects we do for the music school and do for the community," King said.
Money was raised through entry fees, admissions costs and vendor sales at the event.
Hughes said he wanted to thank all the volunteers and fellow organizers who helped run the event.
Phi Mu Alpha Sinfonia could not disclose the total raised from the competition, but Hughes said the funds will help fund other university music projects like the All District Band and Western Regional Orchestra clinics, Contemporary Music Festival, and the American Music Review.
Story by Carl Blankenship, News Editor
Photos by Lindsey Honkomp