Trash builds up on Blue Ridge Parkway due to government shutdown
Effects of the government shutdown on the Blue Ridge Parkway have become visible through uncovered potholes, overflowing trash cans and vandalism.
The Blue Ridge Parkway Association asked park visitors to not leave trash in designated trash cans during the government shutdown in a Facebook post.
"Do not leave behind trash in designated trash cans while workers are furloughed, as trash collection will not occur!" the post said.
President Donald Trump and congressional lawmakers could not reach an agreement on funding for a $5 billion wall on the U.S.-Mexico border, which led to a partial government shutdown on Dec. 22.
Among the 12 federal agencies affected by the government shutdown is the U.S. Department of the Interior, which is responsible for national park upkeep and preservation.
The National Park Conservation Preservation estimates that over 16,000 national park employees are furloughed. The Blue Ridge Parkway has about 150 employees year-round, and 80 percent of employees are on leave, according to USA Today.
Local citizens have offered to volunteer by picking up trash while the parkway is understaffed.
Junior sustainable development major Allie Sharpe is the Sustainable and Environmental Education Club president and volunteered to clean up the parkway.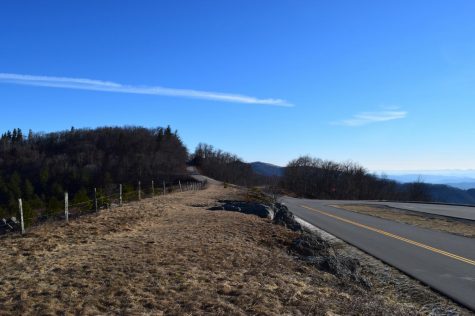 Sharpe said parkway upkeep is being neglected during the shutdown due to low employment and wants to communicate the issues national parks are facing as a result of the government shutdown.
"(The Sustainable and Environmental Education Club) is hoping to do a mass trash pick up," Sharpe said. "This includes picking up and collecting litter that has been disposed of or trash cans that are overflowing."
Sharpe said she hopes to show that acting together makes a bigger change than acting alone.
Friends of the Blue Ridge Parkway is a stewardship partner that coordinates volunteer projects at each of its 11 chapters on the parkway.
Executive director Audrey Pearson supervises all Friends of the Blue Ridge Parkway chapters and has noticed the parkway still has roads blocked off from before the government shutdown due to weather damage.
"The shutdown has stopped crews from clearing the trees downed by weather events," Pearson said. "This work will be resumed once the park is open."
Though Pearson has seen a recent increase in volunteer applications, the park has asked Friends of the Blue Ridge Parkway volunteers to not help the parkway during the shutdown to avoid potential injury from weather damage.
Friends of the Blue Ridge Parkway High Country chapter co-chair Ken Carpenter said volunteers are in stand-down mode, but he wants to get out and volunteer as soon as possible.
Although parkway employees and volunteers are on leave during the government shutdown, people are still allowed to visit the parkway.
Pearson said visitors should be mindful of their trash while on the parkway.
"People can be conscious of not littering and if they are on the parkway, they need to practice no trace left behind and take out what you bring into the park," Pearson said. "That would help keep the park clean."
To help in the Sustainable and Environmental Education Club trash cleanup, Sharpe said people who are interested can email her at sharpeal1@appstate.edu.