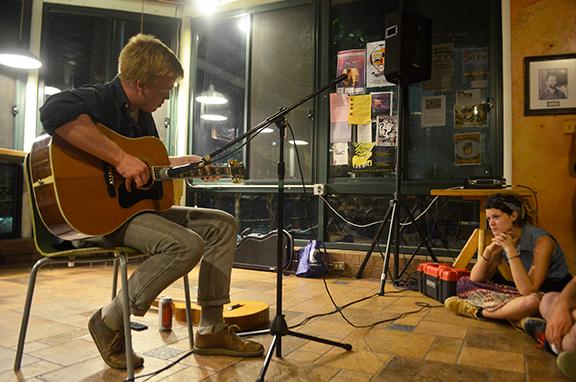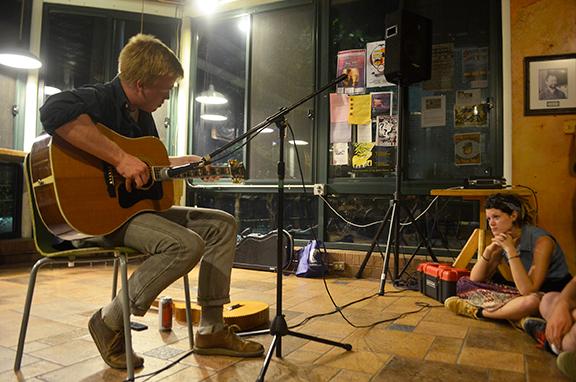 Solo guitarist Daniel Bachman played a show at Espresso News on Monday night as part of his most recent tour, which spans from Montreal to Portland, Ore.
Baylor Rossi opened for Bachman to a crowd of approximately 40 people.
Bachman's distinct sound and style of intricate finger slides and picking patterns is difficult to peg to any one genre, but Tompkins Square Records calls his banjo-inspired guitar "psychedelic Appalachia."
"I just say I'm a guitar player," Bachman said. "It's kind of been a bastardized version of a lot of stuff I've heard over the past six years."
The 23-year-old musician is based out of Fredericksburg, Va., but has kept a strict touring schedule in recent years, playing more than 200 shows this year alone. He plans to settle down in Chapel Hill sometime next year.
Bachman came to play his first show in Boone following a string of communications between Asheville organizers and Devon Tuttle, head of booking and promotion for Loven House Underground shows in Boone. After playing six shows in Asheville, Bachman was looking for a change of scenery.
"It overshot my expectations for a Monday night in a place I've never been before," Bachman said after the show.
Members of the local concert scene said they hope to promote Boone as a welcoming venue in order to gain more recognition as a town worth making the trip for.
"The reality is that not too many people come through Boone, and that's something that I've been trying to combat in my own way by reaching out to people like Daniel," Tuttle said. "I want to create this sense of Boone as a destination."
Baylor Rossi, a senior broadcast major, opened for Bachman with a solo set as an opportunity to break a performance dry spell. During his time in Boone, he has played consistently both solo and with various other bands.
Rossi said he appreciates the effort put in by Tuttle to branch out with the Boone scene.
"I enjoy being hit with bands in the moment," Rossi said. "They bring in people that they know other people need to hear."
The small audience was receptive to Bachman's conversational style of American Primitive-style acoustic playing and seemed held captive by his flicking finger movements. At one point in the show, while introducing a longer song, Bachman wondered aloud why the quiet venue did not have chairs, to which most of the crowd promptly sat down on the floor.
"I think that this was the perfect environment for that kind of show," senior global studies major Blakeley Terral said after the show. "It's just one person, one instrument."
Terral had never heard of Bachman until he saw fliers for the show around town. Terral said he looked Bachman up and discovered his NPR Tiny Desk Concert from December, a gig that Bachman said a friend at NPR's Washington office set up for him as a favor and has helped him gain some legitimacy as an independent artist.
After seeing the statue of Doc Watson on the way into town, Bachman recognized that Boone would be a receptive host for what he sometimes refers to as his new take on American-Primitive sound.
"It's something that exists here because people have grown up around this music and the traditions of this region, but want something a little different from the bluegrass and old-time that we all know," Tuttle said.
He sees these new traditions carried on by regional artists like Michael Pierce, Shannon Perry and the Red Snapper Family Band.
"There's a bunch of dudes who have been doing it forever," Bachman said. "They came up with the title and it's all connected, but you have to put a label on it so people will scroll through the Google pages for it. If you had asked me a year ago if I was 'carrying it on,' I probably would say no, but now, I guess I am."
STORY: LOVEY COOPER, Senior A&E Reporter
PHOTO: BOWEN JONES, Intern Photographer